Forbes Bros. Group of Companies
Powering up
A family-oriented business with a reputation for strong community spirit, the Forbes Bros. Group of Companies is on a mission to become North America's 'contractor of choice'
One of North America's largest privately-held utility construction contractors, Forbes is the product of more than seven major acquisitions made across 40 years of transformational growth. The FB Group of Companies' growth has evolved over a 40-year history, from three brothers supplementing a farming operation to a North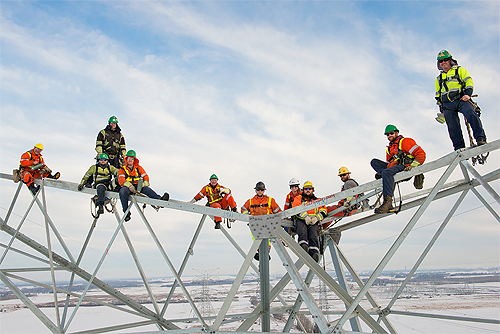 American footprint. Through this evolution, it has deployed many strategies to expand and diversify. In the late 90's the first major acquisition was made by entering into the Alberta market through the acquisition of RS Line.
The Forbes Bros. Group of Companies is currently comprised of Forbes Bros. Ltd (FBL, the Canadian parent company), FB Valley (its BC operation), FB Bullet (its underground services operation), Forbes Bros Inc., FB Timberline, FB Titan and FBUC (Forbes Bros Utility Construction), its US-based companies. Together these companies have completed some of the largest and most challenging power transmission construction projects in North America over the last 40 years.
"Today, our primary market is transmission and distribution line construction and maintenance," says Forbes' Vice President of Operations John Cowden. "In the areas we currently work we have established strong local operations focused on our primary market, we would refer to these as our recurring business lines. From there we use these platforms to grow our businesses and establish ourselves in the market. We have also diversified into the substation, underground, and telecommunication markets through the acquisitions of 307 Power, Bullet Boring, HDI Hydrovac, and Summit Telecom. As an organization, we are always looking to diversify and add new services to our companies. We often look at what we regularly subcontract out, client requests, and future workload to attempt to bring those services in-house and further drive our 'contractor of choice' strategy.
"Having started with two clients in 1979, we now serve over 100," John adds. "Most of our customers are investor-owned utilities and public utilities. We find that a lot of our culture and vision aligns with firms in that market and it's led to a lot of success and strong partnerships for us."
Ideal employer
A values-driven business since its inception, it is unsurprising that Forbes Bros. prefers to work in collaboration with companies that possess a similar ethos. Its core values of We Work Hard, We Work Safe, We Deliver Solutions and We Are Family have been instrumental in the company's rise to prominence and are still evident in all areas of its business today. Much of this is rooted in the re-establishment of what John calls 'the orange dot concept', an initiative that references the company's historical family culture and attempts to ensure it remains an integral part of the way Forbes operates in the 21st century.
"When we rebranded in 2017, the RS Line Orange Striped trucks went away but we remained adamant that the color orange would continue to 'bleed' in all that we do. This is where the phrase 'Orange Dot' was born. The orange dots signify who we were in the 1990s; this was a company of 30 workers with strong alignment, consistent work practices, high levels of communication, accountability, people that knew each other well and shared the same values and beliefs. To be an Orange Dot is to have a commitment to safeguarding our people, to always be in the mindset of alignment, collaboration and operational excellence in all we do and build. We pride ourselves on our team members who show their 'Orange' with pride by holding themselves and each other accountable to drive our purpose, values, safety culture and quality of work in every region that we work in. The orange dot concept is something we're very proud of and we'll be using it to drive our culture as we move into new business areas."
Alongside the attraction of working for a highly-respected contractor experiencing an exciting phase of rapid multinational growth, Forbes' reputation for valuing its workforce and wider local communities has made it an ideal employer for those who want to build a career with a company that cares. At the center of Forbes Bros. commitment to development, education, and training is the firm's pioneering apprenticeship program.
"The apprenticeship program has been going since 2015," John says of the program "Once a full-time permanent field employee has completed three months of continuous employment, and meet the necessary requirements, they can apply for the program. A lot of times, we find that people have the right experience and the desire to learn but haven't been able to get the time off work, so it's a big benefit we can provide to them.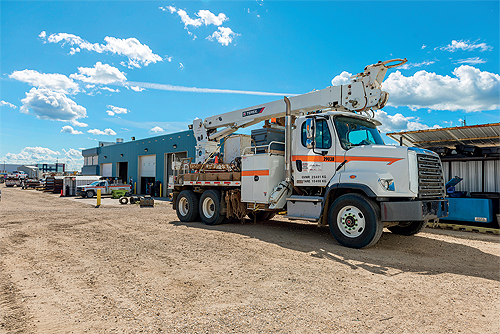 "It makes us very proud to see so many of our employees take advantage of the program. We want to grow people from within the business. We want employees who know how to pour foundations, run equipment, and string wire – these versatile skillsets are important to us and allow the company to be more flexible and keep people employed. The apprenticeship benefits both us and our employees. It gives us a stronger workforce so we always encourage it."
Inspiring confidence
Forbes Bros. apprenticeship program is just one element of the company's 'community first' focus that also includes a charitable giving policy that has, in the past, seen the firm donate significant sums to Ronald McDonald House and Make-A-Wish Foundation, as well as facilitating the building of recreation centers and other community hubs for children and young people. Unlike many businesses, Forbes also encourages and offers every member of its workforce Supported volunteering, which allows two extra days of annual leave each year for participation in volunteering opportunities.
Building on the strength and unity it has fostered in its workforce, Forbes Bros. ultimate goal is to become North America's 'contractor of choice' when it comes to transmission, distribution, renewables, substation work, telecommunications, horizontal directional drilling, and hydrovac. As a privately-owned company, the firm is not driven by stockholders or market prices and, instead, can focus entirely on inspiring customer confidence and forging long-term relationships with its clients.
When you look at our client list, there are many customers we have worked with for over 30 years and I think that speaks volumes," John declares. "A few years ago, we decided to stop and think about what sets us apart as a business. What services do we offer that are different? Anyone can build a powerline, but what will make our clients have confidence and want to work with us again? Our contractor of choice strategy was born out of this discussion and we now use it to gauge our success with each client and each region where we work. This strategy drives FB Group of Companies' operational excellence initiatives and focuses our operational and shared service resources to deliver the highest quality product and systems in the industry."
Having recently established itself in the Southeast and Northwest region of the United States, Forbes Bros. plans to continue surveying the market conditions for opportunities and growth potential in the coming years. Its history has shown that the strongest probability for success in expansion and sustaining a profitable base of operations is through a strong acquisition strategy. This is successfully achieved via an integration plan which supplements strong local operations and enables it to benefit from the Forbes Bros large project experience and increase capacity through investments in equipment, manpower, tooling, improved processes, and controls. "Once we are established in an area, we start looking for larger transmission lines. Many of our customers, especially investor-owned utilities, are based across multiple states, so rather than breaking into a standalone region we use our 'Contractor of Choice' strategy with a focus on long term mutually beneficial relationships and use that to drive expansion into new areas.
"We have recently entered a few new markets in Ontario, Canada and several regions in the United States and our focus will be to develop those sustainable lines of business, reinforce and develop our employees through the Orange Dot Concept and in turn deploy our Contractor of Choice Strategy to ensure we see success and growth for years to come in North America."
Forbes Bros. Group of Companies
www.forbesbrosltd.ca
Services: Utility construction contractor