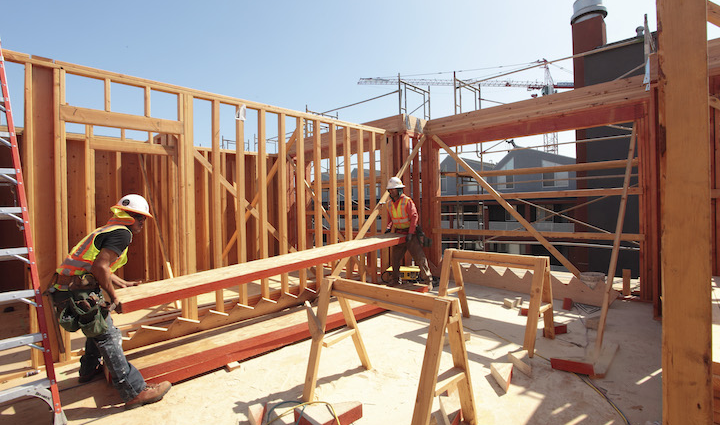 Fisher enjoys steady growth in San Francisco and will soon begin construction on one of the city's most exceptional residential developments.
With nearly 50 years of experience as a general contractor in the San Francisco Bay Area, Fisher has uniquely positioned itself to build and deliver complex commercial projects throughout the city. "Top general contractors are masters at solving complex problems by leveraging accepted methodologies, analysis and real-world experience," Vice President Sydney Fisher Bernier says. "Fisher adds a healthy dose of out-of-the-box thinking to the mix to bring thoughtful, innovative solutions to the table – especially to those challenges others might not anticipate."
Bernier's father, Robert S. Fisher, founded the company in 1971 as a developer of residential subdivisions. He purchased his first 20-acre tract in Davis, Calif., where he built 60 single-family homes. He went on to build more than a thousand homes throughout Northern California over the next two decades. The company's next big opportunity came with the shopping mall construction boom and fast-growing retailers asked Fisher to roll out their stores all over the country. By the late 1990s, Fisher grew to be the largest retail tenant improvement contractor in the U.S.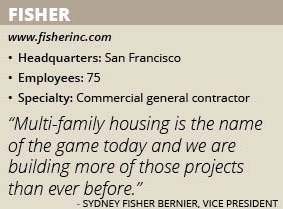 In 2005, as market conditions began to shift, Fisher set out to evolve its business by focusing on opportunities closer to home: complex, urban core projects in the Bay Area. Today, Fisher prides itself on being a premier commercial general contractor that specializes in ground-up mixed-use projects, multi-family housing, adaptive re-use of historic structures, sustainable construction, independent schools, corporate interiors and retail projects. "Multi-family housing is the name of the game today and we are building more of those projects than ever before," Bernier says.
The Fisher Advantage
Fisher attributes its success to its talented team. "Our people are incredible and are by far our most valuable asset," Bernier says. "The job market here is super tight, so we're fortunate that we continue to attract top talent."
Fisher has developed a dynamic, dedicated and capable team, some of whom have been with the company for two and three decades. "Our company is truly multi-generational. Our seasoned employees train and mentor our bright, ambitious newer employees in what we call "the Fisher way," Bernier says. "We're well on our way to creating the next generation of great builders."
Fisher's 75-person team is its sweet spot among its industry peers, Bernier says. "We are not an enormous company where employees feel like they're just a number. Everyone knows everyone who works here."
As Fisher's projects increase in size and complexity, "our clients find it highly advantageous to get us involved early so that we can add maximum value to the process," Bernier says. By getting involved in the pre-construction phase, Fisher helps its clients stay on budget. The company also works with a wide variety of subcontractors who perform at the highest level.
Premier Residential Communities
In January 2020, Fisher will break ground on the Yerba Buena Island residential community. The development is part of the Treasure Island project in San Francisco, which is the city's largest new neighborhood development. "This project is the next logical step in our company's growth," Bernier says. "We bring to bear our years building residential projects with our experience in logistically complex and high-end construction."
Yerba Buena Island will offer spectacular, panoramic views of the Bay in a park-like setting that will no doubt attract people with an eye for unsurpassed quality and keen attention to detail. Fisher's scope of the project includes the construction of 26 buildings that will house 144 luxury residences, including flats and townhomes. The development will feature a wellness-focused amenities complex, including a 35,000-square-foot clubhouse, swimming pool, a state-of-the-art spa and fitness center, plus a breathtaking venue for entertaining.
It's estimated to take 36 months to complete. Fisher is nearing the completion of 777 Tennessee Street, a five-story multi-family development in San Francisco's up-and-coming Dogpatch neighborhood, located near Mission Bay, Pier 70 and the new Chase Arena.
The 58,000-square-foot building was thoughtfully designed by local architecture firm, BDE Architecture Inc. 777 Tennessee Street has several notable features such as the corten steel panels on the building's exterior, a landscaped roof deck and generously sized living spaces.
Fisher is expected to complete 777 Tennessee Street at the end of August and says the project was relatively free of challenges. "Not to say there weren't problems, but we had really good subcontractors on the job and were able to work quickly through any issues we encountered," Bernier notes. "When you have a great project team, great architects and great subs to perform the work, you have a recipe for a dream project."
In July, the company began $110 million worth of work with the start of two multi-family developments at 2240 and 1554 Market Street in San Francisco as well as a new classroom building for a private school in Marin County. As the demand for housing continues apace in the San Francisco Bay Area, Fisher looks forward to continue fulfilling the need by building amazing projects.