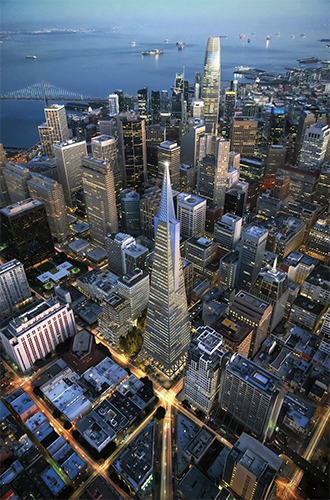 Exciting project for San Francisco
Located in one of the world's premier gateway cities, and a symbol of San Francisco's ambition, the Transamerica Pyramid Center encompasses an entire city block in the Financial District. The Transamerica Pyramid, designed by celebrated futurist architect William Pereira and completed in 1972, is emblematic of the skyline. The broader site consists of two additional buildings – Two Transamerica (505 Sansome Street) and Three Transamerica (545 Sansome Street), and the famed central Redwood Park.
The new Foster + Partners design seeks to revitalize and restore the historic Redwood Park, while tying all three buildings together through a series of strategic interventions at ground level, creating a vibrant new destination in the heart of San Francisco while respecting and celebrating the unique heritage of the site.
The biggest renovation in its 50 year history, this redevelopment is the largest investment in downtown San Francisco since the pandemic to one of the city's most recognizable landmarks, the second tallest building in the city. An additional $150 million will be allocated to expanding and upgrading the adjacent Three Transamerica (545 Sansome) to a contemporary high-design office building.
"Norman Foster is renowned for his brilliant treatment of historic buildings and I am thrilled to partner with his team on the important task of redeveloping this extraordinary city block and reinforcing the Transamerica Pyramid as one of the greatest buildings in the world," said Michael Shvo, Chairman & CEO. "We have worked closely with the Foster team to respect the Center's existing history and complement that with contemporary interventions that will only strengthen this magnificent building that stands as a beacon on this city's skyline."