Ernest Maier has become a leading manufacturer and supplier of building materials in the Greater Washington DC area
The lesson of big words
Supplying a variety of aggregates, concrete, steel, insulation, masonry, outdoor living materials, tools, and construction accessories, Ernest Maier has become a leading manufacturer and supplier of building materials in the Greater Washington DC area
With 12 locations servicing projects from Richmond to Pennsylvania and Shenandoah Valley to Delaware, Ernest Maier is one of the most respected merchants in the Mid-Atlantic region and the only concrete masonry manufacturer inside of the Washington Beltway. Established in 1926, the company started from the bottom with just a single Sears Block Machine in its arsenal. 'Capacity: 100-to-125 blocks per day for two men, who mix the concrete, operate the machine, and take care of the product,' reads an early twentieth century advertisement for Sears.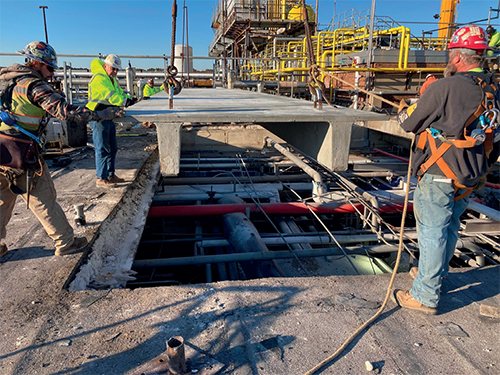 Though things have come a long way since then, the road has not been simple. As Brendan Quinn, who purchased Ernest Maier in 2001 and currently serves as CEO, remembers, the business only began to upscale in the early 1960s, transforming from a small outfit with a single block machine to one with a semi-automated model.
About a decade later, the Bladensburg-based company expanded into building materials. By 1991, Ernest Maier had moved across the Chesapeake Bay Bridge to Kent Island. But that is when trouble started.
The recession at the time led to declining revenue, poor cash flow, and a perturbing future. A fresh face and even fresher ideas were needed to turn the business around. Enter Brendan.
By empowering staff and building from the balance sheet, he sought to change the very nature of the business, and thereby offer an array of concrete and building solutions to Mid-Atlantic contractors, architects, engineers, designers, and homeowners. "I joined Ernest Maier with my father in 1995, working with him to turn the company around," Brendan recalls. "Though my father had seen mismanagement in business before, he had never seen a vacuum of management like that at Ernest Maier.
"At just 23 years old, I became interim CEO, and I have been here ever since: nearly three decades at the same rickety old desk!" he laughs. "In that time, however, the company has truly gone through a vast amount of change. When I joined, we were achieving about $1 million in revenue. Yet, following organic and inorganic growth, that swelled to about $44 million by 2008. The financial crisis saw revenue drop by around 15 percent. Nevertheless, we remained driven, and executed our buy-and-build strategy over the following decade. That has put us in the position we are now in: on track to make over $110 million in 2022."
Those acquisitions – the building blocks of the Ernest Maier we know today – include the following: Bay Ready Mix, which delivers more sustainable ready mix concrete across the Baltimore/Washington area; Concrete Building Systems, a producer of PCI-certified precast structural and prestressed concrete; Gomoljak, an Annapolis institution offering brick, block, hardscapes, aggregates, and accessories for masonry contractors; Parker Block, a manufacturer of high-quality block, ready mix concrete, pre-cast lintels, and hardscaping that has been in operation since 1929; and Skyline Brick, which provides block masonry hardscaping that, as the company puts it, keeps Thomas Jefferson's original brick aesthetic alive for Charlottesville.
Naturally, however, acquisitions alone could not turn the tide. Indeed, as Brendan recalls, several key lessons had to be learned to truly transform the business.
"Lesson one was to eliminate parochialism," he details. "When I first joined, one part of the business would talk about another as if they were foreigners working in a different company. Evidently, a shift in perspective was needed. The second was the lesson of big words: trust, hope, and faith. Trust is essential in the selling game; with hope, you have a fundamental strategy: look towards the horizon; and faith both bolsters these tenets and offers an indispensable kind of commercial resilience.
"To expand, we initially focused on organic growth, and that began with the customer," he goes on. "We had to understand what they wanted. By paying close attention, we began to rapidly grow; in fact, the process changed our entire outlook. Originally, we would simply make block. After finding out what other materials customers were buying alongside that merchandise, however, we adjusted our portfolio accordingly. While many large companies were busy with a single product, we chose to focus on the whole system. If a customer was building a driveway, for instance, then we would sell them filter fabric, rock, concrete, pavers, tools, and so on – everything except the asphalt. That became our strategy: focus on holistic service that always stands to benefit the customer."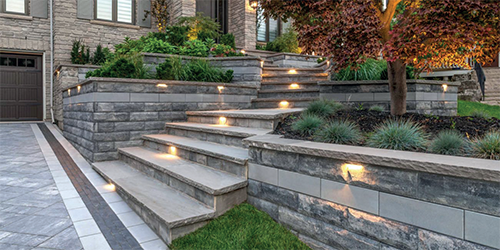 Another facet of that success is down to the individual products that Ernest Maier stocks, many of which provide innovative solutions to persistent problems. For example, the company has recently begun offering fiberglass rebar: a lighter, stronger, anti-corrosive alternative that is both cheaper and easier to cut. It has also begun selling the maintenance-free StoneDeks System — an alternative to traditional wood-surfaced decks since the pandemic caused lumber prices to skyrocket.
Ernest Maier is also proud to manufacture and distribute PaveDrain, an innovative permeable pavement system that, unlike conventional substitutes, is heavy-duty, low-maintenance, and rated for HS-25 weights (buses, ambulances, trash trucks, and so on). By providing best-in-class stormwater management and allowing for natural soil infiltration, moreover, the landmark system helps to replenish aquifers and prevent flooding at the source.
Since 2010, PaveDrain has installed more than five million square feet across the US. For Dr. Aaron Fisher, Vice President of Business Development at Ernest Maier, however, that figure does not quite reflect the true potential of the product. "Why is it not everywhere? Stormwater is everywhere." he ponders. "People tend to stick with what they know; the way we do things is passed down through the generations. Consequently, we are always working to change cultural perceptions of new products, and that is where having a large and trusted sales team comes into play. Many of our staff used to work in the field; therefore, they talk to contractors from a place of experience, which is essential when it comes to changing attitudes surrounding nascent technology.
"When we adopt these new systems, we will often work with the manufacturer," he reveals. "With PaveDrain, technological refinements had to be made to ensure the product was ready; for instance, we had to work with the block and mold manufacturers to create molds that were more consistent and multi-use. Initially, PaveDrain was installed with an ancillary cabling system that ran through the blocks; however, after working alongside those installing the fledgling technology, we soon realized that this method was costing a lot of money. Needless to say, we went back to the drawing board. We came up with an alternative and have not installed a cable system in over eight years. Scrapping old ideas for the benefit of the end product is essential; recognizing flaws only enables you to fix them and improve."
The same way Ernest Maier is able to work with a manufacturer, it is also able to work with contractors to better refine the installation and maintenance process. PaveDrain is the only modular permeable pavement that can be installed without cutting, can be field-sealed against salt and oil, and can be monitored remotely. These are all things that a contractor, and ultimately a property owner, values.
Many of the products championed by Ernest Maier also have embedded sustainability benefits. For example, in partnership with CarbonCure, who manufactures low carbon concrete by locking CO2 in the initial mixture, Ernest Maier has managed to capture over four million pounds of carbon dioxide – the equivalent to 2500-plus acres of forestland absorbing CO2 for an entire year. Ernest Maier also recycles crushed concrete and distributes EcoCem (Portland Limestone Cement), which stands to reduce lifecycle CO2 emissions by ten percent when compared to ordinary cement without compromising on performance. Small changes of this kind, adopted at scale, point towards a better future.
As he looks towards that future, Brendan admits that he thinks 2023 will be much harder – but not in the way one might first expect. "Demand and increasing interest rates will ultimately prove more problematic than any supply chain issue," he says. "Behavioral economics is real; cultural and market anxiety are co-morbid and will lead to cuts in spending. Yet, as I always say, the best plan is no plan. I do not set revenue goals. The key thing is getting the balance sheet in a position where we can look for opportunities and then take them.
"Organically, the company has a ceiling of about $125 million in revenue," Brendan concludes. "Once that cap is reached, we will look for novel investment opportunities that make sense. Far too many poor acquisitions were made over the last few years, and many companies have found themselves over-leveraged as a result. Instead, we want to be a good company that operates like a family. When the time comes to broaden that family, we will welcome new members with open arms."
Ernest Maier
www.ernestmaier.com
Products and services: Building materials and construction expertise