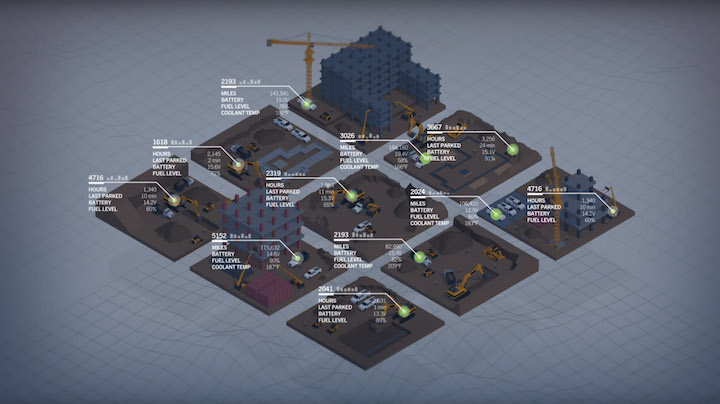 EquipmentShare's Track platform helps boost productivity on jobsites.
If there is anything the average builder is looking for on his or her jobsite, it is efficiency. But that can be difficult when sites are places of chaos, where accidents and mistakes happen while workers struggle to keep a close eye on their schedules and budgets.
According to William Schlacks, the CEO and co-founder of EquipmentShare, the construction industry has needed a boost of efficiency for the past seven decades. "[There has been] stagnant productivity since the late 1940s in construction," he explains.
"Most other industries have seen a rapid increase of productivity," Schlacks continues. "Construction has lagged severely in U.S. markets." But that is where EquipmentShare can lend a hand, with its goal of "being ruthless" about delivering value to its clients, he states.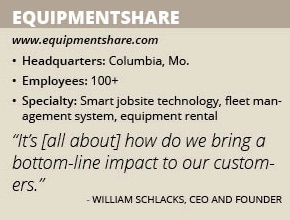 Based in Columbia, Mo., the company's goal is to increase productivity in the construction industry by deploying technology and services through its sites. "Connecting assets, people and materials is the foundation for empowering contractors to gain efficiencies. That's our focus," Schlacks says.
"There's a lot of fertile ground to work in there with problems to solve," he continues. "It's [all about] how do we bring a bottom- line impact to our customers ."
Filling the Void
A longtime veteran of the construction industry, Schlacks started the firm with his brother in 2015 after the two had built numerous other companies. "We've been in the construction space since we were in our mid-teens," he recalls.
Primarily, Schlacks and his brother gained experience from the construction companies they built in the commercial, industrial and government space. Over the years, Schlacks says, "We felt there was a lack of technology tools at our disposal."
The brothers were particularly frustrated with the lack of systems and solutions available for managing rented and owned assets. Today, EquipmentShare solves that problem by enabling contractors with a platform that gives a single dashboard view of all assets, rented and owned. With over 40 sites in the U.S., EquipmentShare also has a growing distribution capability to meet the equipment rental demand for technology-enabled machines.
Once that machine arrives, "We overlay our technology onto the rental experience," Schlacks says, explaining that the EquipmentShare Track portal helps its customers manage their business, rented assets and owned assets on the jobsite in real time.
"There's over 500 different brands of equipment that our hardware seamlessly integrates into," he says. "The end-result is the only single dashboard that provides that holistic view of everything from a bucket on an excavator to your vehicles and machines and everything in between."
For example, if one of EquipmentShare's clients owns 200 machines and rents 50, all the data from the 200 machines will be pulled. But the portal also is focused on the jobsite and the chaos that can occur, Schlacks notes. "If you're going to improve efficiency, that's the North Star of what we look at," he says, explaining that Track not only helps users locate their machines, but also boost productivity by gathering data, including information that leads to predictive health of the machines.
It also can help safety managers and business owners prevent accidents by identifying and removing dangerous drivers from the road with data provided by Driver Scorecards. "The first step to start improving starts with the consumption of data," Schlacks says. "Whether they use us to manage their business or use us to rent equipment, there's inherent value when you deliver that connected single view that allows contractors to make decisions based on comprehensive data."
Safe and Secure
EquipmentShare's Track technology helps its clients prevent theft and unauthorized use of its machines. These problems, Schlacks notes, have cost the industry billions of dollars and have severe waterfall effects that lead to over schedule and over budget projects. EquipmentShare's machines, Schlacks explains, cannot be started with a key. Alternatively, EquipmentShare's Sentry Keypad ensures that only an authorized operator can use that machine with a unique access code assigned to operators by the fleet manager or equipment owner. The operator is only able to start the machine with the correct code, which triggers the ignition through the Sentry Keypad integrated as part of the Track platform, he says. This feature alone eliminates the cost of damage by non-authorized users which will save contractors over $2 billion in direct service cost alone.
Plenty of Room
Today, EquipmentShare manages a fleet of approximately 17,000 machines and serves a broad base of 8,500 customers. "We have a very heavy presence in commercial and industrial," Schlacks says.
Although the company competes with large, national rental companies, "I'm not aware of a competitor that is tackling it the way we are holistically," he reports, but notes that the size of the market also keeps it confident. "There's plenty of room."
Taking Ownership
"When somebody chooses to devote themselves and invest their life in a company like EquipmentShare, it's quite humbling," he says, noting that its employees take ownership in the work that they do. "To them, EquipmentShare is their company," he says. "When they build something and solve a problem that may reflect that ownership, that's quite satisfying."
Ready to Lead
According to Schlacks, the future for EquipmentShare is hard to predict. "If history proves anything, it's that our perceptions of the future are often wrong," he says. "The only thing that repeats itself is human nature. Clear connectivity will bring about a major shift in this $12 trillion industry by unlocking the power of real time data into the happenings of a jobsite, but what that will look like 50 years from now is refreshingly unpredictable."
As machine OEMs implement better practices, "they'll have to adopt a similar cycle for software development," he says, noting that the advancement of machine automation will have impacts as well.
"There's a lot of value in starting to deliver automation in machines," Schlacks says, noting that it will provide benefits by increasing safety, efficiency and performance. "It solves a lot of problems organically."
The company also will continue finding ways to solve its clients' challenges. "Every day, we encounter our customers and contractors and get an upfront look at what they're facing," he says. "Many companies have the same insight we do, but they don't have the capability."