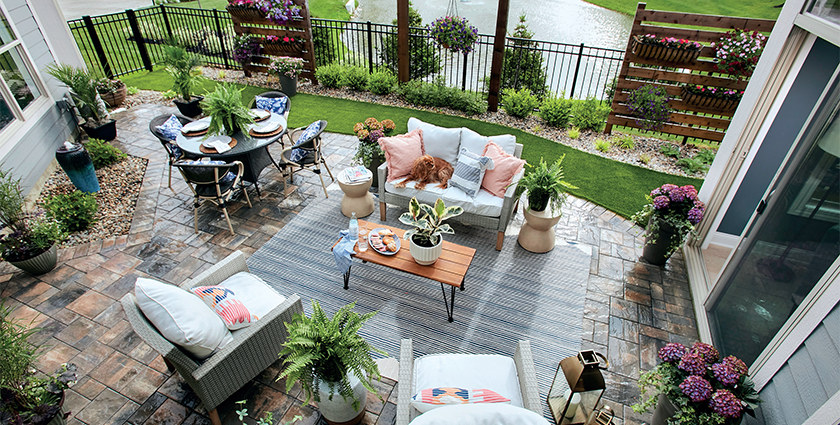 Epcon Communities Franchising
Leading the industry
Epcon Communities is on a mission to build homes, neighborhoods, and lifestyles that provide a remarkable buyer experience. Throughout its 35+ years in operation, the business has been determined to fulfill its homebuilding goals by integrating smart, innovative designs with the most desirable modern amenities.
Epcon Communities (Epcon) also has a franchise network of local builders and developers that build ranch-style homes and lifestyle-rich communities. When we last spoke with Epcon a decade ago, the company was primarily building attached homes in unique four-unit configurations. Due to strong curb appeal, functional design and popularity, these projects quickly put Epcon on the map as an innovative builder. "As we built those homes across the US, we began to notice a shift in our target buyers' preferences. They were moving away from multi-family builds, and towards detached homes. So, we invested heavily in research and development to introduce an entirely new design portfolio," says Paul Hanson, the President of Epcon Franchising.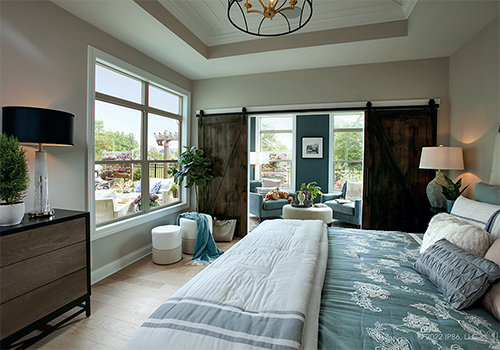 What sets Epcon apart is its strategic focus on development and construction, with a unique franchise approach. "Our builders have the advantage of controlling home site inventory and building in an efficient production-style manner. They also have the benefit of a team of consultants and trainers who have an exceptional wealth of expertise to teach them the business model," Paul shares.
"I like to say that we build home builders. We have several success stories of custom builders, land developers, or general contractors that have come to us and, within a few years, emerge as much larger regional builders who dominate in their market. It's very exciting to work with such great entrepreneurs on a daily basis, and I know the team takes great pride in every new community that they start, and every milestone they reach.
"However, with growth comes the need to maintain consistency and quality across a diverse geographic footprint, which can be challenging at times. For us, that necessitates a thorough vetting process before we sign a franchise agreement. We have a strong business development team. Only a small percentage of prospective franchisees make it to the application stage. This helps to reinforce the exclusive experience expected by the individuals who purchase our homes," he explains.
Although the business boasts over 80 local franchise builders in its network, each one is unique and has its own strengths and opportunities. Paul pays particular attention to New Leaf Homes, which was recently awarded the prestigious title of Epcon's 'Emerging Builder of the Year' at the 2022 Epcon National Conference. "As we've added new team members and services, we've been able to meet regularly with our builders to offer support as they embark on a new chapter in their businesses. New Leaf Homes, for example, has become a great story within our network, and we are very proud of them. As land developers who transitioned into home builders, they have been diligent and methodical in their approach to this new aspect of their business. They are currently studying one of our most successful projects in Columbus, to emulate it as closely as possible in Northeast Ohio. As someone who is originally from their area, I have been particularly impressed by how well they are serving my hometown and improving the lives of their home buyers," Paul expresses.
He continues to add that the group at New Leaf Homes is a great example of what a motivated team can accomplish with Epcon. "They were already successful developers in other market segments, and are now finding swift success in our target market, with our team's support and consultation guiding their way."
Although Paul highlights that his company's portfolio is at the core of its franchise model, the franchising component of the business is only the start of what Epcon provides, and the company's evolving design portfolio serves as a huge advantage for its builders. "In the last few years, we have placed a special emphasis on expanding the support services available to our franchise builders, and we now have a well-rounded team that works directly with our builders on site selection, development, purchasing, marketing, sales and construction issues. This makes their integration and continued growth within our network as seamless as possible," Paul says.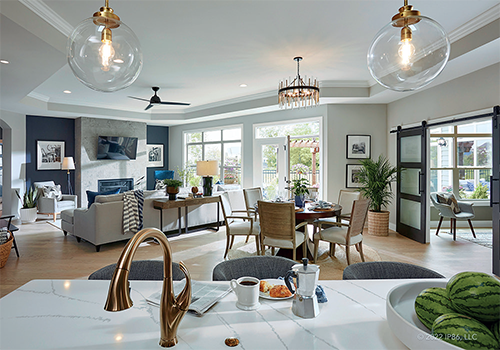 This strategy of combining quality and efficiency has helped build Epcon's exceptional lines of courtyard homes, which are very popular with today's 55+ demographic across the US. "Our home designs emphasize livability and private outdoor space, which has allowed us to stand out from the competition. Since we work with many franchise builders across the country who look to us to be on the edge of design, technology and marketing, it is crucial that we continually pivot towards the market's direction, and I believe that our approach has helped us achieve that."
One project in particular that Paul discusses is the Retreat at Rosemont, which was developed by New Leaf Homes and has been a great hit. "The location is incredible, the design is very unique for Northeast Ohio, and New Leaf's execution on the project has been exceptional. The community is surrounded by an array of activities, restaurants and shopping, and complements the area very well. It's been the first time that our detached homes have been introduced in the West Akron area, and the reception has been phenomenal. Buyers have been seeking this type of lifestyle option for many years without a compelling offer prior to New Leaf's introduction to the community."
We then turn the conversation towards the people of Epcon. It is clear that Paul is very proud of his team, and shares how everyone who works with the company does so with an inspiring amount of dedication and diligence. "Our people build our long-term vision, quite literally. In Ohio, where the Buckeyes dominate Saturdays in the fall, our football coaches are legendary and one of them, Woody Hayes, put it best when he said, 'You win with people.' It's such a simple concept, but a difficult one to execute well. We take small steps each day. Whether it be planned lunch outings or the check-in platform that we use to communicate weekly, those small steps develop an incredible team culture. We all genuinely know and care for each other, and that level of comfort yields great trust.
"I believe that the key to team motivation and unity is to provide clarity in terms of both company mission and expectations within a role, and taking time to communicate the impact and relevance each person has on the results of the organization. People perform at a very high level when they believe in the mission of the company, understand what is expected of them in living out that mission on a daily basis and can look back and see the way they directly impacted the projects we've brought to life," he emphasizes.
Taking its passion for people one step further, the company is also proud of its involvement in the community, and collectively chooses a local charity to support in Central Ohio as a way of deepening the team's camaraderie. Paul shares that, recently, Epcon made the decision to support three in particular. "Life Town is an organization that teaches social and life skills to special needs children through direct interaction and experience, and we were fortunate enough to spend time with the children there.
"Last year, we worked with an organization that supports foster parents, and we were able to help them organize a warehouse that provides clothing and supplies for foster families. This year, we are supporting a group that teaches leadership skills to young women, and several of the extraordinary ladies on our team had the opportunity to speak on a panel, discussing the need for more strong females in the construction industry. All of this has been a great way to step back from our daily grind and invest in our communities."
We then bring the discussion to a close on the plans for the future. For Paul, there are several opportunities for the business to adopt that will allow it to refine its capabilities and expand its portfolio. "Although the laser-like focus we have on our current buyers will not change, we do see a need to shift to a broader market to serve additional price points. As mentioned earlier, our current design portfolio is extremely popular across the country, but it is priced at the higher end. In the coming months, we will be introducing new home designs that incorporate the livability and private outdoor space of our current collection but stand on a smaller footprint to yield more attainable sales prices for a wider pool of buyers who need home designs that work for their stages of life."
The investments that Epcon has provided to improve its team and support systems have resulted in unprecedented growth across its network of builders. Five years from now, Paul believes that Epcon will be considered one of the largest builders in its niche space. In doing so, he believes the company will have the majority of its builders completing at least 50 homes per year, which will elevate the shared brand into the Top 20 list of builders in the country.
Epcon Communities Franchising
www.epconfranchising.com
Services: Homebuilding developer