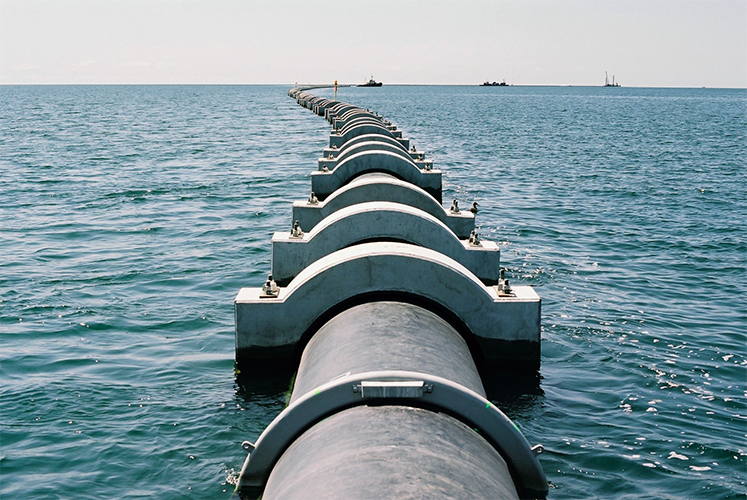 Enwave Energy Corporation
Moving energy forward
One of the leading core-competency district energy operators in North America, Enwave Energy Corporation provides sustainable energy solutions that suit the needs of individual communities
With the help of proven, sustainable technologies, Enwave Energy Corporation has built its reputation on solving the cooling, heating and energy needs of municipalities, communities, and higher education campuses. A fully integrated district energy services provider, the company's intelligent systems generate, store, and share different forms of energy throughout regions, delivering the benefits of scale, reliability, and sustainability to individual buildings and homes.
Providing its services for over three decades across Canadian cities like Toronto, London, Charlottetown, Windsor, and Markham, Enwave has grown quickly over the last ten years. As CEO Carlyle Coutinho explains however, despite its growth, the company's core competencies and essential appeal remain much the same.
"A district energy system is a highly efficient design connecting many buildings with differing energy profiles to low carbon energy sources," Carlyle says. "Providing heating and cooling at scale is more efficient, allows for access to renewable technologies, and displaces the need to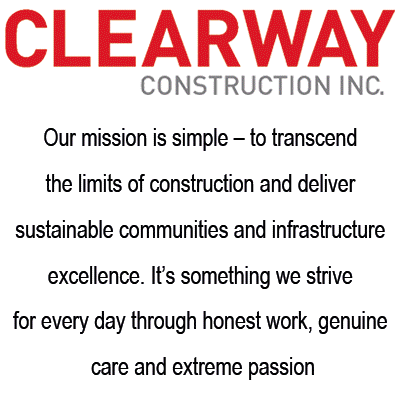 install separate space heating, cooling and hot water systems in each building. The district energy system does the work, providing valuable benefits.
"Depending on the location of a district energy system, Enwave can apply a range of solutions to meet the demands of the system or of individual buildings. These might include deep lake water cooling, thermal battery solutions, combined heat and power, waste-to-energy and geoexchange."
Headquartered in Toronto, Enwave remotely monitors its production facilities and customer sites in-real time to ensure supply and demand are aligned, performance managed, and efficiency optimized. As with any major business, technology plays a significant role in the smooth running of these operations.
"At Enwave, we benefit from a range of advanced technology that helps improve efficiency. This includes a sophisticated asset dispatch system with weather forecast and utility pricing inputs that can predict district loads and generates weekly, daily, and hourly dispatch strategies," Carlyle states.
"Right now, we are undergoing a major digital transformation to implement machine learning, artificial intelligence models, and systems that will help our plants and customers achieve NetZero goals. Our aim is to utilize data to reduce energy consumed in buildings and provide our customers with real-time portals for better decision making.
"As we speak, our energy management and optimization team is working hard to reduce energy intensity and lower our carbon footprint by setting annual targets. Similarly, plant management teams are finding ways to meet these targets and ensure high efficiency equipment and assets are procured."
Leveraging its vast experience in the energy industry and its innovative approach to development, Enwave continues to provide customers with efficient and reliable solutions that help them achieve their energy goals. Partnering closely with contractors, the firm is always looking to push the envelope in terms of product development, striving to implement these systems at a large scale so as to deliver maximum impact.
One of Enwave's most recent major ventures began in 2020, when the firm started work on the Deep Lake Water Cooling Supply Expansion (DLWC) project. Set to be completed by the spring of 2024, the $100+ million project will reduce greenhouse gas emissions and reduce the strain on local electricity and water systems.
"The DLWC expansion project required strong partnership with the City of Toronto, and, more specifically, Toronto Water," Carlyle reports. "Projects like this are very challenging otherwise. Our partnership helped us achieve benefits for all parties, like optimized use of assets, reduced GHG emissions, and less strain on electricity grid.
"In evaluating this project, we highlighted the advantage of expanding the system with a renewable source, like lake water found at an ideal temperature, versus using electricity and traditional systems to create chilled water. The traditional system alternative was also evaluated as part of the Environmental Assessment process, in which Enwave and Toronto Water jointly undertook a process to ensure that there were no components of the system that would negatively impact the environment.
"The solution itself is a complex engineering challenge and required a significant amount of technical due diligence to ensure its feasibility. Having a strong construction partner to deliver on the design and appropriately mitigate associated risks is key to ensuring success, while our partnership with Toronto Water will allow us to fully leverage the project by scaling efficiencies to other components of our system."
Elsewhere, in Toronto's vibrant King West neighborhood, Enwave is carrying out work beneath The Well – a visionary mixed-use development featuring more than three million square feet of retail, office, and residential space. After originally expecting to install water tanks in The Well's parking garage, plans evolved and, in what was a huge technical undertaking and a major collaborative exercise, Enwave and its development partners, Allied Properties REIT and RioCan REIT, instead installed a giant subterranean tank and 55-foot-wide void under the site.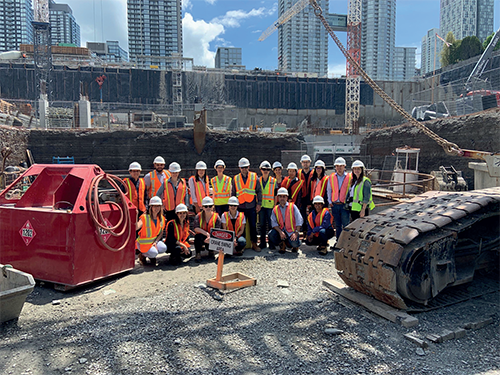 "This two-million-gallon thermal storage tank beneath the P7 parking level at The Well can be used to store chilled water and hot water at night when loads are lower," Carlyle points out. "At peak hours during the day, the chilled water and hot water can be exported back into Enwave's district energy network to offset peak loads. The tank is used for heating during the winter and for cooling during the summer."
Determined to combat climate change, Enwave is focused on accelerating clean economic growth and enabling customers to meet their carbon reduction targets. The company's commitment to these priorities is evidenced in its recent geoexchange project with Mattamy Homes.
"We are currently involved in building a 300+home community in Markham, Ontario, which will use what's known as a district geoexchange system – the largest of its type currently proposed in Canada," Carlyle reveals. "Having drilled our geo bore field in the streets, allowing the community to tap into geoexchange energy, heating and cooling in the area can now be delivered at a neighbourhood level, through a single common ambient pipe buried underneath the community and connected to each home, like that of an electrical grid.
"The project brings great value not only to the developer – Mattamy Homes – but also to the City of Markham. By providing low-carbon energy solutions to single family home development through this geoexchange project, we are helping the client and its customers reap all the advantages of a low-carbon community."
Incredibly, Enwave has managed to continue delivering these key projects in spite of the difficulties presented by the Covid-19 pandemic over the last 18 months. Because of the essential nature of its operations, the firm was able to have uninterrupted operations despite Covid-19.
"It was a difficult period, but we worked hard, and continue to work hard, to make sure everyone – our employees, partners, and the communities in which we operate – stays safe and healthy," Carlyle remarks. "Over the last year and a half, we have simplified communications with our employees to provide relevant updates in areas like prevention, symptoms and resources, and our workforce's health and wellness remains at the forefront of our minds.
"Even before the pandemic, safety was a core value at Enwave, and we are determined to support our people in performing their work in a safe, healthy, and responsible way. The pandemic only highlighted these values. Our employees are our first line of defense and first opportunity for resilience, so we doubled down on operational HSE procedures, including control room sanitization, personal hygiene initiatives like face coverings, decreased access to our sites, and the sharing of resources like mental health awareness and coping strategies. Our protocols have resulted in zero workplace outbreaks. We have come through a tough time together."
Of course, instrumental to the company's resilience and strong performance since early 2020 has been Enwave's skilled and hardworking team. Quick to praise his employees' commitment, motivation, and talent, Carlyle believes that Enwave's workforce is what has made the firm a leader in the district energy market.
"Our people are at the heart of our success," he asserts. "We aim to clearly link our employees' daily activities to our strategy and purpose, and to provide continuous learning and development opportunities. Our recent focus has been to build the capabilities of leaders and managers so that they can develop their teams, create an entrepreneurial-based culture and demonstrate strong leadership.
"We also ask every one of our employees to live and embody our values. We reinforce this through training, communication and in how we recognize and reward performance. Vitally, we will continue to invest in our people at every level, from early careers to senior management, empowering them to be successful both personally and professionally."
From the technologies the company implements, to the policies it supports and the programs it facilitates, Enwave values innovation above all else in its pursuit of sustainable, low-carbon energy solutions. As we move closer to the end of 2021, the company's vision for a better future is clear: to support cities and communities in the fulfilment of their low carbon aspirations; to lead the way in creating a world that runs entirely on clean and affordable energy.
"As well as launching Enwave Geo Communities in February 2021, we recently became the first district energy company in North America to develop a guideline for public investment by releasing our Green Financing Framework," Carlyle declares. "Looking ahead, we are very excited to be driving sustainable and scalable solutions that deliver on our customers' goals for greater savings, economy, flexibility, reliability, and competitiveness. We want to be a positive force in our communities and that is why we are committed to moving energy forward, enabling the sustainable transformation through district energy."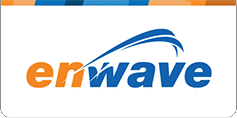 Enwave Energy Corporation
www.enwave.com
Services: Cooling, heating & power solutions using sustainable technologies