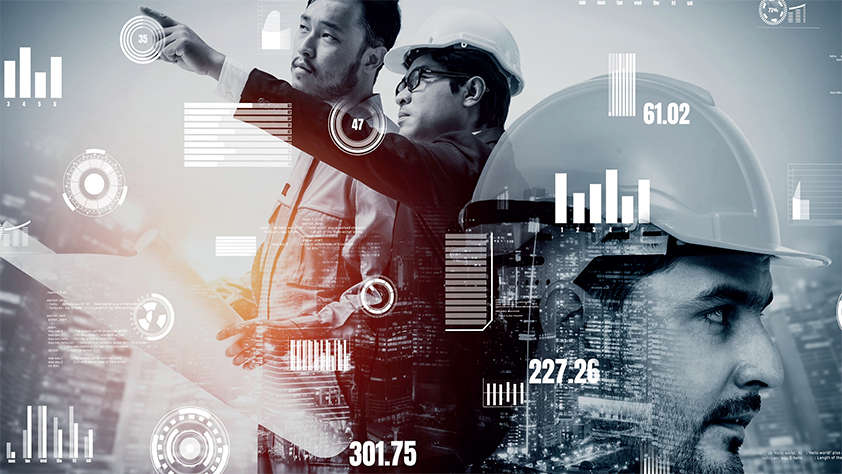 The global construction industry is facing one of its most challenging periods to date. It's a testing time for builders and contractors, who are having to navigate a minefield of supply chain and labor issues. They're disruptions which have hampered construction output throughout the second half of 2021, and are set to linger well into 2022, resulting in soaring costs for both contractor and asset owner.
With such a difficult landscape to traverse, it's no surprise many in the industry are looking to make economies where possible, mitigating any unnecessary expenditure. Yet there are some silver linings, particularly evolving practices to adapt to this tough situation.
It's encouraging the worldwide construction sector to think smart, and has seen many businesses embrace greater digital adoption to tackle building product, skills and energy shortages head on, taking advantage of the latest hardware and software to maintain and grow their margin.
Importantly, digital technology is helping to identify incremental gains which can be made throughout the project journey. These platforms and devices are now leading contractors to appraise every phase of a project, reviewing material consumption, man hours spent and energy expended and where these can be significantly reduced. One of these is lowering the incidence of error to reduce the amount of rework required post-construction.
Putting this in a wider context, studies have shown the estimated cost of avoidable error across the global construction industry is roughly $177 billion a year. Not only is this costing companies millions each year to rectify mistakes, it also raises questions around effectiveness of on-site quality control.
This is where digital construction is stepping up to address this longstanding human factor challenge. Now, cutting-edge app-supported construction quality management software, collating and administrating accurate and complete data to deliver quality assurance, a full audit trail of activity and documenting compliance. Crucially, these platforms are delivering man hour savings with an effective, automated solution to traditional, manual data capture methods, which often result in human error when transcribing hand written notes.
Fast becoming central to the successfully delivering of project targets, the powerful data gathering functions of these tools are enabling important information to be entered quickly, with greater accuracy on-site, including: digital replicas of worksheets and key documents such as site diaries or health & safety audits.
Time-efficient, it also means reports can be easily generated online, without duplicating work and that water-tight, tamper-free digital audit trails are readily available. With greater oversight, project owners have a more accurate view of what is actually happening on-site, and where efficiencies in resourcing can be found. And with fewer mistakes, there's less need for costly re-work.
Fundamentally, time spent on the logistics associated with project management is dramatically reduced, maximizng efficiency and productivity. For example, one of the biggest barriers when it comes to communication, is corresponding with companies and individuals outside an organization, especially during the planning and design process. Now, app-supported software that enables instant messaging between teams can speed up work rates and the latest connectivity solutions allows for data to be shared between on and offsite teams over great distances.
Further, greater interoperability between platforms also means that plans, designs and updates can now be easily shared remotely with those who might not have software licensing rights, streamlining communication, increasing visibility for all in involved and potentially saving hours in calls and emails each week.
Returning to the thorny issue of global material prices, geopolitical issues mean that the cost of building products will inevitably increase, so keeping waste to a minimum will be crucial. Late last year, a report published by the Associated General Contractors of America indicated an eye-watering 20 percent rise in material costs, likely to carry through into 20221. With ongoing geopolitical issues also affecting the market, future price hikes are more than likely, squeezing profits even further. In such a scenario, reducing material waste can also help prevent potential profit losses as much as clawing back man hours through more efficient working practices.
Once again, technology comes to the rescue. For instance, visualization tools can help keep waste to minimum by identifying potential incidences within the construction phase, opposed to post-build. This means they can be immediately addressed, preventing time-consuming and expensive scan and rework.
Adding even more value to the project, these innovative tools are also boosting build quality. The less mistakes made, the better the finished product will be. For contractors, developers and the client this can result in long term advantages when it comes to reputation management.
Ultimately, it's a win-win situation across the board, making the case for digital uptake even stronger, and more compelling.
The good news is adoption of these tools and systems is gathering momentum. Many contractors, encouraged by their clients, are now using digital technology to help them to build more accurately, reducing the number of errors made during construction and, consequently, the amount of rework needed, significantly cutting down on material waste. This is helping them to react to market crises with agility.
Achieving less disruption within the project journey means assets are delivered right, first time, on time. By enhancing the construction journey through digital technology they are maintaining profitability in this difficult landscape whilst ensuring the highest quality outcome.
https://www.supplychaindive.com/ news/construction-materials-prices-soared-2021/617219/

Ibrahim Imam is Co-Founder & Co-CEO of PlanRadar, an award-winning construction management SaaS platform for quality assurance and document control. At its heart, it's a single platform for smarter information processes that can enhance the safety, efficiency and on-going maintenance of building projects.
https://www.planradar.com/