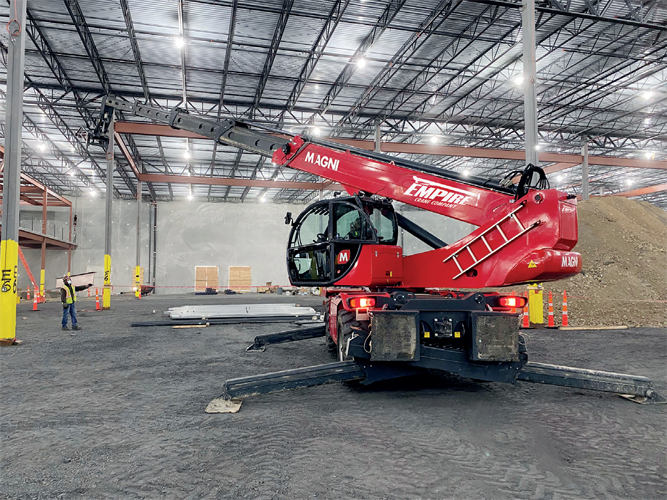 Reaching for the sky
One of the leading crane dealerships in the Northeast United States, Empire Crane Company has provided its customers with uplifting service for almost two decades
Brainchild of New York brothers Luke and Paul Lonergan, Empire Crane Company was founded in 2002 following the dissolution of the Lonergan family's previous business. Headquartered in Syracuse, New York, the company grew quickly through hard work and perseverance, so that within a few short years, Luke and Paul had launched satellite offices in Boston,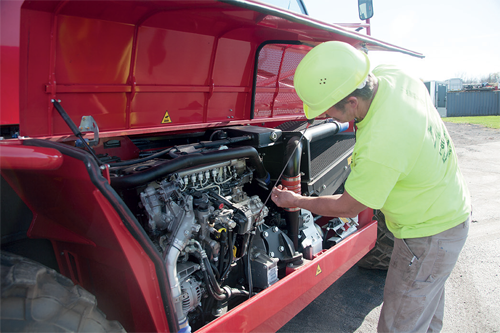 Massachusetts, and Bridgewater, New Jersey. Operating from thesethree key sites, Empire Crane can offer crane sales, rentals, parts and servicing on a local and global scale.
"In the early 2000s, my brother Paul and I decided to place our confidence and faith in ourselves by establishing Empire Crane," CEO and Vice President Luke Lonergan explains. "We started with only a couple of mechanics, an office manager and ourselves, and the company grew from there.
"Opening satellite offices was a bit of a milestone in our expansion and a core part of how we operate today. It means we now have sites acting as both service centers and home bases for our technicians. They allow us to better support customers throughout our whole New England territory. Additionally, by having our technicians present throughout the Northeast, they can be dispatched more quickly if a customer's crane needs servicing."
Empire Crane is a dealer for major crane manufacturers like Tadano Demag, Tadano Mantis, Kobelco, Manitex, Terex, Magni, and Broderson. Empire Crane boasts one of the broadest product ranges on the market. Among its offerings, the firm provides all terrain, boom trucks, carry deck, rough terrain, telehandler, truck crane and crawler models.
"At Empire Crane, we are always ordering equipment to serve our customers' needs," Luke reports. "We talk with clients and salespeople in the field to forecast equipment needs for the year ahead and we regularly review our rental fleet. If something sells from the rental fleet, we'll often look at replacing it with a new piece to keep the technology up to date."
In 2020, Empire Crane added another renowned manufacturer to its portfolio when it was chosen to represent Tadano products in the Northeast United States. Known for its high-quality, industry-leading technology, Tadano has been a trusted producer of cranes for more than half a century.
"We're really proud to offer Tadano to our customers and have received excellent support from the factory's experienced team," Luke states. "We can now provide customers with superior products like Tadano Demag All Terrain Cranes, Tadano Mantis Tele-Crawlers, Tadano GR Rough Terrain Cranes, and Tadano ATF All Terrain Cranes."
Empire Crane's comprehensive offering has made for a long list of satisfied clients over the years. For instance, in the spring of 2019, CWI Crane and Rigging purchased a Tadano Demag AC250-5 from the firm. CWI's positive experience with Empire Crane ultimately influenced its decision to purchase another Tadano Demag from the company in January 2021 – this time an AC100-4L model. In June 2021, the company also took delivery of a new 2021 Tadano Demag AC60-3. "We've worked with the Lonergan family since I was a kid," CWI Owner Chet Chludenski III said at the time. "It's always good to do business with people you know and trust."
As Chet's endorsement of Empire Crane suggests, the company receives a great deal of repeat orders thanks to its individualized customer service and personal approach to business. At its core, Empire Crane is a business with family roots and the Lonergan brothers are determined to make their clients feel like part of the family.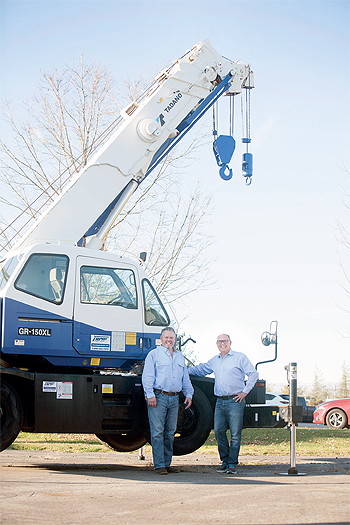 "When customers purchase a crane from Empire Crane, new or used, they get a personal introduction to folks in all departments so that they know where to go for support," Luke reveals. "Plus, knowing that we'll take care of any of their crane needs makes us a quick and reliable source to come back to time and time again.
"When you own a crane, a car, or any other piece of equipment, you will eventually need parts to maintain it and a mechanic to solve any issues. We've set ourselves up to be a one-stop-shop for our customers, from sale, to parts, to servicing. We support clients from day one, to years down the road."
In February 2021, Vergona Crane Co purchased a new Tadano GR1000XLL-4 from Empire Crane. The 100-ton rough terrain crane features a 224.1-foot max lift height, smart counterweight system, and asymmetrical outrigger setup. As the first GR product sold into Empire Crane's New Jersey territory since being awarded the Tadano account in 2020, the sale marked a milestone for the Lonergan brothers' business. Looking back on the landmark transaction, Luke is quick to compliment his workforce and the role they continue to play in the company's growth.
"We have a great sales team, parts team, service team, and in-house business support team," he declares. "All our employees are very motivated and support the customer as best as they can. It's a goal-oriented group that believes in the 'big picture'. By that, I mean we strive to respond to every single inquiry and serve each client like they're a part of the family.
"I truly believe that having a strong team has been a huge contributing factor to our growth. We currently have four outside salesmen, a sales manager, three parts representatives, three service managers, and eight technicians. With all our teams working seamlessly together to deliver success, we have never been in a better place as a complete dealership."
As the Covid-19 vaccination program rolls out across the United States, more and more businesses in the Northeast are re-opening their doors after being forced to close in some capacity during the pandemic. Having made it through what has been a difficult year and a half for many organizations around the world, Empire Crane is looking forward to re-connecting with customers who may have been absent from the industry of late, and hitting the summer 2021 construction season at full force.
"As owners, my brother Paul and I are very active in day-to-day operations at Empire Crane," Luke remarks. "I'm more focused on the business and accounting side, while Paul works more with manufacturers and service teams, but both of us love getting involved. We like to get out and see customers, learn what projects they're working on, and know what equipment challenges they face so that we can help them find solutions. That's what really excites us about things hopefully getting back to normal over the course of the next six months."
Having seen its product range evolve drastically over the last five years, Empire Crane is ready to embrace the technologies of tomorrow as it tackles the challenges of the decade ahead. If the future is anything like the company's history to date, Luke knows that Empire Crane has no reason to be anything but optimistic.
"I can only imagine how technology will advance as we journey into the next decade," Luke says. "Looking back at our experiences since 2015, there have been so many safety updates to new equipment between then and now. Back then, we had just taken on the Magni Rotating Telehandler line. Today, that product is the number one item in our rental fleet with about 20 units at 95 per cent utilization. With more customers becoming aware of the Magni products and their amazing capabilities, its potential will be infinite for years to come.
"One thing for sure is that we will continue growing together as a team," Luke adds in summary. "Many of our employees have been with us for over ten years now, and with their successes and hard work, we'll be able to serve our customers even more effectively."
Empire Crane Company
www.empirecrane.com
Services: Crane sales, rentals, parts and servicing