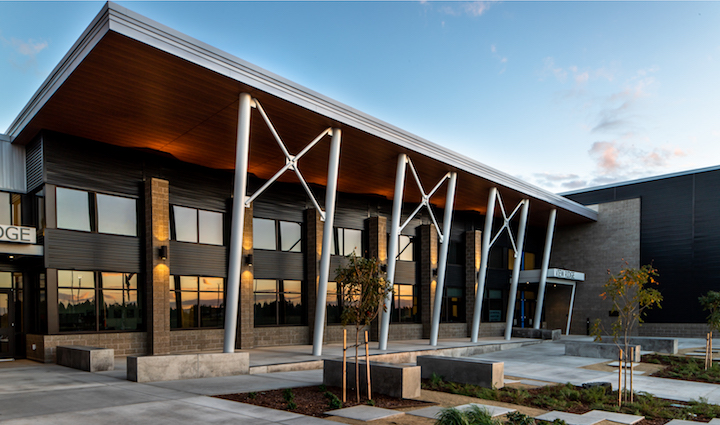 Emerick Construction embraces its past and celebrates a bright future as a thought leader and innovator in the Pacific Northwest. 
One of the leading general contractors in the Pacific Northwest, Emerick Construction attributes its longevity in the industry to its people-centric business approach that results in extraordinary projects and long-term relationships. "It all comes back to the people," Director of Business Development and Marketing Samantha Jordan says. "Any general contractor can get a job done, but it's how well you service the client from start to finish that makes the difference."
Emerick is not your ordinary general contractor. The company has achieved that reputation by building partnerships through consistently delivering reliable, responsive and honest work. Emerick develops a custom approach to every client's project because it recognizes that each one presents a unique set of challenges that can impact the budget, schedule and team success.
Paul B. Emerick founded the company in 1943 as a full-time concrete subcontracting firm when his hobby for building homes in his spare time grew rapidly through word of mouth. By the 1950s, Emerick Construction was doing commercial work and won its first $1 million contract with the Dairy Cooperative Association. Since then, the company has diversified its portfolio to include projects in civil and transportation, critical facilities, commercial office and retail, education facilities, historical and government and seismic renovations.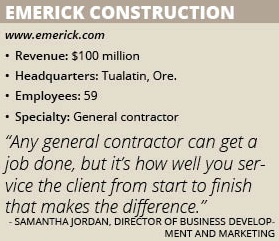 "We focus on commercial work and consider ourselves a mid-range general contractor, focusing on projects from $250,000 up to $92 million," Jordan says. "The three market segments we are seeing the most traction in today are education facilities, critical facilities and seismic renovations. We became a critical facilities contractor five years ago and have completed 27 projects in the last decade. Being on the West Coast, seismic activity is a huge top-of-mind topic with most people and has become one of our niche markets, as well."
Celebrating 75 Years
Emerick marked its 75th anniversary last year by celebrating its past and looking to the future. The year kicked off with 75 fun facts about Emerick and a journey into the company's archives to showcase the projects, people and historic events that made the company what it is today.
From that research, the company created 75th anniversary bottles with different facts on it and client projects, which it then sent to past clients to commemorate their history together. "It's another way to have a touchpoint, reintroduce ourselves and remind them of the great project we did together," Jordan remembers. "We got a lot of good traction out of that and it was fun."
Emerick's leadership also took last year to focus internally and determine what makes a great company culture. "We took a deep dive into what makes a great culture, what is the Emerick way, what are people looking for and how do we capitalize on that," Jordan says. "The research piece to that was extensive and we really got to know all our people and what they cared about, how they worked and what they were doing outside of work and integrated those pieces."
The tenure of its employees speaks volumes to Emerick's dedication to its people and developing those relationships. A majority of Emerick's 59 employees have been with the company for more than 14 years and some of its project managers have 20-plus years with the company. CEO Larry Sitz began his career at Emerick in 1974 as an assistant project engineer and four decades later, he combines his broad expertise with an inventive skill set to help each of Emerick's clients realize maximum value for their building investment and estimating.
Although the company does not self-perform a lot of its work, Emerick does employ full-time superintendents and foremen to maintain relationships with its clients. "We believe that's a real benefit because they understand our company, our processes, our clients and our history," Jordan adds. "You want to continue having the same faces show up on clients' job sites and that you are really putting money into the people and their training."
Emerick Academy launched this year as a way to better communicate how each person in the company intertwines with every project. "We highlight certain projects and the materials that we are using, break down the contracts and behind the scenes documentation and how each person helps build toward that," Jordan says. "We hold weekly meetings to educate how that all happens. We are working on us and the company culture."
By treating its people well, Emerick knows that has an effect on how its clients are treated. "When you treat your employees well, they work hard and have great respect for the company," Jordan says. "Our success is in how we treat our people, clients and subcontractors."
For example, Jordan says Emerick has a great longstanding relationship with Hydro-Temp Mechanical Inc., a full-service mechanical and plumbing contractor based in Wilsonville, Ore., that it has worked with on many projects. "They are a true Pacific Northwest subcontractor who understands the market, realistic pricing and specs for the job and conveys true numbers for us as the general contractor," she adds. "You want to have people on your team who are also there to make the project successful."
Breaking Down Boundaries
Jordan started her career with Emerick in 2006 as an independent consultant tasked with marketing its special projects division and help the company stake a claim in the market. "Then 2008 hit just when we started to make efforts with this division, so we did out-of-the-box thinking, gorilla marketing and things our competitors weren't doing because most companies were looking for ways to cut back on what they think are overhead expenses," she remembers. "We focused in the opposite direction and that really paid off because over the next few years we were able to grow as a division."
In 2010, Jordan was hired on as a full-time employee and is now on Emerick's leadership team. It was at that time that the company's current President Corey Lohman became vice president and the whole philosophy of the company began to shift.
Being a female executive in the construction industry is not without its challenges, but Jordan says the key to success is how you show up and what you can bring to the table that differentiates you amongst your peers. "Those are some of the qualities that helped me get a seat at the executive table," she says. "How can I take the marketing arm and help intertwine it with the changing culture and continue to show my value and worth? The biggest challenge is changing the mindset in the industry about the roles of women in construction in terms of what we can bring to the table and offer." Jordan is one of three female executives at Emerick.
As a female executive in construction, Jordan says she and Emerick look for opportunities to become mentors. "In the construction industry, you have to model what you want to see changed and for us, part of the hurdle is it's hard to emulate something when there is no role model," she explains. "At Emerick, we want to leave a legacy behind of strong women who encourage younger women and model something great for them."
With a multitude of career opportunities inside and outside the office to excel at in the construction industry, Jordan emphasizes the importance of being involved in Portland Workforce Alliance career expos, local nonprofits like Girls Build, which exposes young girls to the architecture, engineering and construction trades, and trade organizations to communicate those opportunities. "There are no limitations," she says. "The only ones are the ones you put on yourself and you should not let anyone stand in your way of something you want to try. Just because you don't see it happening doesn't mean it can't happen."
Community Spirit
This summer, Emerick will complete the final phase of a $92 million project for the Ridgefield School District in Ridgefield, Wash. The company oversaw five projects for the school district over the course of three years, which included building a new 145,000-square-foot intermediate school, converting the old elementary school into a new administrative building for the district offices and the construction of general education and flex classrooms, science and life skills classrooms and a media center in the high school.
"We infiltrated the community and infused ourselves in their daily lives while working on the projects for them," Jordan says. "We are really into the community spirit and getting into the aspects of why the community put forth the money to build these schools. We participated in activities that involved the school district and constituents so they could see we are part of the community and we have a safety mindset behind all the choices we make every day on our projects. We had the same team across all the project to keep the legacy of what the school district entrusted us with and for consistency, which demonstrates that we are here to build relationships."
Moving forward, education facilities will remain one of Emerick's top three market segments as it looks to expand its presence in the seismic renovation community. The company is looking to perform more consulting work and master planning in the seismic community. "We have been told that we should be on the forefront of master planning of seismic projects before they get to the build stage," Jordan says. "We are trying to think of better ways to help clients get a strong hold on the seismic upgrades that need to happen here over the next few years."