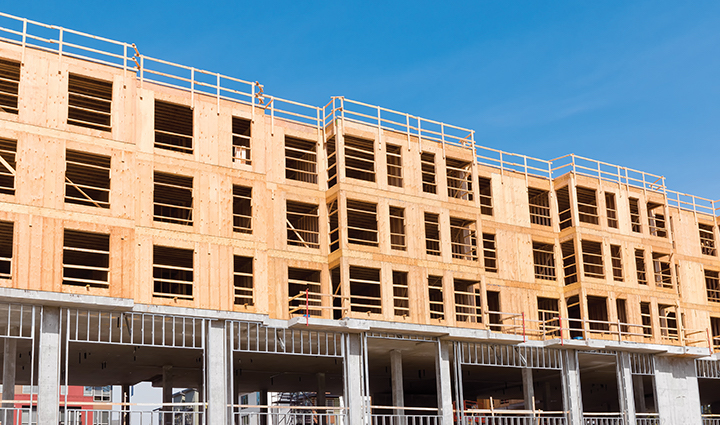 After almost a half-century, Embrey Partners continues to grow.
Walter Embrey Jr., a native of San Antonio and graduate of the University of Texas at Austin, founded Embrey Partners in 1974. Embrey Partners is a development, construction and property management company specializing in commercial and multifamily projects.
In 1976, Embrey Partners started doing construction and in 1977 completed its first commercial development, Northcross Park, on a 30-acre site.
"Our construction team's involvement begins early in the construction process by collaborating on plans and site challenges," the company says. "We realize that surprises during the construction phase can be costly, so Embrey's construction operation eliminates the unexpected by its meticulous processes, dedication to quality and established subcontractor relationships."
The next year, Embrey Partners completed its first multifamily project, The Vineyard, a 74-unit development in San Antonio. The company continued to grow and, by 1985, began to develop outside Texas. It has since completed projects in 10 states and in cities as far away as away as Chicago and Baltimore. In Denver, for example, there have been eight projects valued at $550 million total.
In 1991, Trey Embrey and Lisa Embrey joined the company. Trey Embrey, like his father, attended the University of Texas at Austin where he earned a bachelor's degree in economics. In 2000, Trey left to start his own real estate company, which he ran for the next decade.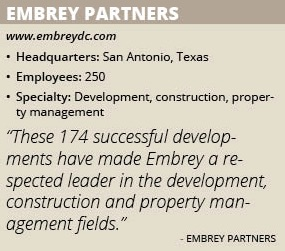 Meanwhile, Embrey Partners continued to grow and rack up accomplishments. In 2000, the company began managing properties. By 2001, it had developed 4 million square feet of commercial space.
In 2002, San Antonio Business Journal ranked Embrey as one of top 50 privately held companies and in 2007 Embrey Partners had completed 100 multifamily projects. That same year, the company completed its first mixed-used development, Quarry Village.
Trey Embrey returned to Embrey Partners in 2010. He was vice president of operations for a short time before moving up to president In 2011. Meanwhile Walter Embrey Jr. transitioned to CEO. In October 2017, Trey added the title of CEO while Walter became chairman.
Under Trey Embrey's oversight, the company grew from 60 employees to about 250 and began 35 new developments valued at a total of $1.8 billion.
Trey Embrey described his management style as being available to his team and being a consensus builder, in a September 2018 article in the San Antonio Business Journal. He described himself as analytical and straightforward.
For those seeking to make it to a corporate level, Trey recommended getting to know your competitors. "It may feel awkward but some will become friends and valuable resources," Embrey said. "You will learn from each other. A rising tide floats all ships."
The Standard at Legacy
Among its significant projects within San Antonio is The Standard at Legacy.  Embrey Partners will develop, construct and manage a 323-unit housing development on a 7.5 acre property in San Antonio. The development will include 287 apartments and 36 townhomes.
This is the second project for Embrey Partners in the Legacy Community, in addition to The Dwell, a 289 unit development that Embrey Partners completed in 2014 and later sold. The Standard will be a more upscale development featuring two-car garages, eight-foot-high doors, quartz countertops and high-end appliances. The company broke ground in 2018 and is currently in the second phase of the $75 million project.
"We are excited about the opportunity here, and moving forward with it," Vice President John Kirk said in a 2018 article in the San Antonio Business Journal.
The Latest at Embrey
Embrey Partners remains busy. Recent developments include:
Kelly at Samuels Avenue in Fort Worth – An upscale development of 353 units on 10 acres in the Samuels Avenue historic district, it opened in October 2018. The development required restoring and repurposing one historic house built in the late 1800s. The project involved removing asbestos and lead, installing a synthetic slate roof, stabilizing the structure and foundation and extensive repainting. Embrey also moved another historic house to a new location. The preservation work gained Embrey Partners an Award of Merit from the Texas Historical Commission.
Property management of Los Robles –  An upscale 306-unit complex in the Stone Oak community of San Antonio.
The Knox at Metrocenter in Nashville, Tenn. – Embrey Partners broke ground on December on 322-unit apartment complex located one mile north of downtown Nashville in the Metrocenter business park.
The Packing District in Orlando, Fla. – Embrey was chosen to build 310 units of multifamily housing. The project will involve repurposing historic buildings. Embrey plans to break ground in June 2019, with units coming online by December 2020.
Real Estate Education
In 2015, Walter Embrey Jr donated $1 million to the University of Texas at San Antonio to help establish a two-year master's program in real estate finance and development.
After 45 years of business, Embrey Partners continues to do well.
"From the time we opened our doors in 1974, we have partnered in projects that total 40 million square feet of multifamily and commercial properties combined," the company says. "Over 45 years in business, Embrey Partners has successfully developed more than 32,500 multifamily units and 6 million square feet of commercial space. In addition to generating some of the highest rental values in their markets, these 174 successful developments have made Embrey a respected leader in the development, construction and property management fields."