Paying it forward
As countless satisfied customers have come to discover, The Compliant Client system by eMars is the answer for worry free-time saving compliant payment. Easy to install and use, the system provides immediate, concurrent, real time visibility of all payroll records of the sub, prime, plus – the owner agency. All screens are printable, and every submitted payroll is audited, on line and in real time, against the wage determination and all 30 causes that are in support of Davis-Bacon and Related Acts.
Designed with considerable input from the Department of Labor, and various other agencies and contractors, Compliant Client requires only a PC and less than 30 minutes of training to get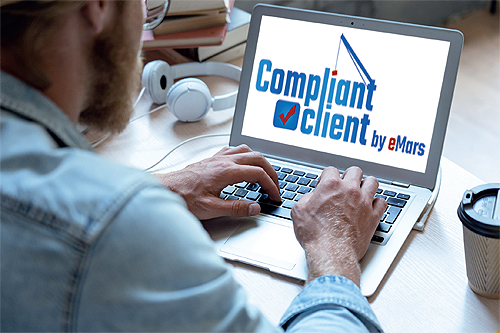 started, and complete implementation takes less than a single day after loading the wage determination. With a typical payroll prepared in less than five minutes, the system represents an 80 percent productivity improvement compared to paper and pencil preparation. Furthermore, instant recognition of payroll errors prompt the user as to how to solve the problems and guarantee compliance.
Another unique feature of Compliant Client is that it encrypts at-rest data, providing an additional layer of security. "Security and peace of mind for our clients is our major concern," explains President of eMars Inc., Woody Chamberlain. "We handle, save, and encrypt hundreds of thousands of bits of information for our clients, and we understand that their workers' privacy and sanctity cannot be compromised."
A further benefit of Compliant Client is that it is made available to auditors to receive and review electronic payrolls. eMars authorizes approved auditors to utilize the system so that they can thoroughly interrogate the data and see what is going on with a particular company's payroll. The auditor also has the ability to send out internal messages within the system, which is another innovative feature of Compliant Client. "By supporting not only our clients, but also auditors, we are delivering a two-pronged service for the betterment of all parties concerned," Woody enthuses.
The multiple system features of Compliant Client are also helping to lend it to other associated demands facing construction companies in 2021. "A new development to have arisen in the last year, in light of the pandemic, has been an increased pressure for public employees working on State of Government funded projects to show that they have been vaccinated against Covid-19," Woody details. "We have the ability to store this information within our system, providing easily retrievable records of every worker on a project and his or her respective vaccination status and eligibility to work.
"The ability to store data that helps to facilitate the correct and legally binding running of projects also extends to things such as the recording of worker's criminal records. Many of our clients carry out construction projects on active college campuses, and a general rule is that you cannot have a convicted felon active on said sites. Compliant Client can help to identify those with a prior conviction and therefore would be disallowed from joining a particular project. "We feel it is this ability to store large swathes of easy-to-access data on vaccination and conviction status, as well as elements such as what percentage of a workforce is male or female, or the percentage of say minorities or military veterans there are on a given project, that places our system ahead of the current pack."
With a Spanish language version of Compliant Client currently being actively explored, Woody goes on to conclude how the system is constantly evolving to meet the needs of clients not only today, but in the future. "As we have displayed numerous times to date, whenever a new requirement is presented to us by either a client or the wider industry, we are very adept at making adjustments to Compliant Client in order to serve said need, before making it available to everybody. "Unlike many other systems out there, which have various versions active at any one time, there is only ever one version of Compliant Client out there, and that is the latest one! Our system operates in real time, so when we roll out an upgrade we immediately make this accessible to all of our users. That is how we continue to introduce change to the market."
eMars Inc.
www.emarsinc.com
Products: Certified payroll on-line compliance software