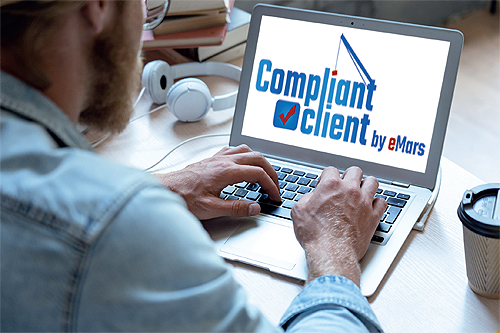 The Davis-Bacon Act mandates that contractors who receive at least $2000 from the government must file weekly payroll reports. There is a total of 31 compliance issues in the Davis-Bacon and Related Acts. The prevailing wage must also be adhered to for all trades and apprentices.
What can contractors easily do to have a compliant payroll… without errors? Compliant Client by eMars is the answer.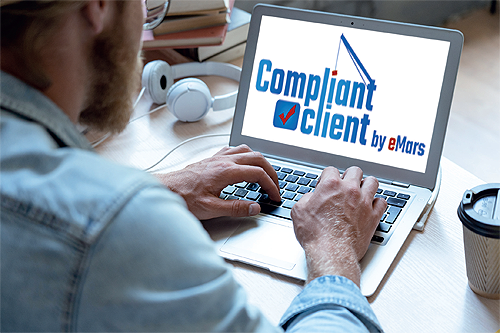 This system requires no installation or maintenance. It provides immediate, concurrent, real time visibility of all payroll records of the sub, prime, plus – the owner agency. All screens are printable. Every submitted payroll is audited, on line and in real time, against the wage determination and all 31 causes that are in support of Davis-Bacon and Related Acts.
The results of comparisons to the provisions set forth in the act are immediately reported, allowing corrections to be made promptly. A typical payroll is prepared in less than eight minutes.
The following are questions about eMars and the Compliant Client system answered by Woody Chamberlain, President of eMars and Ed Sambuchi, Director of Customer Service:
Why would a construction company use Compliant Client by eMars?
Ease of use backed by the best support in the industry are two strong reasons. eMars designed this system with considerable input from the Department of Labor, agencies and contractors. We are viewed as the most usable and user friendly system available.
Our clients, all 48,000+, have not had any random Department of Labor audits for the past three years.
What happens when construction companies don't adhere to the compliance issues of the Davis-Bacon Act of 1931?
They can be fined, debarred, or be put in jail.
Are there other construction companies relying on Compliant Client during this current pandemic? Can Compliant Client help a construction company during this current pandemic?
Many construction companies are relying on Compliant Client by eMars. We have done many Covid projects because of our ability to quickly set up a project and report in a timely manner.
How long is the learning curve associated with using the Compliant Client system?
Thirty minutes. Competitors take three to four times as long.
Tell me about 'customer service' as it relates to eMars/Compliant Client and your customers.
eMars provides the best support in the industry. We basically manage the subcontractors for the prime with respect to the payroll report. If a user needs help, we will reply with a phone call or email in 15 minutes.
Does Compliant Client identify critical errors in a construction company's payroll?
Absolutely. The notice is on line in real time – similar to spell check.
How many compliance issues are there in the Davis-Bacon Act?
There are 31 compliance issues. So, if your company has 400 employees, there are 12,400 opportunities to be out of compliance.
Does Compliant Client use less paper than other systems?


Compliant Client is paperless. The only time paper is required is if an auditor insists on paper. eMars has trained over 200 auditors who do not require any paper since they have access to the electronic records.
Is Compliant Client another program that you add to your computer system?
The only requirements are a computer and access to the internet. There is no need to disrupt existing systems with the addition of another program.
What does eMars /Compliant Client do to preserve the privacy and sanctity of the information it stores?
In addition to a firewall, eMars encrypts all the sensitive data in the data base, commonly referred to as 'at rest data'. No other competitor provides this double layer of encryption. eMars also preserves data for seven years, while competitors only store information for three years.
Compared to manual input of information, is there a significant saving of time and money?
This saving can range from 20 to 90 per cent.
Is there a limit of subcontractors that can be added under a main contractor?
There is no limit to the amount of subcontractors that can be added under a main contractor.
Is there a limit to the amount of employees that can be input into the system?
No. In fact, we easily handle over 5000 employees on a single payroll; competitors can only manage a few hundred.
Is there an audit trail with your system?
Yes. Nothing is ever eliminated from the system. In fact, if an error is detected, the error 25will be preserved along with the correction. A complete audit trail is always available.
Has eMars/Compliant Client ever been hacked?
No – we've never been hacked. eMars conducts third party penetration tests on a regular basis to insure integrity of the system.
Has the Compliant Client system supported large projects?
eMars/Compliant Client has many large projects including the largest Davis-Bacon project in the USA for the last five years – the nuclear power plant in Georgia.
Are there pricing options?
Yes. eMars provides a monthly option, a firm fixed fee for one or a basket of projects, an annual or multi – year contract option with ability to negotiate an acceptable fee.
For more information, contact Woody Chamberlain at: 480-595-0466 or by email at: Woody.chamberlain@wh347.com
Please visit: emarsinc.com