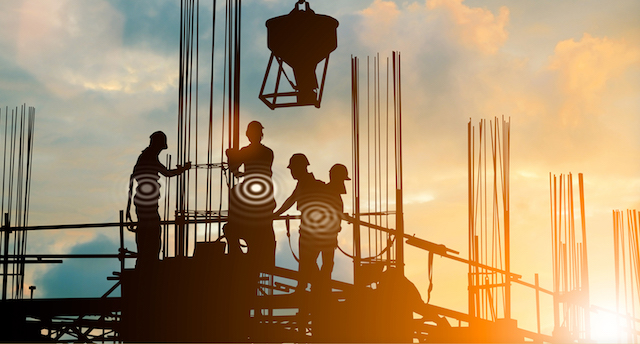 Compliant Client software by eMars helps employers process payroll.
"Time is money" is the old adage that you've probably said or heard hundreds of times in your life. It's true. Spending time in non-income areas of your business is like throwing money in the trash.
But, if you're the CFO or the payroll accountant, you have to pay strict attention to your payroll, every week of the year. Making sure every employee gets the correct pay is critically important. Time well spent, right?
Is your organization spending three to 10 hours or more every week making sure that the payroll is correct and compliant? Could that time and energy be better spent in other areas of your business?
Is there a possible alternative to spending hour upon hour making all of your checks compliant and entering correct numbers and information into your payroll database?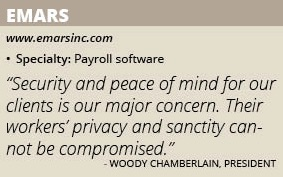 Yes.
Compliant Client by eMars makes running your payroll an eight-minute, worry-free task. eMars and Compliant Client take care of all the compliance issues, guidelines and mandates of the Davis Bacon and Related Acts (DBRA) and many state variations.
The Davis-Bacon Act, passed by congress in 1931, requires private contractors to pay "prevailing wages" to employees on all federally funded construction projects over $2,000. Stiff fines, debarment and jail time can result if payroll checks are not in compliance with this act.
There are 30 compliance regulations that must be adhered to for every check. So, if you have 100 employees, that's 3,000 possible errors every week. The time involved to keep watch over 30 compliance issues for 100 employees is staggering. Does your organization have the time to personally watch over every check and every compliance issue?
The downsides to not investing the time are:
• Angry employees
• Large fines
• Jail time
• Going out of business
Out-of-compliance payroll checks difficulties don't go away with "I'm sorry, I didn't know and we'll fix this problem real soon."
How many checks does your organization handle every week?  Can you catch every error every week?
Doing payroll by hand every week is time-consuming, costly and risky.
Many financial executives do not protect their company and its top executives from submitting erroneous, non-compliant, illegal payrolls. Based on a study of 100,000 payrolls, at least 20 percent of construction company payrolls contain one or more errors, when audits of these payrolls rely on human review.
Here's how to reduce your compliance risk and reduce time managing your weekly payroll by 80 percent.
The Compliant Client system by eMars is your answer for worry-free time-saving compliant payroll. The system is easy to install and use. It provides immediate, concurrent, real-time visibility of all payroll records of the sub, prime, plus – the owner agency. All screens are printable. Every submitted payroll is audited, on line and in real time, against the wage determination and all 30 causes that are in support of DBRA. The results of these comparisons to the provisions set forth in the act are immediately reported, allowing corrections to be made promptly.
A typical payroll is prepared in less than eight minutes.
Compliant Client requires a PC and less than 30 minutes of training. Complete implementation takes less than one day after loading the wage determination. Compared to paper and pencil preparation, the eMars system represents an 80 percent productivity improvement, plus instant recognition of payroll errors that prompt the user how to solve the problems and guarantee compliance.
The system was designed with considerable input from the Department of Labor, agencies and contractors. The 15,000-plus users of Compliant Client have not had any random Department of Labor audits for the past three years. The Department of Labor's Chief of Compliance stated that ". . . your system already has completed the first level of an audit."
To make the employee identification process smooth, RFID tags are used by the eMars Compliant Client software system as a way of ensuring who was on site, when they entered the site and when they left. With RFID, you verify and not guess.
Compliant Client also encrypts at-rest data, giving another layer of security for this sensitive data. For many organizations, private at-rest data is only protected by the user name and code.
"The primary purpose of encryption is to protect the confidentiality of digital data stored on computer systems or transmitted via the internet or other computer networks," says Rick Paul of ITS Rick Paul. "Modern encryption algorithms play a vital role in the security assurance of IT systems and communications. They can provide not only confidentiality, but also the following key elements of security:
• "Authentication: the origin of a message can be verified.
• "Integrity: proof that the contents of a message have not been changed since it was sent.
• Non-repudiation: the sender of a message cannot deny sending the message."
Why would eMars, offering Compliant Client, protect its "at-rest data?"
"Security and peace of mind for our clients is our major concern," says Woody Chamberlain, president of eMars Inc. "eMars encrypts sensitive at rest data. We handle, save and encrypt hundreds of thousands of bits of information for our clients. Their workers' privacy and sanctity cannot be compromised."
From routine payroll reviews to the complicated tracking of certified apprentices and calculation of restitution, the Compliant Client ensures that at-rest payroll data is encrypted, remains error free and follows DBRA. Perhaps some financial executives are unaware of the amazing Compliant Client system by eMars. "Ignorantia legis neminem excusat" is the famous Latin phrase, meaning, "ignorance of law excuses no one".
Contact eMars at 480-595-0466, Woody.Chamberlain@Emarsinc.com or www.Emarsinc.com.