Downes Construction Company: going above and beyond for community builds
Power to its people
Since its foundation in 1934, Downes Construction Company's (Downes) ownership structure has varied, yet, the business has continued to enjoy sustained growth and considerable success. In May 2020, the business transitioned to become an Employee Stock Ownership Plan (ESOP) and continues to be so, today.
As President, David Patrick, explains: "Downes was a mid-$55-million-a-year company from the early 2000s until about 2017 when the company experienced rapid growth. We do about $150 million a year now in annual construction volume and boast around 67 employees. From healthcare and higher education to municipal and museum buildings, we have really carved out a niche for ourselves in Connecticut's construction market. In fact, we were recently recognized by national Engineering News-Record magazine for one of our museum builds, and we are pretty proud of that accolade.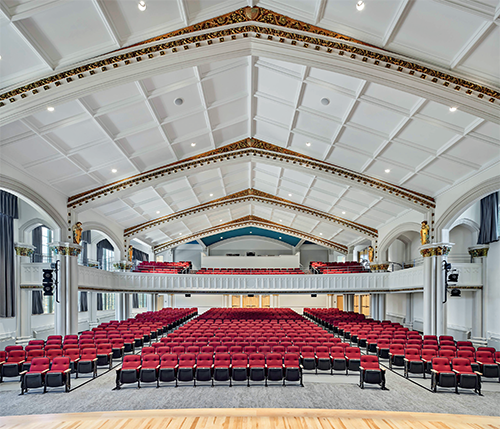 "The growth of the company over the past five years has been remarkable, particularly during a time of transition when many of the long-established workforce and senior leadership team retired. That said, the existing management team also has an impressive history of longevity which reflects the organizational culture. Employees join Downes and they don't want to leave. I think the transition from an LLC partnership structure to the ESOP was really an effort to, first and foremost, reward the people who have built this company to what it is today, and secondly, to ensure the Downes name continues on in the State of Connecticut and in New England. It's been an exciting transition. I think every employee gets up every day and says, 'you know what, I am a shareholder, I am a part-owner and I want to do my part to make sure this company succeeds.'"
Community contributions
As Tom Romagnoli, Vice President of Operations, reiterates: "I think the success of our company really boils down to our people and our process. One of the reasons I joined Downes was the fact it is a local company with a solid reputation, and a welcoming, family-oriented atmosphere. We are working really hard to maintain that culture, to collaborate with one another and instill those core values. This ethos extends to our clients and is reflected in the quality projects we win."
Indeed, it would seem the more complicated the project, the more the business excels. "From renovation to repurposing, we do a lot of projects that bring buildings back to life," says Tom. "These projects have inherent value and satisfaction. For example, we converted an abandoned building in Wethersfield into a Discovery Academy that specializes in science."
David highlights that the State of Connecticut was recently ranked number three in the country in terms of its physical schools and education provision. "We take great pride in the part we have played in the construction of some of these schools. Over the last seven years, we have built over a billion dollars' worth of public schools and these are schools with incredible facilities. We're proud of our contribution to our children's education."
From supporting children to giving back to the local community, Tom highlights the importance of philanthropic endeavors. "We try to give back to the community, in some way, on all of our jobs. We employ local and minority workers, and promote community businesses. We also employ apprentices from the local area to build our industry from the ground up. The success of our company relies on qualified people and generating an excitement about our industry and the opportunities it affords."
Over the last two years, the construction industry has taken a hit as a result of the pandemic, and particularly so, in terms of the supply chain. "Critical pieces of equipment used to have an eight-to-12-week lead-time. Now, it can be as many as 60 weeks," confirms David.
"To combat this challenge, as construction managers, we typically get involved in projects around the same time as the design team. We come together early to ensure we preorder materials well before we even think about the construction process. For example, we are currently carrying out a two-phase project in Killingly. Roofing supplies have proven particularly problematic to procure, so Tom and his team put together a materials package to ensure those items will be available when we start the construction phase next year."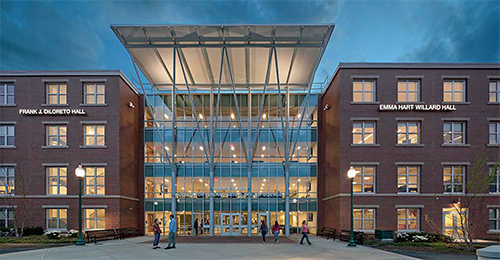 "As we continue to see supply chain issues arising, we really have to drive the discussion during the pre-construction phase," adds Tom. "We can deliver on time and within budget by procuring materials early in the process. We have to keep our finger on the pulse in terms of marketplace trends, and touch base with key trades and suppliers to keep our information as current as possible. It's important to react quickly and make educated decisions to keep the project moving. We have initiated a procedure whereby all materials' approvals are submitted way ahead of construction schedule. This approach buys a little time if we have to flex our processes."
Controlled growth
A pertinent example is the Martin Luther King Junior Campus renovation project. The city of Hartford was undertaking a redistricting plan and the timely renovation was pivotal to its success. Downes was tasked with radically reducing the project deadline at the behest of political funding. David explains: "I think it's a real reflection of the determination and commitment of our team to have been able to put this project together. We took 168,000 square feet right back to the bare concrete. Not only did we have to do it in such a short time frame, but we were in the middle of an unprecedented, worldwide pandemic. We had to make significant changes to our safety set-up in addition to the usual complications of such a large-scale build. There has never been a school of that size built in the State of Connecticut in that time frame. It was quite an endeavor."
Looking to the future, David considers the impact of current market price hikes. "We need to be honest with our clients to eliminate the element of surprise. We also need to strengthen our subcontractor partnerships to ensure everybody understands the impact of those cost increases."
Additionally, Tom is keen to highlight that the business is actively recruiting young talent to stay ahead of labor shortages. "We have a number of graduates we are mentoring in an effort to maintain and continue the growth and culture of our company."
As David concludes: "We are now a major player in Providence, Rhode Island, in addition to our prominent presence in Connecticut. Over the next five years, I think we need to strategize the expansion of our geographic footprint. Businesses like ours need to grow, but we need to grow at the right pace so we can maintain the level of commitment, quality and service we provide to the clients in the markets we are in currently."
www.downesco.com