Creating connections
A company that strives to understand the needs of its workforce and client base, Dome Construction has mastered the art of building strong relationships with its customers and staff
In 1969, Dome Construction started in a living room in downtown San Francisco. From the beginning, there was an inherent understanding that the company needed to do things differently. Today, Dome Construction has grown beyond what founders Anton Bley and Bill D'Atri first created, but their core principles remain the same. It still maintains their vision for developing a thoughtful, innovative, and sustainable construction business with its fundamental values deeply rooted in a people-first philosophy.
Over the last five decades, Dome Construction has, and continues to be, widely recognized as one of the leading contractors in California. Dome offers construction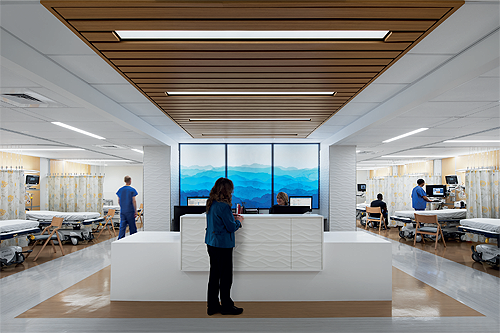 services for clients across the Healthcare, Education, Life Sciences, Technology, and Retail & Hospitality sectors. What distinguishes Dome from its competitors is the firm's ability to cultivate meaningful relationships with its customers, employees, and partners. As a result, the year on year average of repeat and referral-based customers makes up 95 percent of its business, and Dome's success continues to grow.
Dome's relationship with the University of California, San Francisco (UCSF) is a testament to this success. For over 15 years, Dome has been a trusted partner in renovating facilities on the UCSF campus, and it has been able to deliver spaces under strict government regulated OSHPD guidelines for projects ranging from Radiology Departments and Transplant Centers, to Operating Rooms and MRI Suites. Recently, as the Bay Area prepared for COVID-19 impacts, UCSF trusted Dome to mobilize immediately to build out 43 new patient rooms in a previously decommissioned wing of its Mt. Zion Hospital.
The X-Factor
Similarly, Dome has deep roots in the Life Sciences and Technology sector, having completed its first project in this industry well over 30 years ago. In 2019, this sector made up nearly 42 percent of Dome's revenue and it has over 100 employees who specialize in the industry. A recent example of its outstanding reputation within the Life Science and Technology sector is the Sangamo Therapeutics' Headquarters located in Brisbane, California. This monumental project included a cutting-edge GMP manufacturing facility, clean rooms and warehouse, and a creative office and lab mix-use spread across four floors, with a footprint of 105,000 square feet. The seamless delivery of this project was a true testament to Dome's expertise within the Life Science and Technology industry.
Staying true to its origins, Dome is always looking for fun new ways to build relationships and engage with its clients – it wants to have the 'X-Factor' that sets it apart. To Dome, a successful project is more than just completing the project on time and under budget. It's about the experience the client has with its team. The Demo Party of the five-floor Getaround HQ project in San Francisco is a great example of how Dome keeps its clients top of mind. To engage with employees about their exciting new building, Dome scheduled a demolition party where Getaround's employees and CEO were able to help demolish a safed-off wall – all while wearing custom-made purple hardhats complete with Getaround, Dome, Gensler, and JLL's logos. To complete the experience, the lobby was decorated with renderings of Getaround's future office space to help build excitement about the project. Experiences like this are key in creating the strong relationships that make Dome unique.
As a pioneer of innovative construction practices, Dome was also an early champion of Lean Construction and industry related innovation. Last year, a team of Dome innovators rolled-out a new safety platform, called eMOD. The platform is designed to create and improve transparency, accountability, and safety for Dome, its trade partners, and its clients. eMOD was originally created to offer the construction industry a much-needed safety solution. Rob Lynch, CEO of Dome Construction, describes the importance of eMOD, calling it "a dynamic, evolving and transparent web-based application for use by those closest to harm's way and closest to the work – field crews."
Another way Dome is leading the industry is in its approach, dedication, and commitment to the advancement of women, both at Dome and within the construction industry. Currently, women make up less than 10 percent of the construction industry in the United States, and on job sites, the numbers are even lower. Within the past two years, Dome has created The Dome Women's Leadership Committee whose mission is to implement new programs in recruiting, mentoring, and conscious inclusion. The leaders of Dome have worked diligently to implement the knowledge founded by this committee at multiple conferences and industry events, sharing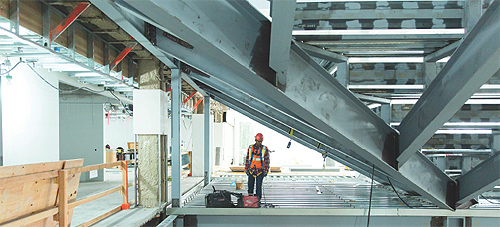 its ideas with other contractors.
Having read about the ways that Dome invests and values its staff, it's no surprise to learn that over the past several years, the organization has been awarded a position on the Best Places to Work list, which is published in the San Francisco Business times every year. Dome's Senior Leadership recognizes that it's not about the ranking, it's about continuous improvement. It's about understanding where and how they can make their employees' experience better. As Rob Lynch states: "One of our greatest strengths lies in the fact that we recognize our employees are our most important asset, promoting individual growth along the way through education, recognition, encouragement, support and respect. All great teams are built on communication, trust, and fairness, and these are qualities we endeavor to embody."
At Dome, everything about its success can be attributed to its employee-centric culture. Recognizing the value of its employees, Dome offers generous benefits such as paid time off, health and medical insurance, personal and professional development opportunities, 401(k) retirement plans, and a generous philanthropic matching program. A company of over 340 people, across five offices, Dome is always looking for talented people to join its growing team. The company intends to expand its operations further into Southern California, to offer additional opportunities to the good people in which it has invested.
Much like Dome's people-first philosophy, a philanthropic culture was established from the very beginning. Over the last several years, over four percent of Dome's profits have been distributed back into its community. "We're committed to making Dome Construction a community that cares," proclaims the Chairman Mark Bley, who currently oversees the Dome Construction Foundation. This distributed $737,000 in 2019 for organizations like Urban Services, YMCA, All Stars Project, Edgewood, Lazarex Cancer Foundation, A Home Away from Homeless, and several others – once again demonstrating the caring, people-centric approach that can be found at the heart of Dome and illustrating how it really does put people first.
Dome Construction
www.domebuilds.com
eMOD
www.emodsafety.com
Specialty: Construction Services