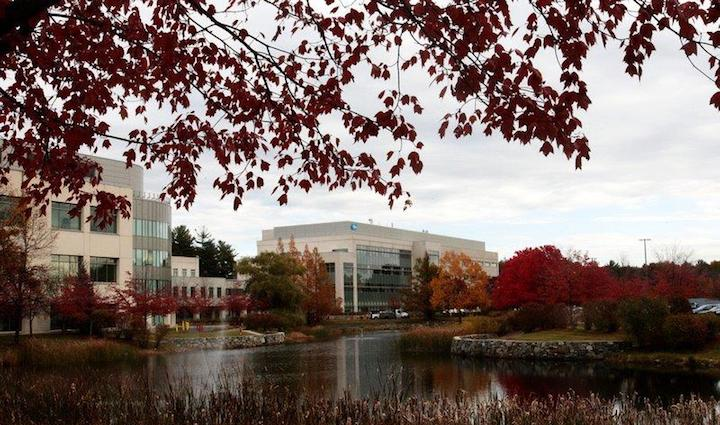 Bringing its expertise to every project, DECCO designs and installs process piping systems in a wide range of manufacturing environments.
Turning experience into expertise has become a regular occurrence at DECCO. Celebrating its 85th year of serving clients in New England., the Brookline, N.H., company's projects encompass the design and installation of piping systems for manufacturing facilities that range from ultra-high-purity environments to large industrial processing plants. Its clients include chemical, food and beverage, and bulk gas distribution concerns.
"We are recognized as the premier mechanical piping contractor in the area," asserts Executive Vice President Tim Barton. "We have repeatedly demonstrated that we deliver the quality expected, safely and on time."
Barton says the company's experience and expertise have been instrumental in helping its clients meet project quality expectations and complete work weeks or even months ahead of schedule. DECCO services are divided into three operating groups: DECCOFab, which focuses on module construction and pipe fabrication; DECCOServ, which provides lab plumbing services, special project delivery and on-going site services for clients in its "Customer Alliance Program,"; and the Construction Group, which focuses on large, complex manufacturing projects.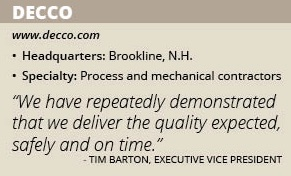 Design/build is becoming more common in an industry once used to starting projects with detailed, complete construction plans. "Many owners are trying to get projects completed in a shorter cycle," Barton notes. "On top of that, the owner's vision is not always clear at the onset and, as subcontractors, we have to be flexible enough to accommodate and adjust for these challenges."
Barton adds that this flexibility requires subcontractors to have greater knowledge and expertise in the systems that are installed. "That is where we've developed an expertise and a good reputation," he says.
Mission Critical
Never was DECCO's background put to the test more extensively than in designing and installing 10,000 feet of critical process piping for a facility at Pfizer's North Andover, Mass., campus to house the company's biologics clinical manufacturing facility. Quality and purity of the system were of the utmost importance because the facility is used to manufacture pharmaceutical products for public consumption.
"DECCO was one of the first mechanical contractors in New England to perform cGMP [Good Manufacturing Process] installations for FDA-validated pharmaceutical and biotechnology facilities," the company points out. The client deemed the project "mission critical" because it would house the new biologics clinical manufacturing operation and also due to the project's aggressive construction schedule.
The planning stage included modeling the facility's piping system using NavisWorks 3-D model review software. "This prefabrication plan allowed us to fabricate 95 percent of the piping systems in our Brookline fabrication facility," says Kyle Reagan, executive vice president. "Our welders were able to work within a safe, controlled environment free from inherent hazards on construction sites."
"It also allowed our teams to coordinate their installation with the other mechanical, electrical and plumbing contractors," Barton adds. "We were able to minimize site congestion and maximize productivities to meet the client's aggressive schedule."
To further accelerate installation, the assembled piping systems were kitted, shipped and delivered to the site in a coordinated sequence. "This allowed for each piece to be rigged into its associated building location by crane," Barton says. "This included the fabrication and installation of 90 process utility panels to allow for the main piping systems to enter the clean manufacturing space."
In addition, DECCOServ was contracted to modify, repair and test critical process equipment, including water-for-injection vessels and generation skids, process utility panels and process chemical skids. These procedures were to be performed as the building was being completed. Thanks to its efforts, DECCOServ, "was able to complete all repairs, retest and oversee the re-passivation of the equipment in time to keep the project on schedule, saving months of delay," Barton reports.
"Although the project was scheduled for completion in 12 months, we were able to complete the project in nine months," Reagan says.
The company has won numerous awards from Associated Builders and Contractors (ABC), including eight national and 16 regional Excellence in Construction awards, as well as a Safety Training Excellence Program award. Additionally, the Pfizer project has been entered in ABC's upcoming 2019 Excellence in Construction awards both regionally and nationally, Reagan adds.
Training Skills
Hiring skilled tradespeople helps support DECCO's commitment to quality work. "We work with local technical schools in the area and recruit the best students for our three-year apprentice program that provides training from our licensed journeyman pipefitters/welders," Reagan notes. "Even after gaining their welder license, DECCO University provides training in a 1000-square-foot welding facility that includes space for classroom instruction. [Our welders are] the best-trained and qualified workers in our field."
To fill its manpower demands for the Pfizer project, DECCO instituted a four-week "boot camp" that provided paid training to introduce potential candidates to the construction trades. "The course covered such topics as power equipment, construction math, personal protection equipment, and included a field trip to an active DECCO project," Barton says. "After hosting two boot camps, the company graduated 20 new trades to the workforce." As a result of this success, the company regularly holds these boot camps to generate interest for individuals wanting to learn more about the construction trade.
"Every project is unique," Barton says. "We take pride in the challenges we are able meet."