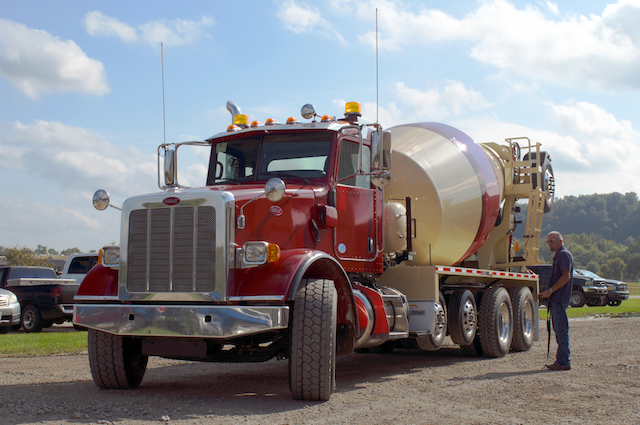 CyKlone Mixer offers the only remote control rear-discharge mixer.
Not all concrete mixer trucks are created equal. When it comes to the next generation of concrete mixers, CyKlone Mixer offers the ready-mix concrete industry a one-of-a-kind product.
From a single mixer to a full fleet, CyKlone Mixer offers rear-discharge mixers in bridge, standard and remote control configurations. But it's the company's newest remote control rear-discharge mixer that truly stands out.
"We are the only manufacturer in the industry that offers a rear-discharge remote control mixer," says Mark Hampshire, senior vice president of sales and marketing. "With this exclusive mixer, the operator can stand outside the truck and operate it from the job site. It allows the driver complete control of the load at the point of delivery. It improves productivity, saves time and improves safety."
CyKlone Mixer's one-of-a-kind rear-discharge remote control mixer allows a driver the freedom to maneuver his vehicle into an advantageous position, pour the load and maneuver out of the jobsite without an additional contractor.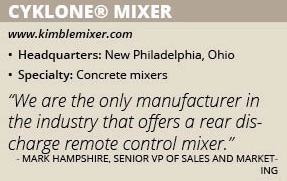 "The operator is working with a joystick control box and making the truck move at a very safe pace," adds Phil Keegan, VP of operations and engineering.
Intuitive Technology
A Crane Carrier Company, CyKlone Mixer introduced its newest rear-discharge remote control mixer model last year. This mixer – along with the company's standard and bridge rear-discharge mixers – employ CAN bus technology.
CyKlone Mixer's specific CAN bus technology is called First Kommand™ Intelligent Electronics.
It's an intuitive blend of technology and functionality that provides the equipment operator with a color display and optional ergonomic joystick for instantaneous mixer control. Mixer service is made easier with an on-board diagnostics program that includes wire numbers and transducer readings in real-time. These features are designed to increase productivity and uptime.
"We put a lot of effort into leveraging current technology for our hydraulic design," Keegan says. "We were the first to utilize CAN bus controls over our hydraulics."
CyKlone Mixer promotes its First Kommand Intelligent Electronics technology as "full intelligent electronics with digital display, optional joystick and programmed mixer functions." When the company introduced it more than five years ago, it was an industry first.
"One of the benefits for the consumer is that it is a much more simplified system when compared to a hard-wired system," Keegan says. "The other advantage is that it enables you to add safety and productivity features."
The CyKlone First Kommand system enables the operator to have fingertip controls of all mixer functions. A full color graphic display provides information to the operator with a simple and intuitive interface.
Real-time diagnostics provide easy troubleshooting of all electronic components including wire numbers and transducer readings – to name a few. In addition, weatherproof sealed keypads use adjustable LED back-lighting that allows for optimal low light visibility.
The First Kommand design also offers reduced weight, simplified wiring, fewer connection points and integrated self-diagnostic capability.
Safety and Productivity
CyKlone Mixer prides itself on offering the industry mixers with high quality parts and drum life longevity. Its proprietary drum design and high-quality steel helps its customers get 25 to 35 percent more life out of their drum.
In addition, mixer controls are coupled with the drum design, making for smoother operation. "The coupled control and drum design enhances productivity," Keegan says.
CyKlone Mixer's products also feature a number of safety features. For example, if the operator has the mixer in a discharge mode and he accidentally pulls away, the controls will stop the discharge so that the concrete doesn't spill out.
"We have another feature where if the mixer is going down a highway and reaches a certain speed, the drum will automatically reduce to a slow rotation," Keegan says. "That's also a safety aspect and it saves on energy."
Front Versus Back
Offering an all-rear-discharge mixer lineup, CyKlone Mixer manufactures a rear-discharge standard mixer and a rear-discharge bridge mixer in addition to its remote control mixer.
"Front discharge mixers offer convenience benefits on the job site, but they are designed and built from the ground up on one-of-a-kind chassis compared to a CyKlone Rear-discharge Mixer, built on a conventional Class 8 truck chassis, " Keegan says.
"The challenge for our customers with front discharge mixers is cost of ownership due to higher maintenance costs, mainly associated with the unique truck chassis," Keegan continues. "Our remote control CyKlone Mixer matches the front discharge mixer in job site convenience, while avoiding the higher costs of mounting on a custom truck frame."
The CyKlone standard mixer can be fitted with an extra boxed-in trailer axle that allows operators to safely and legally carry a higher payload for major projects. Its bridge mixer also features a chute that can swing 180 degrees even when the trailer is up, which improves efficiency on the job.
"Both mixers are used by some of the largest and most premium ready mix concrete producers in the country," Hampshire says.
The standard mixer is packed with all the major features of the bridge mixer, but its design is more simplistic and straightforward. Built for duty, this truck is designed to deliver the lowest cost per yard.
Additionally, CyKlone's 12-yard, seven-axle Bridge Mixer allows a producer to deliver 12 cubic yards of concrete legally distributed upon the axles, drastically reducing overall delivery costs when working with large projects and highway construction.
CyKlone mixers are also known for premium parts that are expertly constructed from fine materials, lasting longer and requiring less maintenance. "The maintenance costs of our remote control mixer are less than half the maintenance cost of a front discharge mixer over a lifetime," Hampshire says. "This mixer is definitely picking up speed. We have seen a growth with new users and an expanded growth with current users."
Growing Strong
CyKlone Mixer is a brand belonging to Crane Carrier Company (CCC), a leader in the vocational truck industry, providing custom, severe-service chassis and purpose built vehicles for the refuse and recycling, infrastructure maintenance, ground support, agriculture, oil and gas and concrete mixer markets.
Aside from CyKlone Mixer, New Philadelphia, Ohio-based Crane Carrier Company owns its namesake Crane Carrier (truck chassis) and Crane Carrier Engineered Chassis.
In the past five years, CyKlone Mixer has seen double-digit growth in the sales of its mixer trucks.
"I attribute that growth to the highest quality and best designed mixers in the industry," Hampshire says. Among other things, CyKlone's First Kommand technology has made its designs a leader in the market. Its design package of leading technology, rugged reliability and superior performance begins by incorporating the industry's strongest sub frame.
"We are experiencing tremendous growth every year with every product we make," Hampshire adds. "The economy is booming and infrastructure is on the rise. It's a good time to be in the mixer business."
Like all of its products, CyKlone's manufacturing process includes grit blasting and finish painting of components prior to assembly, significantly reducing life-cycle costs and maintenance expense.
Crane Carrier Company maintains a full engineering department that leverages more than the mixer stream. "It's our strength in fabrication skills and with hydraulics and controls," Keegan says.
CyKlone Mixer has made a name for itself by introducing proven technology to its mixer building experience to provide its customers with a product that is "built for today and ready for tomorrow."
"Our mixers are considered very high quality," Keegan adds. "We're on the premium end of the industry but we maintain the lowest cost of ownership over the vehicle's useful life."
SIDEBAR – Phil Keegan, VP operations & engineering
Phil KeeganPhil Keegan leads manufacturing and supply chain operations, as well as all engineering and product development, for Crane Carrier Company (CCC) and its product lines – Crane Carrier Truck Chassis, Crane Carrier Engineered Chassis and CyKlone® Mixers.
He is charged with driving results and continuous improvements across CCC's manufacturing operations, engineering, quality management process and supply chain.
Keegan is a proven business leader with over 25 years of executive level management experience in capital equipment manufacturing.
Prior to Crane Carrier, he served in leadership positions with Sandvik Mining and Construction, Mickey Truck Bodies, Inc., Terex, Pioneer Eclipse Corp., PowerBoss and Clarke Industries. Keegan holds a bachelor's degree in agricultural engineering from The Ohio State University in Columbus, Ohio and a master's degree in business administration from Bowling Green State University in Bowling Green, Ohio.
SIDEBAR – Mark Hampshire, senior VP sales & marketing
Mark HampshireMark Hampshire is charged with leading, managing, and administering all sales and marketing efforts, in addition to overseeing the aftermarket parts and service organization, for Crane Carrier Company (CCC) and its product lines – Crane Carrier Truck Chassis, Crane Carrier Engineered Chassis and CyKlone® Mixers.
He is responsible for developing and maintaining CCC's go-to-market strategies to enable continued growth and profitability for all North America sales channels. An accomplished leader, Hampshire has over 35 years of executive level management experience in the severe-service vocational truck industry.
Prior to Crane Carrier, he held leadership positions with Terra Drive Systems, Inc., Fontaine Modification Company, General Car and Truck Leasing Systems and Lend Lease Trucks. Hampshire's passion to drive sales excellence has resulted in a solid, longstanding record of accomplishment with documented success in sales growth and performance.