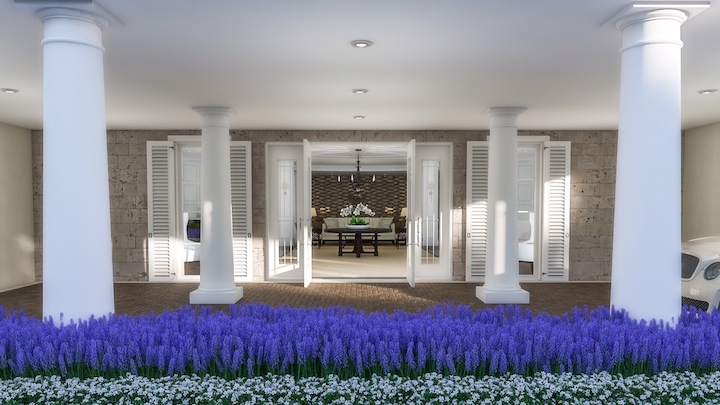 Craft Construction is bringing its experience to a new condominium project.
When Craft Construction Co. builds a project, it makes sure that its entire team is accessible to its clients. "I'm personally involved in every project myself and I want to keep Clients happy," Owner and President Barry Craft says.
He founded the Pompano Beach, Fla.-based contractor in 2010. Over the years, it has built a portfolio of commercial projects, but the company has backed its quality work with an experienced team that all come from top 100 national and international general contracting companies.
Prior to starting Craft Construction, Craft had been a project executive for a national builder and decided that it was time to go out on his own. He landed a small project in 2010 and built up at the perfect pace more than doubling his sales revenues each year through 2016 and has increased each year by 30 percent or more since.
Seventy percent of the company's projects, Director of Business Development Amy Jennings notes, consist of limited service hotels, including work for repeat client Baywood Hotels Inc. Currently, "We are starting two new hotels with them," she says.
These include a Home2 Suites location in Doral, Fla., with 134 units, as well as a Fairfield Inn & Suites location in Florida City, Fla., with 136 rooms. These will mark the fourth and fifth projects it has built for Baywood.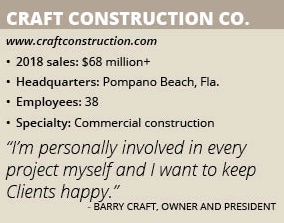 "We have a great client relationship," Jennings says, noting that Craft Construction's first project for the company was a Hampton Inn at Miami International Airport. "We kept it at 11 months and the client was very pleased with the outcome."
Branching Out
Craft Construction's upcoming work also will find it moving beyond the commercial market. This April, the company will start constructing The Residents at Ocean Reef, located in the exclusive, Ocean Reef community in Key Largo, Fla.
The $52 million project will consist of three buildings that feature 48 luxury condominiums with designer interiors, covered parking and climate-controlled storage. Tenants also will enjoy amenities such as a full-time concierge, a Concierge Clubhouse with a gym, a spa, a card room and a café.
Craft Construction is serving the developer John Grunow III and his development group, Residences ORC, LLC on the project, which will be completed in December 2020. One element that will separate the Ocean Reef project from the company's previous work is that it will be completing all the units.
Like all projects with Craft Construction, Barry Craft will stay closely involved with the clients, and the company will use subcontractors who have undergone a rigorous qualification process. Craft Construction also will use Procore construction software, just as it has in its hotel work.
"It makes it easier to integrate all the project documents from start-up to close-out on the project," Jennings says. "Each of our project managers has gone through the training process with Procore, so we try to keep our team as skilled and up-to-date as possible with the latest project management tools."
Adjusting to Changes
Craft Construction has observed recent shifts its industry, including new trends among its hotel clients. "We are seeing brands starting to do a little bit of change, moving away from the traditional design into more modern finishes," Jennings says.
She explains that clients are moving towards more lasting, economical routes. "Changes in flooring [as they're] going form the old standard of carpeting to luxury vinyl," she says.
The company also has coped with the industrywide labor shortage, as it has built in South Florida. While it has not been impossible for Craft Construction to find qualified workers, "It's a little more complicated," she admits.
But Jennings says the company will continue to cope, thanks to its relationships with its base of longtime subtrades. "I'm also on the membership committee board for the Associated Builders and Contractors Southeast, so we are connected and have qualified subcontractors to reach out to," she says.
On the Rise
Jennings joined Craft Construction in 2017 and praises its environment. "We're not just a team, we're a family," she says, noting that its staff includes several with longtime tenure.
"Craft's team is diverse and in we thrive because of it," she says. "We are a group of men and women from several different cultures and backgrounds. Having such a diverse team creates a diverse atmosphere and carries over into our respect for clients who come from all over the world.
"As a company owner, Barry Craft knows that being involved in helping others insures that you are building a community," she continues. "Craft is an avid sponsor for Habitat for Humanity, Autism Speaks and are always open to the invitation of sponsors for other foundation through golf tournament, skeet shoots and holiday gift giving to local foundations such as Gateway Communities in Pompano Beach."
The company also aims to break the monotony of work with fun events. "You've got to balance that," she says. "We have an annual holiday party and a summer event for friends and family."
She also highlights the leadership of Barry Craft, who has helped turn Craft Construction into a well-oiled machine. "Barry is accomplished, a very hands-on owner who is a straight talker and we're only going to do better," she predicts. "We're not the biggest in South Florida, but we can compete with those companies."
Craft Construction also has enjoyed strong growth year over year. "It's like a stairway," Jennings says, noting that the company doubles its revenues annually. As of the first quarter of 2019, Craft is 20 percent over what it did in 2018.
She sees a strong future for Craft Construction, which is seeing a rise in multifamily and assisted living projects. "We are going after multifamily development aggressively as well as assisted living," Jennings says.
While the company will continue building hospitality projects, "Apartments seem to be hot here in South Florida," she says. "I see us becoming a multifamily builder very soon. I also see us moving to the northern part of the counties."
SIDEBAR – An Integral Part
Craft Construction focuses on operating in the safest way possible on its projects. "This commitment begins with the principals of the company and is continually reinforced at all levels," it says.
"At Craft Construction, we recognize that safety is an integral part of the construction process, on an equal basis with production and quality," the company says. One way that the firm has committed to this is by having its having all of its superintendents OSHA 30 certified.
Director of Business Development Amy Jennings adds that the company holds weekly safety meetings as well as daily reviews. "My guys are up on the latest safety," she asserts, noting that this focus has paid off for the company.
So far this year, Jennings says, the company's Experience Modification Rate is at 0.86. "It really is a priority of ours," she states.
SIDEBAR – One to Count On
Barry Craft says Craft Construction Co. operates with the philosophy that it takes more than showing up to get a desired result on a project. "To that end, we continually train our professionals to maintain focus and to think 'outside the box' to bring valuable solutions to project challenges," he says.
"Through our tireless efforts, we earn the trust of our customers," he continues. "We become someone they rely on and count on to help make critical decisions that positively impact their development and investment. We keep score, track results and apply 'lessons learned' techniques from past products to ensure projects meet or exceed customer expectations."
He says the firm's expertise with past projects ensures that developments are priced accurately, sequenced properly, managed efficiently and built to highest quality requirements. In addition, "Our understanding of the local codes and pre-established relationships with key subcontractors and governing agencies will ensure your project has smooth project transitions, best qualified local subcontractors, [and] access to key city building officials," he says.