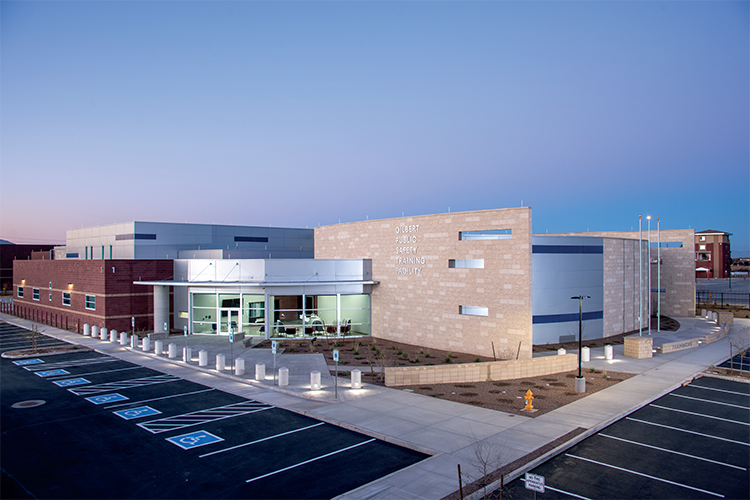 Core values
One of the 'Best Places to Work in Arizona', CORE Construction's Arizona division recently capped off 40 years in business with one of its largest municipal projects to date: the Gilbert Public Safety Training Facility
Responsible for more than 20 million square feet of construction in the Copper State, CORE Construction's Arizona division has been building communities for nearly 40 years now. Focusing primarily on four main markets – municipal, public safety, higher education, and K-12 – the company has gained as much of a presence in the Valley of the Sun as the year-round warm weather.
Part of CORE's success and longevity in Arizona has come as a result of the company's focus on public safety projects. In fact, as of October 2021, the company is not only considered the top public safety builder in the state, but is also ranked at number two on Building, Design & Construction's 2021 Giants 400 list.
"When it comes to public safety, we are passionate about creating great buildings, but also about serving first responders who put themselves in harm's way for us, day in and day out," Project Director James Faria declares. "Being afforded the opportunity to carry out such meaningful projects has helped us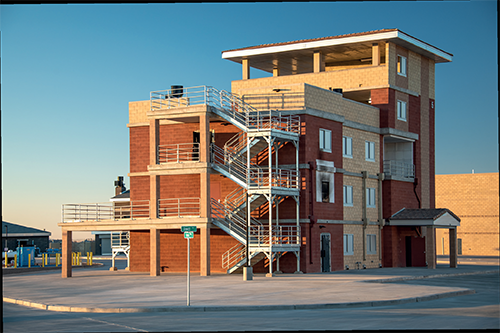 become more than just builders; it enables us to make a real impact for those who deserve it most."
Perhaps the best example of CORE's proficiency in the area of public safety – certainly in recent times – is the Gilbert Public Safety Training Facility project. A shared-use training facility for both fire and police services, the work included 150,000 square feet of new construction, including an administration building, an 18-acre village-style tactical training campus featuring training classrooms, breakout rooms, an auditorium, fitness center, three-bay mock fire station, a 40-lane indoor shooting range, four burn facilities, and a 36-acre tactical driving track. Designed by HDA Architects and completed in early 2021, the $85 million project was under budget and ahead of schedule.
"In total, the Gilbert Public Safety Training Facility consists of seven buildings across a roughly 50-acre-site," says Director of Marketing Seth Beer. "The most interesting part is the fact that it is a shared facility.
During pre-construction, both the police department and fire service wanted to know the specific scopes being used, so we developed pricing breakdowns to help them understand where every single dollar and cent would be spent. As a bond-funded development, tracking everything from early design through to final pricing helped the community understand exactly what was going on at all times."
The very nature of the Gilbert Public Safety Training Facility project meant that, for many at CORE, it was considered a once in a lifetime opportunity. Built to last and a privilege to participate in, the development will have a lasting positive impact on the Gilbert community. This, James believes, is the most important part.
"One element of the legacy we are set to leave in Gilbert is just how well a shared facility can operate," he states. "When police and fire work together under one roof, great results can be achieved by both.
"Since the beginning of the Gilbert project, we have seen a lot of local municipalities, including Tucson, looking at how they can start combining their public services in shared-use facilities, making sites more efficient and building comradery between first responders. As we experienced in Gilbert, the shift in approach requires a lot of compromise and outside-the-box thinking, but ultimately, it can take you to a place where fire and police can actually train, work and recruit together. It's a rising trend and we are already being asked to carry out new shared facilities in Arizona."
Of course, without supreme resilience on the part of both CORE and the town of Gilbert, the celebrated Public Safety Training Facility may never have been built at all. Though work on the facility began back in May 2019, the Covid-19 pandemic raged throughout the majority of its construction, forcing CORE to adapt and evolve to stay operational and on track.
"We started seeing Covid-19-related supply chain issues, material shortages and labor changes early in 2020," Director of PreConstruction Jason Santor reports. "We worked alongside the design team, as well as the town of Gilbert, to procure materials six to eight months in advance of when we needed them and fortunately, because of the size of the site, we were able to have them delivered and stored in containers on-site. That, along with a great team of more than 200 workers on the ground, enabled us to finish the project two months ahead of schedule and around$2 million below budget."
Strict social distancing, health screening upon entry, the wearing of face masks, sanitization and web-based meetings were all introduced by CORE in 2020 to keep the company's staff safe and at work. Arguably the most critical factor in achieving success under such difficult circumstances, however, was the power of partnership, which in this case meant the strength of the company's relationship with the town of Gilbert.
"We were very lucky to partner with a client like the town of Gilbert, which was willing to understand the strategy we were putting in place, buy into it, and back that belief with funding that could protect it from the unprecedented marketplace conditions we were experiencing as a result of Covid-19," Seth explains. "We are a company built on trust and we really shared that fundamental core value with Gilbert."
CORE's Director of Municipal Strategy, Tamara Jamison, agrees with this assessment: "During the pandemic, there were so many municipalities across the country that were putting a hold on capital improvement and public safety projects, but the forward-thinking of Gilbert meant we could continue working, and the resulting positive impact was phenomenal.
"During its 20-month construction period the Gilbert project generated over 680 jobs and earned workers a combined total of $10 million in income. Of that, over $1 million ended up being spent inside the town of Gilbert, re-injecting those tax dollars back into the community that was paying for the facility. It was instrumental in showing other municipalities that continuing public construction work, rather than stopping it, could be a real boon for their communities at a difficult time."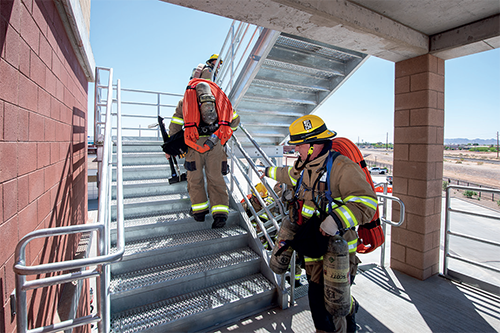 As we head ever-closer to the end of 2021, CORE and its team are able to take a moment to reflect on a momentous year for the business in which the firm was ranked the #1 General Contractor in the state by Ranking Arizona Magazine for the 12th time.
"Success in this area really stems from our strong culture," Company President Todd Steffen says on the award. "We believe it is our job to earn the trust of all our fellow employees every single day, and that helps us build great momentum, character and competency. We get selected by clients based on our qualifications, so we must deliver a professional service that creates buildings capable of lasting long enough to accrue a legacy and tell a meaningful story.
"Everybody at CORE knows they have a role to play here, that they are an indispensable part of the team, and that their greatest successes will only be achieved if we work together. For us, it's all about developing an environment where a person can really feel like their unique gifts and talents are recognized, encouraged and needed by the rest of the team.
"Ultimately, we love what we do, which is constructing buildings for people like first responders. That is our passion and our purpose. Our people find a lot of satisfaction in that and it leads them to say that this is a great place to work. As the award suggests, our employees enjoy coming to work every day and knowing that what they do is not a mindless exercise, but an outlet for their talents. Their handiwork results in long-term monuments to their skill, that will be put to good use by the client."
No matter what the future holds, the CORE of tomorrow is set to be a cleaner, greener organization. Building on its passion for public safety, and strengthened by its strong social conscience, the company is determined to ensure that its future projects are suitable and responsible for generations to come.
"Due to the nature of the work they do, whether that be putting out a fire or visiting a site full of contaminants, first responders regularly encounter long-term health hazards that can have an impact on themselves and their families," Todd remarks. "This is why, as part of a CORE initiative called Clean Public Safety Building (CleanPSB), we are bringing together industry leaders, fire fighters, police officers, building facility managers, designers, engineers, and trade partners to talk about how we can make our public safety facilities sanctuaries for the people that work in them.
"We want to create sites that consider and support the whole health of first responders and public employees. Our vision involves facilities that can lead to better healing for first responders, with spaces for them to collect themselves after incidents and access to the best recovery support. Whether that involves mechanical systems for air cleaning specialty lighting, or quiet rooms, we will make it happen.
"At CORE, we are always learning and we pass that knowledge on through a training program designed to certify our people as CleanPSB certified. CleanPSB is going to be a really important part of our future as we help lead the industry in the design and construction of facilities that better serve the health and wellness of America's first responders."
CORE Construction
www.coreconstruction.com
Services: Construction services for the public safety and education sectors