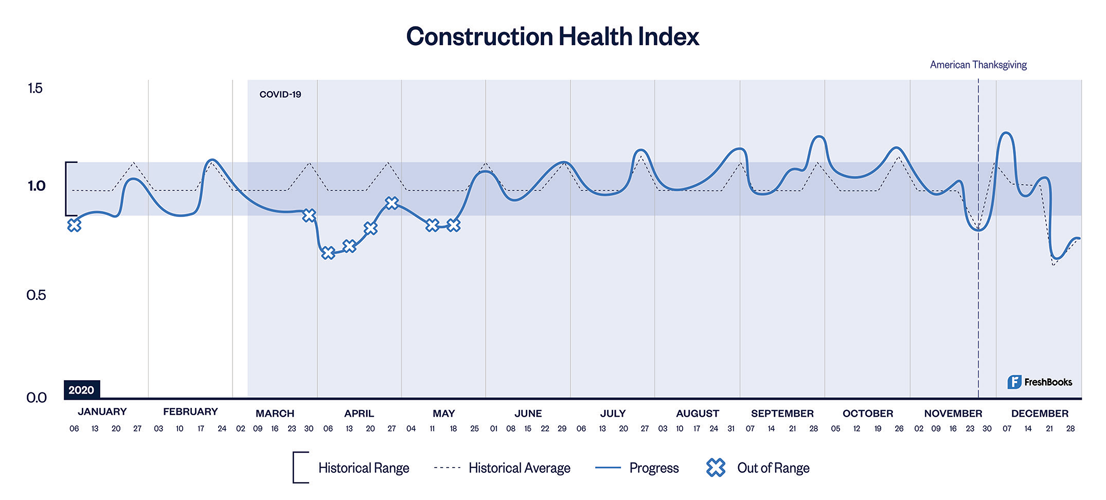 While the majority of 2020 was spent in the midst of a pandemic, with many small businesses across various sectors experiencing the hardships of shutdowns and local and global restrictions like never before, the construction industry reported an all-time high in spending across the United States.
Accounting software firm, FreshBooks, looked at the key performance indicators of small businesses in the construction industry, including new clients added, revenue and invoices generated, in order to understand how this sector performed throughout the pandemic as compared to historic norms and why construction was one of the leading industries during this period.
Despite slight declines early in the year, with a seven-week period in April and May 2020 falling below historic norms, the construction industry fared well throughout the duration of the pandemic – performing consistently above historic averages by the end of summer and into 2021 due to several observed factors.
Increase in clientele
Downturns at the beginning of the pandemic were observed due to lower key inputs such as new clients added, but quickly recovered in following months due to an uptake of projects on the go, renovations and remodeling – swiftly causing a higher-than-average ten percent increase in clients.
New project growth and invoice value
Restrictions causing less travel and more time at home, needing to adapt the space for work, school and leisure, was a leading factor to an increase in projects such as renovations and repairs. The sector also saw higher invoice value, leading to expansive growth in the industry overall as the demand for work rose.
Rise in annual expenditures
Annual expenditures for remodeling and repairs rose to $332 billion amidst the pandemic and are expected to continue to rise to $337 billion by the second half of 2021 due to higher home prices, sales, and second home purchases according to the Leading Indicator of Remodeling Activity (LIRA) released by the Remodeling Futures Program at the Joint Center for Housing Studies of Harvard University.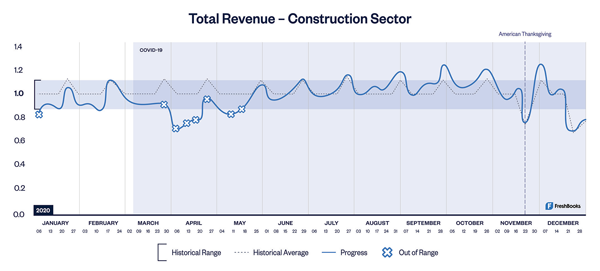 Decrease in expenses
As lockdown measures went into effect and travel was limited, it is not surprising that the most impacted expense category for the construction sector was travel – experiencing the greatest decline. However, taking into account the higher-than-average numbers of new clients added, greater invoice value due to increased demand for work and more jobs to travel to overall, less distance was travelled between sites decreasing travel-related expenses such as gas. Compounded with greater expenses on meals and utilities, the construction sector did not see a major impact on expenses due to Covid-19, yet continued to see growth in other sectors.
How global markets fared differently
Every country had to handle Covid-19 in ways specific to themselves. When looking at how small businesses fared in different markets around the world, it is apparent that patterns are similar with respect to downturns, yet some markets were less affected than others.
Businesses in the US returned to growth activities faster than other parts of the world – bouncing back to historical range after only five weeks, about 1.6 times faster than the UK which recovered to the same range after 11 weeks. Many other parts of the world follow a similar path as the UK but struggle to move consistently beyond historical averages, making recovery a more challenging state.
Continuation into 2022
This upturn is expected to carry the way through to 2022. Financial boosts from stimulus packages and recent appreciation of housing prices lead experts to believe that homeowners will continue to invest greater amounts in their properties – incentivized by the ongoing strengthening of the housing market. As DIY and small project activity shows gains to the remodeling market along with the shift to large, professional projects, annual remodeling expenditures could boost to upwards of $370 billion by early 2022.
Implications and opportunities
The overall health of the construction industry shows that this sector may be one of the outliers that has benefitted from Covid-19. Gains in homeowner spending and the resilience of the housing market caused the alleviation of initial concerns of downturns caused by the pandemic.
While the pandemic forced people to stay in their homes for extended periods of times, it changed the way that homeowners thought of their space – bringing greater value on what it means to own and upkeep a home. In turn, the construction industry benefited from the uptick of these values and renovations with a large increase in clients, revenue and demand without the need for greater expenses. These businesses were able to prosper throughout the duration of a pandemic and, seemingly, will continue to do so as values of homes and homeownership continue to rise.
FreshBooks is the #1 cloud accounting software for self-employed professionals and their teams. The company has helped more than 20 million people process billions of dollars through its easy-to-use invoicing, time-tracking, expense management, and online payments features. Recognized with ten Stevie awards for the best customer service in the world, the company's mantra is to 'execute extraordinary experiences every day.' FreshBooks is based in Toronto, Canada.
www.FreshBooks.com