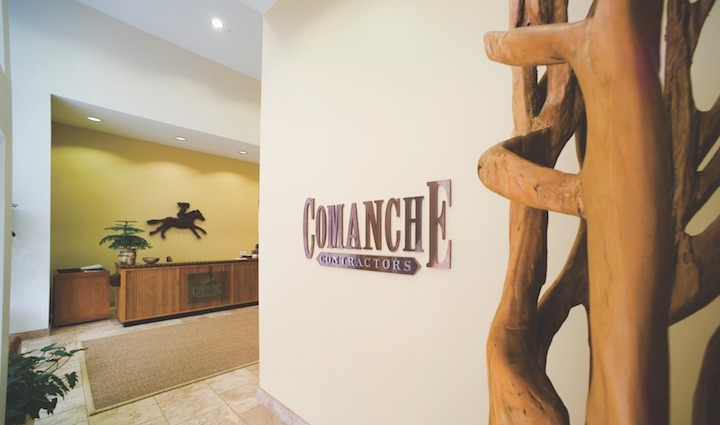 Comanche Contractors celebrates its 40th anniversary and tackles projects in the Houston market. 
The folks at Comanche Contractors will tell you that they build structures that withstand the test of time. Create with the heart. Build with the mind. Construct it to last.
With an impressive portfolio that spans the spectrum in the commercial market, the Houston-based general contractor has withstood the test of time as well. Celebrating its 40th anniversary, the company is flourishing more than ever.
Although its two previous owners have led the company well, the reins of power have been turned over to new ownership. Industry veterans Steve Crawford and his partner Zach Walla, who took over in 2017, are marching the company into the future.
"Zach and I are excited to be part of this company's legacy and carry the company forward," says Steve Crawford, president/CEO and partner/owner. "We've been around for 40 years and we plan to be around 40 years from now – maybe even 100."
During its four-decade reign in the Texas marketplace, Comanche has tackled a number of interesting projects. From retail shopping centers to warehouses and automotive facilities, the company's portfolio is swelling with pride.
This year, Comanche will add another interesting project to its portfolio – a state-of-the-art "tactical village" to be used for training Houston's law enforcement personnel for emergency situations.
"This will be one of only three in the entire country," Crawford says, adding that the only other two in existence are in Washington D.C. and Fort Worth, Texas. "It will give police officers the ability to learn how to handle themselves in first-responder situations."
Real-World Setting 
Everyone from Houston Police Department cadets to SWAT officers will train on a myriad of scenarios in a near-real-world setting in the $10 million facility that is being constructed on the grounds of the Houston Police Department's training academy near George Bush Intercontinental Airport.
They will train on everything from routine traffic stops to domestic disturbance calls to active shooter, hostage situations and terrorist attacks.
Instructors will have the ability to alter the environment of the village from night to day, and change physical space to make areas tighter or more expansive – depending on the scenario. Almost any type of conceivable scenario police officers face on the streets will be possible to recreate inside this 50,000-square-foot village.
It will have city streets, apartments, houses, a school, doughnut shop, bank, convenience store and a hotel. Each building inside the village will have furniture or other items normally seen in a business, home or school.
The only thing all the buildings will be missing is a roof. "The instructors will be walking on an elevated platform and will look down to monitor the cadets as they are training," Crawford explains.
The project is being funded by the Houston Police Foundation, which has been raising funds for it. It broke ground in January and will take about a year to build.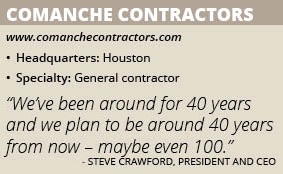 The foundation believes the tactical village will revolutionize training for its officers by providing a venue for a higher level of training and equip officers to arrive at a scene and immediately respond to emergency situations. It calls the project "a critical step toward ensuring a safer tomorrow for Houstonians and is an urgent need for the fourth-largest city in the United States."
A Booming Market
Aside from the tactical village, Comanche has a number of other projects in the works. These include a pet hotel, two shopping centers, an automotive facility, movie theater and a retail development.
Earlier this year, Comanche started construction on a new PetSuites of America, a 14,000-square-foot pet care facility in the Houston market that is targeted for completion in June. PetSuites is a popular pet hotel known for offering outdoor yard space, pools, play areas for cats, big dog and little dog play yards, day care, cat cuddling, overnight boarding and grooming.
"It has very specialized interiors to house animals," says Zach Walla, vice president and partner/owner. "We completed our first facility for this customer earlier this year. This project is the second of four projects. The other two are scheduled for later this year in the Houston market."
Comanche also has two shopping centers under development for NewQuest Properties, a commercial real estate developer specializing in retail leasing, tenant representation, land brokerage, commercial development and property management.
Each shopping center will consist of roughly 60,000 square feet of space and cost about $6 million. One of them is the Grand Morton Town Center in Katy, Texas. It will feature a HomeGoods, Petco and Michael's. "The project consists of the building and the interior buildouts for all three," Walla adds.
The other shopping center is the Chambers Town Center in Baytown, Texas. It will house a Ross retail store, Dollar Tree and other lease space. Both projects are targeted for completion later this summer.
"I think Houston is on the verge of an economic boom," Crawford says. "All phases of construction in Houston are thriving. The city has experienced tremendous growth."
The Houston region has led the nation for construction job growth in 2018 and the value of new construction projects jumped in the Houston area with nonresidential projects driving the gains, according to a 2018 Dodge Data & Analytics report.
In addition to its other projects, Comanche just completed construction on an automotive center and a movie theater in Houston. The new $3 million Gillman Collision Center is a 20,000-square-foot facility that houses office space and a full-service auto shop and collision repair center. The $6 million Star Cinema is a high-end 40,000-square-foot movie theater with a bar and grill.
Also, Comanche is about to start construction on site improvements to Sienna Crossing, a 59,000-square-foot retail development in Missouri City, Texas. It will eventually contain a 24 Hour Fitness center and a Spec's Wine, Spirits & Finer Foods, which is a Texas family-owned liquor store chain. The $6 million project is targeted for completion in January 2020.
Full Service
Founded in 1979, Comanche has served commercial developers in multiple states as a premier general contractor. Over the years, the company has evolved into a full-service commercial construction company offering design-build, project management, pre-construction, construction management and general contracting services.
Its original founder, David Faust, sold the company to Zach Walla's father, Greg Walla, in 1993. "My father helped turn this place into a more than $75 million company," says Walla, who bought it from his father in 2017 with Crawford. "He had a vision and turned the focus from interiors to ground-up construction, retail and hospitality. Before that, it was doing $3 million to $5 million."
Comanche's extensive experience includes construction and renovation of office buildings, distribution centers, retail centers, hospitality facilities and automotive dealerships. The firm prides itself on simplifying construction complexities by assisting clients with facilities planning, design and construction management.
"We service our clients well, we give them a fair price and a high-quality product," Crawford says. "It comes down to honesty, integrity, and a hard work ethic."
The company prides itself on operating with the same core values of honesty and integrity as its founding members. According to its website, Comanche's primary goal is to exceed the needs of its customers and its corporate philosophy is built on teamwork – an attitude that begins at the leadership level and is passed on to employees, subcontractors and clients.
Comanche has experienced consistent growth over the last several years and double-digit growth in the past year. "We're on track to keep on doing what we're doing," Crawford says. "We want to grow the company at a reasonable rate and evaluate what makes sense and what we can control. Our target is from $50 million to $75 million."
Comanche attributes its growth and success to its employees, as well as through a partnering process that begins before breaking ground and continues throughout the life of the project and beyond. The company prides itself on treating its clients like partners – giving them the opportunity to share their expertise and make suggestions in an atmosphere of cooperation. "Our commitment is clear, from start to finish we do the job right," states the company's website.