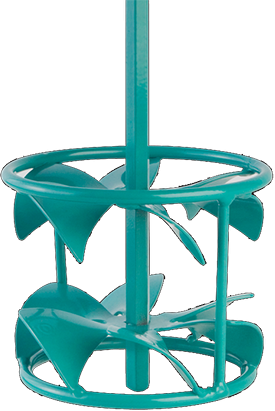 Collomix North America debuts new hand-held mixers and paddles.
The proper completion of any construction task starts with using the right tools for the job. For example, one wouldn't use a screwdriver as a chisel because it can lead to injury or cause more damage, so why are power drills still being used for small batch mixing?
Collomix North America is one of the world's leading specialist manufacturers of stirring and mixing systems for construction sites. The company has been manufacturing small batch mixers in Germany for 45 years and its tools always provide the right mixture. "In the U.S. market right now, when you picture someone doing small batch mixing, it's usually a guy with a drill, a paddle he got from Home Depot, a five-gallon bucket and he's doubled over at the waist," Marketing Director Al Karraker says. "Why is that bad? A drill is made to drill – it will poke a hole in something in seconds. If mixing is done properly, it's done in minutes and requires high torque and low speed rather than a drill that's high speed and low torque. A drill is the exact opposite of what is required."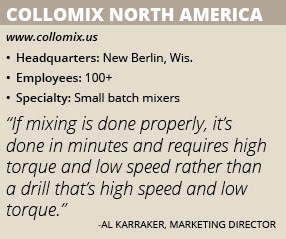 Collomix products fulfill many levels of requirements including ergonomics, reliability, safety and economy. The company's products are well designed and made of the utmost quality. "I really think what sets us apart is the design and quality of our products," Karraker says. "I talk to people who tell me they bought their mixer eight years ago. We also offer a two-year warranty because we have confidence our clients won't have any issues. In terms of the design, Collomix allows you to stand fully upright so you aren't doubled over at the waist mixing for a long time, which hurts."
The Right Combination
Mixing errors can lead to poor mixing results, which lead to serious construction damage. Collomix North America's mixing guide helps construction firms choose the right mixing equipment quickly and easily for almost every mixing material. Its newest generation of Collomix Xo/Xo-duo hand-held power mixers set the new standard for hand mixing equipment. The machine power and rotating speed are in optimal balance for top-class results and minimum physical strain on the user.
Collomix's hand-held mixers are designed to mix one to two bags or three to four bags. "One of the things I'm frequently asked is, 'I'm going to mix mortar, which machine should I use?'" Karraker says. "Any machine will mix any material, it's all a matter of how much of the material. When you get into specific materials, that concerns the range of paddles we offer. Some paddles mix from the bottom up, which you want with heavy concrete and mortar, and another style that mixes from side to side, which you want for powders because they tend to clump."
All Collomix mixing paddles are equipped with the patented HEXAFIX® quick-action coupling for mixing paddle change-over without any special tools. The paddles have extremely strong welded joints in combination with tough materials, which means that Collomix mixing paddles are made to last. A continuous guard ring protects the mixing bucket from damage and provides smooth, reliable operation. A powder-coated finish gives the paddles an attractive look and feel, smooth surfaces and edges, all in an environmentally-friendly production process with no emissions and with coatings that contain no toxins.
Ongoing Innovation
In Germany, Collomix hosts contractor roundtables to receive feedback on its products to continuously improve. Once Collomix North America receives the new products, it will also test the equipment in the field with select North American partners before officially rolling it out. "Everything comes from Germany, so with new products, we have them ship a few for us to test prior to shipping containers filled with product in case there are any issues," Karraker says.
For example, one of the factors for an electrical product made in Europe is that there is different electricity there. Europe has 230-volt while the United States has 110-volt, so the entire motor needs to be different. "We are one step behind what they are introducing in Europe because of the motor," Karraker explains. "It's a whole process because you get more power with 230 volts, so we have the challenge of doing the same thing with less power in North America."
Collomix recently debuted LevMix 65 mobile mixer for floor leveling, which makes blending of liquid leveling compounds fast and easy. The LevMix 65 unites three steps in one operation: mixing of up to three bags of material, transporting and pouring.
In addition, Collomix has refreshed its hand-held mixers and will be debuting these upgrades, which include bumpers on the edges to increase longevity and internal tweaks to make it run smoother, at World of Concrete in January. The company will also introduce a new concrete mixer at World of Concrete that it is currently testing.
"There really is no other company out there that focuses on small batch hand-held mixers as their total business model," Karraker says. "Our high-performance hand-held mixers assist you reliably in your tough, everyday work at the construction site, and with the right mixing paddle, they meet every demand. With Collomix, you save time and money and gain a crucial advantage."