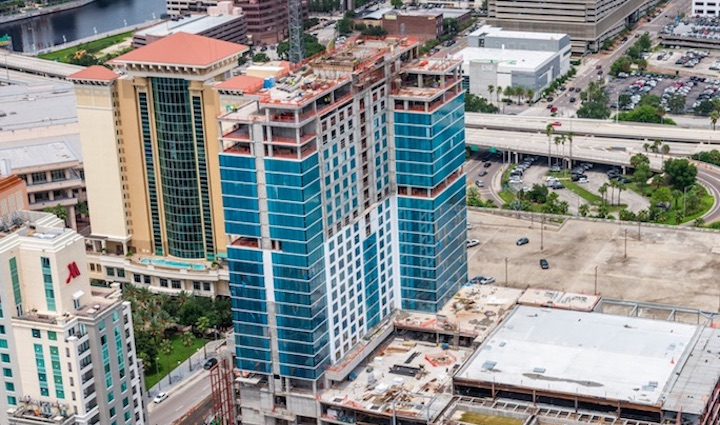 Coastal Construction stays ahead of schedule on 4-star hotel in hot Tampa neighborhood.
Coastal Construction is about halfway through building a four-star J.W. Marriott hotel in the Water Street neighborhood of Tampa. The company broke ground during summer 2018 and topped out on the hotel in July 2019, about three weeks ahead of schedule. Central Florida Division President Sean DeMartino credits the work of Baker, the superstructure company, in prefabricating all the structural steel in keeping the project ahead of schedule. Tampa Division President Craig Klingensmith expects to have "heads in beds" by Halloween of 2020.
The JW Marriott will connect via a skybridge to an existing Marriott Waterside Hotel & Marina on the other side of Water Street. The $200-million hotel is bordered by the Tampa Bay Convention Center on one side and by Amalie Arena, home of the Tampa Bay Lightning hockey team, on the other. The owner is Strategic Property Partners, a partnership between Cascade Investment and the owner of the Tampa Bay Lightning.
Designed by architectural firm Nichols, Brosch, Wurst, Wolfe and Associates, the 668,476-square-foot Marriott will be composed of a 27-floor hotel tower with 519 rooms and 300,000 square feet of convention and ballroom space. That will include a 30,000-square-foot grand ballroom – the largest hotel ballroom in Tampa Bay according Coastal.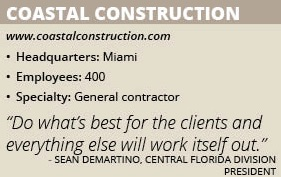 A 26th-floor lounge will offer 360-degree views of downtown Tampa and Hillsborough Bay. The décor will feature a hockey theme and there will be thoroughfares from the hotel to Amalie Arena.
"It will have event space, convention space, pools, bars and all the quality amenities of the JW brand," Klingensmith says. "That is their top-of-the-line hotel."
Building the hotel has required the use of three massive box beams that are placed into a connector beam to support the tower, and large girder trusses to frame the ballroom, says Brian Lacusky, vice president of operations. "There are some pretty unique cantilevered beams for the sixth-floor terrace," he says.
In addition, there is a four-story atrium with a skybox on the third floor over the atrium "is sort of floating in the atrium space," Lacusky notes.
"The entire convention space is structural steel," Klingensmith says. "[The hotel tower] is a post-tension concrete structure with a pre-glazed interior window/wall system. The guest rooms are high-end and ornate with stained millwork and high-end finishes."
The JW Marriott is one of a potential 10 to 15 buildings on 53 acres that will be going up in the Water Street neighborhood under a master plan development. Coastal has four other projects in the neighborhood under contract with Strategic Property Partners including an office building, apartment building and another hotel. It expects to be working in the neighborhood for several years.
"By the end of this, there will be 12 tower cranes within a few acres," Klingensmith says. "I can only think of a few places in the United States with that much construction going on. They are basically going to change the skyline of Tampa."
Informing Design
Coastal Construction has its headquarters in Miami and offices in West Palm Beach, Tampa and Orlando. The lion's share of its business is in the rental and condominium sectors although the company builds for commercial, hospitality, education, worship, historic restoration and disaster recovery.
In recent years, Coastal has expanded into central Florida and Tampa and now ranks among the top three builders in Florida in terms of volume. "It's a pretty competitive market with lots of sophisticated builders," DeMartino says. "There are growing demographics and expansion of work in all these regional markets. Everything is growing in the state of Florida: hospitality, multi family, large corporate offices, higher education."
The company was founded by Tom Murphy Jr. in 1988 and is now run by his sons Sean and Tom C. Murphy, the co-presidents of the company. Both DeMartino and Klingensmith cite Murphy family leadership as a factor in Coastal's success.
"We understand [the clients] business first and look for solutions by informing the design rather than reacting to their design," DeMartino says. "Tom C. Murphy takes it very personally with how we follow through on commitments. Do what's best for the clients and everything else will work itself out."
Klingensmith echoes those thoughts. "It is pretty unique, I think, being a family-owned larger contractor," he says. "It has created core values about caring about the employees and clients."
Coastal has a robust safety program that begins with regular training for all employees. Each project has a safety director on-site every day to work with supervisors and project managers to make sure safety protocols are being followed. The company has specific entrances and exits and uses a badging system to monitor who comes in and out. There are lockdown provisions on the power cranes. To keep workers safe during construction, there is edge protection, consistent openings for elevators and safety nets along the perimeter of any working decks, DeMartino says.
The company uses Procure construction management software to drive its lean construction efforts. "I call it 'milestone planning and pull planning,'" DeMartino says. "We use a lean approach to make sure we are meeting those milestones on a weekly basis."
In a busy market, the company has grown as it recruits qualified people. "We are constantly looking for good people," Klingensmith says. "It's not easy. We are seeking the best and the most capable with the best chemistry."
Coastal offers employees the sophistication and capability of a larger firm but with the ease of communication that comes with a family business, DeMartino says. "We are intentional about growing the business," he says. "We are not focused on volume but rather about the right clients at the right time."