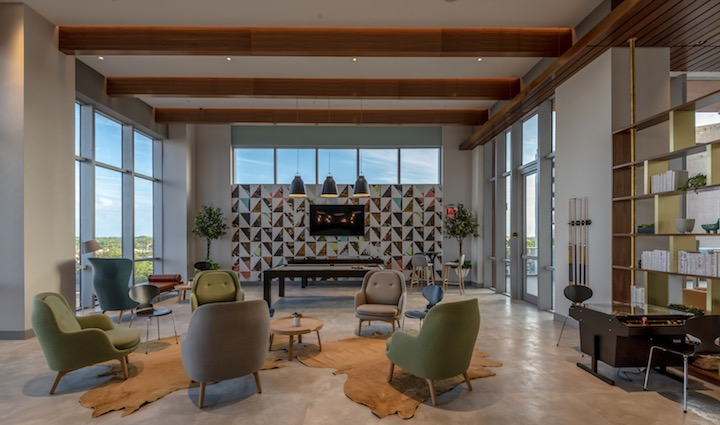 Civic Construction Co. Inc. – Motion at Dadeland
Civic Construction successfully completed Motion at Dadeland while working in a busy area of Miami.
When Civic Construction Co. Inc. takes on a project, it does so with an approach that sets it apart from the average general contractor. "We're more of a developer/contractor," founder and CEO William J. Real says. "We work closer with our clients from the initial stages of construction, evaluating the projects as we go along."
This allows the company to suggest alternatives to its customers that will make their projects more economic and feasible. "We work it backwards," Real says. "We see what's the most we can get for that amount of money."
Civic Construction took that its approach with one of its latest projects, Motion at Dadeland, a mixed-use residential building in Dadeland, a commercial district and neighborhood in southwest Miami. The finished building features 294 living units and 8,400 square feet of rentable retail space.
The project, which it built for 13th Floor Investments and Adler Development Group, is Miami Dade County's first transit-oriented development that will help promote public transportation and Metrorail use. Real notes that Motion at Dadeland was built on the site of a former parking lot for a Metrorail.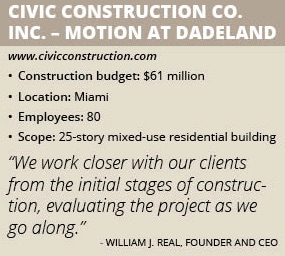 "The city and the county commission are really pushing for citizens to use the mass transit," he continues, explaining that both are pushing for developments near these sources of transit. "It's also an income producer for the local municipalities."
Second to None
Real is proud of the amenities at Motion at Dadeland. "The developers really pay attention to quality of life and the type of amenities they offer tenants," he declares. "We offer everything from a dog washer station to a gift wrapper room."
Project Manager Willy Gomez agrees, adding that the building also has beautiful common areas, gyms and electric cars that they can rent by the hour. "We have them in our garage as well as with charging units," he says. "Our amenities are second to none right now."
Motion at Dadeland also features a package room where residents' deliveries can be stored and even refrigerated. It also has a business center, free Wi-Fi service and a club room.
"People can go in and prepare a quick meal for people or go play a bit of pool," he says, noting that it also features video games. "They can play Pac-Man and Ms. Pac-Man."
Working Together
Civic Construction praises the work of its subcontractors on the Motion at Dadeland project. "They all came through at the right times and kept the project normal," Gomez says. "Problems arise in any construction site, but our contractors responded well."
But these builders were not new to the company. "We have a base of subcontractors that we normally use from project to project," Real says, adding that the firm has relationships with many of the subtrades that have spanned more than two decades. "By using the same trades over and over again, those guys become familiar with the same trades.
"It's like everyone is working for the same company," he continues, noting that the vendors become so friendly that they often look out for each other. "There's a lot of unification in the process."
An Exciting Place
Based in Miami, Civic Construction has developed a portfolio of high-rise, mid-rise, multifamily and hospitality hotel projects, as well as townhomes, restaurants and office buildings. A longtime veteran of the industry, Real founded the company in 1999.
He adds that his company has learned lessons from building Motion at Dadeland, including working within a tight site. "The logistics of this project were very, very complex," he recalls, explaining that the building is located in an active center of shopping in Miami.
"We were literally entrenched right in the heart of all these businesses," Real says, noting that the company had to adjust to having little to no space for staging. "Deliveries and everything else had to be coordinated and synchronized right down to perfection."
But the experience has enabled Civic Construction to create better plans when it works in similar conditions. "Most of these projects we build in the city are becoming this way," he says."
Gomez adds that the company is starting two new towers for 13th Floor and Adler Group at Douglas Road Station in Miami that also will be transit oriented. "It's been a pleasure to work with 13th Floor and Adler Group on the transit-oriented development," he says.
Real sees a strong future for Civic Construction, which is in an exciting place. "The company is now getting projects we wouldn't have dreamed that we would be getting," he says. "We're very excited about the future [we have with] the prominent high-rise projects in Miami right now under construction."
SIDEBAR – The Family Business
Civic Construction Co. Inc. has nurtured a family-style culture in its workplace, Project Manager Willy Gomez says. He praises the management of founder and CEO William J. Real, who gives employees autonomy in their work.
"We can do what is needed to get things done," Gomez says, noting that this has helped the company earn a strong slate of projects.