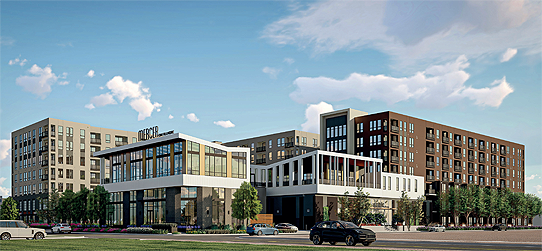 Built different, on purpose
When Barry Chasse decided to start CHASSE Building Team (CHASSE) in 2007, he did so with the intention of creating a business that was founded on the concept of teamwork and on building to make a positive difference within the communities in which it serves. Based in Phoenix, Tempe Arizona – and with another office in Tucson, Arizona – the company has since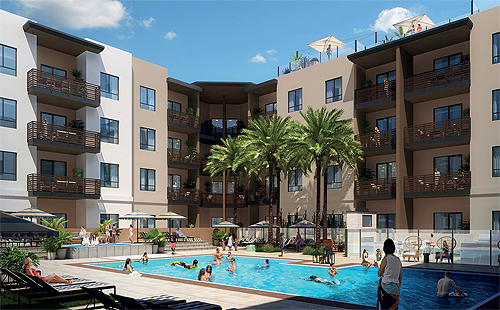 grown into a top-ten builder within the state, going from ten original employees to over 150 as of 2021.
Since its formation, CHASSE has created an organization that has a cost-effective overhead model, which it combines with highly experienced builders to create a winning construction formula. "The markets that we focus on include the community, education, multifamily, office, and retail build sectors," begins Owner and Founder, Barry Chasse. "We undertake all types of construction, from renovation to new builds, from pre-construction through to modernization or repurposing of existing buildings. We also assist with budgets, providing our expertise in helping architects to select the right materials or solutions to get the most bang for their buck from their designs and deliver their vision."
In recent years, there has been a very noticeable increase in the amount of people migrating into the state of Arizona, driven not least of all by its excellent climate. This has helped drive further growth for CHASSE, but in truth it has been enjoying year-on-year increases in both revenue and head count for some time now, and Barry puts this down to several factors. "I believe a lot of our success comes down to our people, the technical expertise of our team – which continues to develop – and the culture that we have built here, which is one based on providing people with a positive and empowering environment in which to do great things," he enthuses.
The great work that Barry alludes to can be seen in the form of the projects that the company works on. These tend to be fairly complicated, challenging undertakings that only a small number of specialist organizations can successfully deliver, and CHASSE's ability to do so has helped it to consistently win both new and repeat business.
"There are three projects in particular that we feel showcase our capacities very well, all of which are multifamily based, with two located in the Midtown/downtown Phoenix area," states Project Director, Mike Pask. "The first of these is NOVEL Midtown Phoenix by Crescent Communities, a single five-story building made up of a mix of 345 one bedroom, two bedroom and studio units. Amenities will include group fitness space, a lounge area complete with a waterfall, two murals, a suspended fireplace, pool and spa facilities, an indoor/outdoor cantina, and a movie lawn with a vintage airstream. The building will merge mid-century modern architecture with a location providing residents with convenient transit accesses to Midtown Phoenix. We received temporary certificate of occupancy for NOVEL Midtown Phoenix on schedule, so people are now moving into the building over the coming weeks, and we anticipate works to be fully completed by the end of April 2021."
Located close to downtown Phoenix is The Fillmore, a 348-unit complex, comprising seven stories across two different towers, and spanning a site that is 2.8 acres in size. Made up of a mix of studio, one, two and three bedroom units, junior one-bedroom units, and alcove studios, The Fillmore also boasts a three-story parking garage and two retail areas on its north side. "Unlike most other projects in downtown Phoenix, which are typically considered wrap projects with a pre-cast parking garage with apartment units built around it, The Fillmore is a cast-in-place structure," Mike details. "In addition to its large retail spaces, it also features a clubhouse, a tequila room for resident gatherings, billiards room, kitchen and bar, lounge, and a pool deck that will provide cabanas, grilling stations, a spa, hammocks and fire pits. The first units at The Fillmore will turnover in October 2021, those being based in the south tower of the project, while the north tower is due to turnover in February 2022."
Committed to customers
The third project of note is the Formation development that is occurring near to downtown Scottsdale in the Phoenix metro area. This 170-unit project saw work commence in October 2020, and upon completion in August 2022 it will boast 3800-square feet of retail space, an 8200-sqaure foot amenity area, a pool, a courtyard, and a wraparound precast parking garage.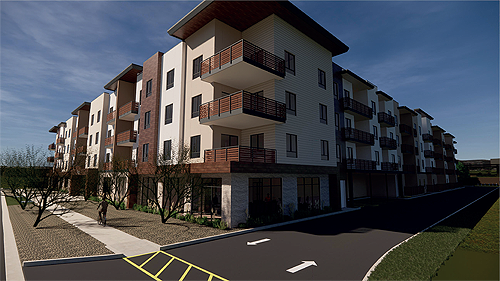 What makes the recent work of CHASSE even more impressive is that it has been carried out in the midst of a global pandemic with construction being quickly deemed as an essential service in Arizona back in March 2020, the company worked rapidly to establish new protocols to ensure that it could continue to deliver to its customers, whilst also keeping its people and the local community safe. "By sharing best practices with a number of our peers throughout the industry – particularly those on the East Coast who felt the initial wave of Covid-19 cases – we were able to roll out significant new procedures across our premises and construction sites, such as additional hand wash and sanitizer stations, mandatory face masks, and social distancing," Barry says.
"Meanwhile, from a customer service perspective, what we did in response was to set up cameras and use things like drones to document the progress of the projects, while also holding regular Zoom and Teams calls to relay up-to-the-minute information to all stakeholders," Mike adds. "Our clients were extremely happy and impressed with the approach that we decided to take, however the truth is even prior to the pandemic, we were a business known for our meticulous planning and scheduling, and such good habits have proven invaluable in recent months. Also, our teams have responded phenomenally to the challenge, and have never once wavered from their commitment to deliver for the customer."
As it was back in 2007, the three main goals for CHASSE are to have a great team, be a great builder, and have great clients. To this end, the game plan for the business' immediate and long-term future remains similar to what it has always been, and that is to continue to improve the culture within the company, to improve upon its skills and expertise with each new project, and align itself with the type of client that really appreciates the emotional and personal investment CHASSE puts into the work that it does on a daily basis.
"We want to stay true to who we are and to what it is that has gotten us to where we are today," Barry concludes. "CHASSE has always been the type of business that wants to do better. That is a philosophy that has proven to work really well for us to date, and with the future ahead of us looking bright we see no reason to change that recipe any time soon."
CHASSE Building Team
www.chasse.us
Services: Arizona-based construction company