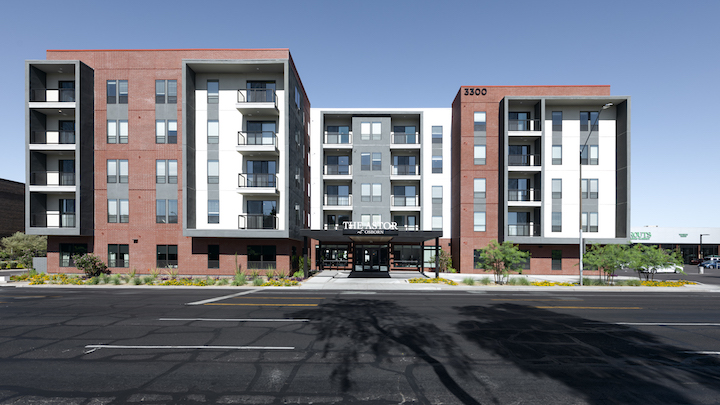 Chasse Building Team – The Astor at Osborn
Chasse impressed its client with its work on The Astor at Osborn.
When Chasse Building Team takes on a project, it brings a team atmosphere to the job site. This not only applies to how it works with laborers, but the project owners as well. "It's more than just a client relationship," Project Manager Evan Oates declares.
This made Chasse perfect to build a portion of The Astor at Osborn project in Phoenix. According to Paul Tuchin, a principal for developer Trammell Crow Co. (TCC), the property has a long history that stretches back to the early 1950s.
Located at the corner of Osborn and 7th Avenue, the Basha family owned and developed the property for one of their first grocery stores. But in 2016, the land became available for redevelopment. "Trammel Crow Co. rezoned the property to allow for a mixed-use retail and multifamily project," Tuchin explains.
Construction started on the first phase of the project in summer 2017, consisting of the remodeling of the grocery store into a Sprouts Farmers Market location. But the additions did not end there.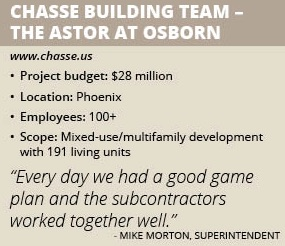 Today, "There are other retail locations in that building," Oates says. "It's now 100 percent leased to Jersey Mike's subs, MOD Pizza, Jamba Juice, Orange Theory Fitness, a Starbucks drive-thru among others."
Old School
TCC hired Chasse for the second phase of The Astor at Osborn, which was comprised of a five-story, multifamily building with a six-story parking garage. The contractor began work on the structure in January 2018 and finished this past May.
The completed building features 191 living units and a brick exterior, which was designed with the intention of keeping "the old school vibe of Phoenix," Chasse Superintendent Mike Morton explains. "They want the brick look of old school downtown."
The structure also incorporated wood in its design, which marked something new for Chasse. "Up until a year ago, you could not build five stories out of wood, only four," he recalls. "We had to use fire-rated material on the exterior and the drywall layers."
Oates adds that the building is pursuing LEED Silver certification through the incorporation of green methods and features. These included the use of low-emitting materials and the construction of a large bicycle storage room for tenants.
Location, Location, Location
TCC's goal with The Astor at Osborn is to create "a placemaking experience," Tuchin says. "The Osborn provided a unique opportunity to redevelop an aging, underutilized property in a prime urban location.
"The live-and-play environment offers top-end, onsite retail amenities for the residents of The Astor at Osborn, along with providing great proximity to thousands of jobs in the immediate midtown/downtown area," Tuchin adds.
Student residents also benefit from its location as well. "It is located across the street from Phoenix College," Oates says, adding that they can attend nursing and dental assistant courses.
Meeting Challenges
Chasse successfully coped with challenges as it built the second phase of The Astor at Osborn, including a tight site. When the company started construction, "There were existing apartments on the west side and the east side was 7th Avenue, which is crazy busy in the morning," Morton describes.
The contractor had to work from the south side, while maintaining careful coordination with other residences and businesses in the area. "We tried not to make the neighbors mad," he asserts.
Ultimately, the company was successful in these efforts. "Every day we had a good game plan and the subcontractors worked together well," Morton says. "Communication is what got that job done."
Chasse also kept safe as it built the project. While it had superintendents on site who reminded its crew members about safety rules, "We also had huddles every morning with all the foremen," he recalls.
Its staff also took immediate action if a worker was seen on the jobsite without his or her protective gear. "[We would] sit down with them and go through the safety program again so they fully understand it," Morton says.
Satisfied Customer
TCC is pleased with the completion of The Astor at Osborn. Although redeveloping a 1950s shopping center can bring its challenges, "We couldn't be more proud that we were able to redevelop and maintain the original structures for the retail project," Tuchin says.
"The right design and construction team is critical to a project's successful execution," he says, adding that the company was impressed by the work of Chasse on the multifamily portion.
"Chasse has been a great partner in the development from day one, providing pre-construction insight to ownership and the design team to ensure a successful construction process," Tuchin says. "Their field team is top-notch, delivering the projects on-time and on-budget."
In fact, Trammell Crow Co. was so impressed with Chasse that it hired the company to build its next multifamily project, Fillmore, in downtown Phoenix. Comprised of two towers, "It is going to be seven stores above ground," Morton says.
Fillmore will feature 348 living units, one level of underground parking and pools on its podium deck. "It's a pretty good-sized project," he says.
Growing Strong
Since its start in 2007, Chasse says it has focused on building partnerships and dedicating itself to approaching the construction process as a positive and dependable player. Founder Barry Chasse started the company, which now has offices in Tucson and Tempe, Ariz.
Morton and Oates, who both have at least three years with Chasse, note that the company has earned has the status of a leading contractor in the educational and multifamily markets.
However, the company is careful in its job selection. Today, "We're being more selective with the projects we take," Morton says. "You don't have to take every one."
Like many, Oates says, Chasse is feeling pressure from the current labor shortage in the industry. "The market is so busy so there's limited manpower and availability for subs," he says.
"Just trying to get numbers for subs and determine if the schedule fits have been a real challenge for us," he says. "A lot of guys are booked up and not taking anything new."
Despite this challenge, Morton sees a strong future ahead for Chasse as the educational, multifamily and retail markets stay healthy. "I don't see us slowing down anytime soon," he says.
Instead, the company plans to build on the sales growth it began in 2008. "In 10 years, it went from $20 million to $300 million," Morton says.
SIDEBAR – Developing Success
Since its start more than 70 years ago, Trammell Crow Co. (TCC) says that it has developed or acquired more than 2,700 buildings with a value exceeding $65 billion. "With professionals in 17 major U.S. cities, we serve occupiers and investors in office, industrial, retail, healthcare, mixed-use and multifamily residential properties," it says.
As of June 2019, TCC reported that it had grown to become the largest commercial real estate developer in the United States with $10.6 billion in active projects in process and another $2.5 billion in the pipeline. "Every development is rigorously vetted by our investment committee, and the company employs a conservative capital structure to mitigate risk," it says.