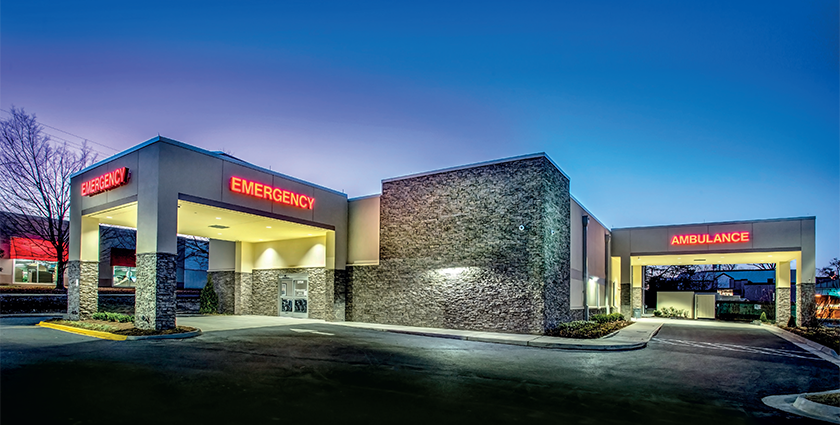 Charles Perry Partners, Inc.
Trusted to perform
With more than 30 years of experience in the healthcare sector, Charles Perry Partners, Inc. has established itself as an industry leader in the construction of free-standing emergency departments throughout the state of Florida and beyond
Chuck Perry started his General Contracting business in 1968, quickly building a reputation throughout the Gainesville area for self-performed construction services, including concrete, carpentry, masonry, and roofing. The company won its first healthcare contract in 1992 for a project in the state of Florida – a sector that, 30 years later, now accounts for more than half of its contracts.
As it seeks to build upon Chuck's legacy, CPPI's projects now stretch across Florida, Georgia, South Carolina, and Virginia. Amid that portfolio, one particular type of healthcare project stands out: the free-standing emergency department (FSED), a licensed facility, structurally separate and distinct from a hospital that provides emergency care. Staffed by qualified emergency physicians, medical and nursing personnel, a typical FSED is available to the public 24 hours per day, seven days a week, and 365 days per year. Expected to provide a level of stabilizing treatment, each FSED will have mechanisms in place for the efficient transfer of patients to definitive care at a mainstream hospital facility.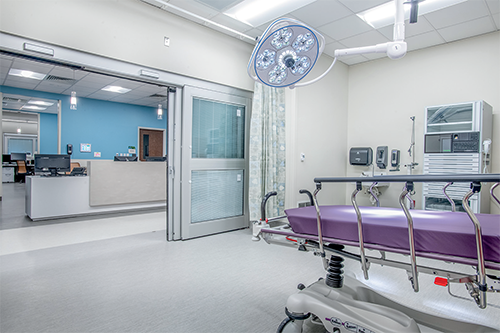 The FSED market in the US is one that's undergone significant growth in recent years, driven principally by overcrowding in hospital emergency departments, and an increasing number of patients opting for immediate treatment options. A rising number of injuries due to accidents, and of symptoms requiring immediate attention, including chest pain, epilepsy, and stroke, have further contributed to the growth in demand. It's a market that was predicted, back in 2019, to see compound annual growth of five percent between 2020 and 2027, when it's expected to reach revenues of $5 billion in value.
At the forefront of the sector, CPPI has established itself as an industry leader in the construction of FSEDs, working with some of the most widely recognized providers of hospital and healthcare services in the US. "The industry realized that it made sense to be able to service patients without requiring them to travel to a main, central hospital," he says. "We now have over 20 FSEDs in place and seven currently under contract in the design and preconstruction phase. We understand what it takes to build these projects, particularly within the state of Florida," Brian K. Leslie, CPPI's President/Principal noted.
It's a development driven largely by need. "Communities demand quick access to care," agrees CPPI's Executive Vice President/Principal Vinnie Moreschi, who leads the firm's healthcare endeavours. "In the outreach opportunity that they provide, FSED's represent a critical component of the healthcare system. On top of that, they also serve as a useful portal for hospital admissions: statistics show that FSED's deliver more than ten percent of the ambulatory visits, and over a quarter of the acute care visits. As such, they help to prevent emergency departments from becoming a pinch-point."
Ranging from roughly 10,000-square-feet to 25,000-square-feet in size, the construction of FSED's is a process that takes CPPI anywhere from seven months to a year. "They started out as small, feeder opportunities to major hospitals," explains David Rush, Project Director at CPPI, who is currently overseeing the construction of two hybrid emergency room and urgent care centers for UF Health Jacksonville. "Typically, we'll construct them in outlying areas close to major traffic zones, so that primary trauma cases can be readily dealt with much quicker."
Another driving factor behind the spread of FSED's is economic. "Reimbursements from the government come much quicker for a non-inpatient facility," David continues. "They also allow hospital chains to create a captive market, which is why we're now seeing a lot of facilities starting to daisy-chain their FSED's."
"Typically the FSED's include a single trauma room and multiple exam rooms," adds Rosa Dalbow, Project Manager at CPPI. "One example is an FSED that we recently constructed to serve the City of Davenport. That facility includes a bariatric room, resuscitation room and five isolation rooms. It also includes de-contamination showers, making it a prime example of how FSED's are equipped to handle many different healthcare emergencies."
Given the advantages of FSED's, it's of little surprise that CPPI isn't the only general contractor championing their construction. It raises the question: what sets CPPI apart? "With FSED's, the ability to achieve a very high-paced speed to market is key," answers Jason Morgan, Executive Vice President/ Principal at CPPI. "At CPPI, we empower our employees to make decisions at a project level, while simultaneously building a culture of good decision-making."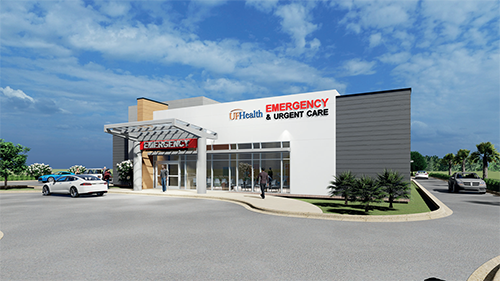 "We're at our very best when we're involved in the project almost from day one," Jason continues. "Beginning with the concept, we have the expertise to help with planning, scheduling, cost control, and everything else that it takes to deliver the whole project."
Jason's comments are echoed by Trip Hereford, Principal at Hereford-Dooley Architects, and a longstanding partner of CPPI. "We've worked on over 150 FSED's nationwide," Trip reflects. "The typical blueprint consists of a racetrack layout, with exam rooms around the perimeter. The core hosts the nurse stations and main primary support spaces. At the extremities, you'll find the entrance, and the mechanical-electrical systems on the reverse side."
"We've worked on dozens of projects with CPPI over the years," Trip goes on. "For me, CPPI is the best. The primary goals for our clients are always to find the right site and build it as quickly as possible. CPPI has been great at implementing a lot of pre-fabrication off-site, modularizing large components like the toilets, and the headwalls for each room, and even going to the point of using mechanical ductwork routing. It's the fastest speed-to-market campaign that we've seen."
With more than 75 percent of the company's work consisting of repeat business, it's clear that CPPI is trusted by its clients to deliver. "One of our mottos has always been: 'trust built on performance'," Vinnie reflects. "That's the springboard. Whether it's with our clients, trade partners, or our employees, you have to prove yourself. By sticking to our word, and doing our job right, people have the faith to call upon us when we're needed, and for us to work through any issues that arise."
Despite its success within the sector, there's more to CPPI than FSED's. "We recently completed a number of expansion projects at HCA Florida Orange Park Hospital in Jacksonville, Florida," notes Cody McCoy, Project Manager at CPPI. "That began with a two-room EP lab, along with several recovery bays. We then moved onto replacing the hospital kitchen, which was a very interesting project. We also replaced the central energy plant for the hospital, as part of which we had to place the entire facility on temporary chillers, while we carried out the major infrastructural improvements."
"That took place alongside a series of other projects, including the rollout of a vertical tower expansion on top of an existing ED department," he adds. "We've also just had our final life safety inspection for a 20-bed rehab facility in Tallahassee, Florida, and we've recently seen the completion of work on a Neonatal Intensive Care Unit renovation within the same hospital."
Such projects aren't without their complications. As David emphasizes, continued delays throughout the supply chain have seen planning and scheduling become an increasing challenge. "In this hangover from the Covid-19 pandemic, lead times on major equipment pieces can take up to a whole year. In that situation, how do you plan for projects that need to start in two months, with a 12-month build?"
"Add workforce constraints into the mix, and we have to be extremely proactive, communicating with our suppliers to identify pinch points," he outlines. "We have to factor those into our building plans, and to discuss with our clients to find the best solution. Once again, it underlines the importance of robust relationships."
For CPPI, 2022 is set to be another year of expansion. "Our focus now is to enhance our regions, improving everything across the owner and client experience in order to be able to deliver the best product, with the best service possible. Simultaneously, we're investing heavily in our culture. As a management team, we're engaging closely with our regional officers to ensure that our employees enjoy a best-in-class experience.
"Into 2023 and beyond, we'll continue with those same goals," he concludes. "When you have seven offices, it's vital to keep growing and maturing. We want to remain competitive in the marketplace. To do that, you've got to innovate in your delivery, method, and approach wherever possible. That's what motivates us to get up each morning, come to work each day, and strive to deliver something better for our clients."
Charles Perry Partners, Inc.
https://cppi.com
Services: Commercial construction