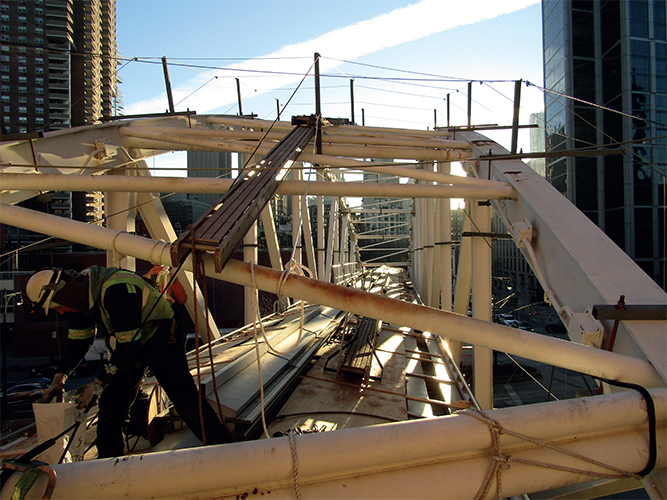 Champion Specialty Services Provider
Paint the town
Having been in action for over 15 years, Champion Painting Specialty Services Corporation is making the most of every opportunity to uplift and enhance the aesthetics of structures across the world
Champion Painting Specialty Services Corporation (Champion) has been an industry leader in the road and bridge, heavy construction, military, and industrial markets since 2006, and – as a veteran-owned business – the company works particularly hard to support veterans and military personnel. "Every Friday, our team wears red to 'remember everyone deployed.' As a Veteran-Owned Small Business and knowing many of our team members fought for our country's freedom, we work hard to acknowledge and appreciate all that the armed forces do for our country. People fighting for our country are often only recognized when they come home or once a year in remembrance, but our team knows the importance of paying tribute while our heroes are away from their family and friends at home. This is why we also aim to hire veterans whenever possible as the experience they have gained through their service translates exceptionally well to various project management and operations roles," shares Kyle Hough, the Executive Vice President of Champion. He discusses with us the capabilities that Champion has established to make it an industry pioneer.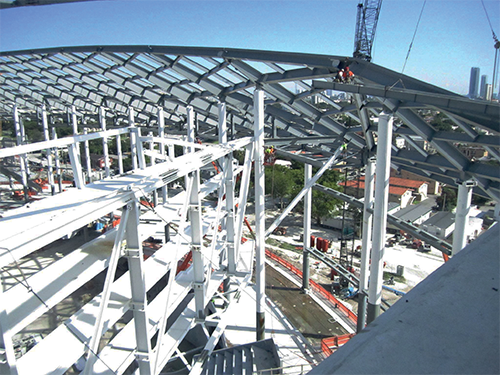 With a mission to deliver high-performance services to its clients in both the public and private sectors, Champion maintains the highest degree of safety, quality, and integrity. "Being a sector leader means we will meet or exceed performance requirements for every client on every project," Kyle says. With offices rooted in both US and international soil, the business is succeeding in achieving just that. Its widespread locations allow it to mobilize quickly around the globe to meet any specialty service needs. Over the years, the company has curated an impressive catalog of projects that aptly showcase several of its capabilities, such as the George Washington Bridge, Frederick Douglass Memorial Bridge, Mercedes Benz Stadium, the I-595 Highway Expansion, the Joseph M. Farley Nuclear Plant and the Tribeca Pedestrian Bridge, to name a few. On the Tribeca Pedestrian Bridge project, the team was required to replace the 70-year-old bridge and reconstruct the Suitland Parkway/I-295 interchange. Due to its age, condition, and functional limitations, the span itself has been classified functionally obsolete. Improvements include; making the structure safer for cars and pedestrians, enhancing multimodal transportation options, increasing community access, and supporting economic development on both sides of the river.
Of course, in undergoing these projects, the company's utmost priority is safety. Measures have been implemented to surpass industry safety standards throughout all on-site tasks to ensure the safety of team members. "We have QR codes placed on our equipment to illustrate operation manuals or maintenance records," explained Kyle. "We also utilize scheduling software to ensure manpower is effectively allocated when needed and equipment tracking software that provides GPS coordinates to ensure maximum utilization and security. These measures present preventative suggestions and require regular maintenance to ensure the highest level of equipment availability.
"We also implement team member qualification tracking to ensure our workforce retains their effectiveness and readiness. In a similar vein, the business works in strict accordance with environmental laws, policies, and guidelines, and we have a culture of respect for the environment. We do not perform any sandblasting, only abrasive blasting," Kyle continued. This, he emphasizes, is crucial because silica sand can cause silicosis, lung cancer, and breathing problems in workers who are exposed to it. "Our expectation for every task on each job is that it is performed safely. We work across many high-risk industries, and it is our responsibility to manage that risk. Every member of our team has the right and expectation to stop any unsafe act and ask questions when unsure. Our team conducts pre-job briefs, two-minute rules for evaluations, and post-job briefs to keep safety at the forefront, allowing us to perform in a successful and error-free manner."
Aside from its exceptional safety measures, Champion sets itself apart from its competitors by exercising cost-effectiveness through the use of blast media and efficient blasting techniques performed by its highly-trained crews. "Because our team utilizes industry-leading equipment, we can minimize waste and maximize production rates, which allows us to complete heavy sorts of construction projects," he adds, continuing to note that these measures have refined the business in becoming leading experts in blasting practices. "The technical term for the surface preparation techniques is dry or wet abrasive blasting in addition to ultra-high-pressure water jetting. The blasting media is typically coal slag or steel. We blast steel to various levels of cleanliness based on SSPC/NACE joint standards and owner requirements that are necessary to prepare the surface for new protective coatings. These surface preparation standards exist to both maximize the life of the applied coating and minimize costs associated with coatings projects," he emphasizes.
Subsequently, these practices have allowed the business to mobilize quickly, leading it onto new ventures, particularly in Guam, where Champion flourishes. The company announced a centrally located hub in the Pacific region to conduct municipal, state and private operations. The location was strategically determined in response to the United States Department of Defense's 'Pivot to the Pacific' initiative. The facility houses a complete array of abrasive blasting and coating equipment in addition to a climate-controlled storage capability, and Champion is focused on providing the Department of Defense with abrasive blasting and coatings services, hangar remediation, and related support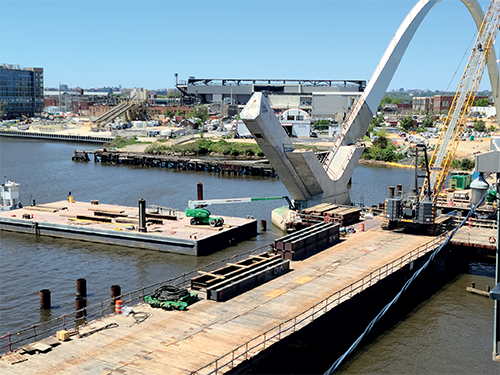 activities for new and existing facilities. According to Kyle, these advancements are the perfect example of how the company succeeds on new projects with an open mind and lasting determination. "Champion will succeed in any region that it goes to, simply because we employ the best people and consistently meet or exceed customer expectations while doing so safely. In Alaska, Champion is the only standing location that is QP1, QP2 and QS1 certified in the entire state. Additionally, the company is currently working on proposals supporting petroleum industry and Department of Defense projects in the region, and we are on the lookout for other projects at city and state levels."
It goes without saying that the skill-intensive business would not be as successful as it is without the people working under its name, and to this, Kyle states that Champion is all about surrounding itself with great people. "The executive team has made it their mission to develop a workplace that provides growth for all employees. The organization's culture enables employees to enjoy coming to work each day, and I feel that when you like what you do and where you do it, the tough times are easier to get through. Take the pandemic, for example; Champion grew its revenue and had a record year. We also had a record year for team member bonuses. Not one Champion team member missed an hour of pay. We supported our people, and they supported us in return. As a result, in 2019, National Association for Business Resources named Champion as one of the Best and Brightest Places to Work, which is a testament to how our team feels about the work environment we have created," he shares. Champion has recently been recognized for this award again in 2021.
Going hand-in-hand with its company culture, the business also strives for mutually beneficial supplier relationships, an equally essential part of Champion's success. On this, Mat Bryant, Champion's Operations Director, was especially keen to comment on the business's strategy of maintaining lasting professional relationships. "In each location that we conduct work in, our team seeks out locally owned partners and vendors; Champion searches out new opportunities to develop working relationships with companies that provide quality options for procurement of materials, services, equipment, and manpower," says Mat. "Yet, we also maintain our national relationships with our jobs, and it is vital to work with suppliers that our team can trust to be reliable, consistent, and honest. Champion is continually looking to develop and deepen our supplier relationships because we know how fundamental they are to our organization's continued success. We simply cannot be effective without them."
With each of these pillars robustly in place, the company's future endeavors are looking promising, as Champion continues to operate with a sturdy growth strategy in mind. "We are currently evaluating opportunities to expand our footprint and market share in several geographic and service areas. We will strive to provide industry-leading services while meeting our customer's requirements and maintaining the highest levels of safety and quality. We will make capital investments in our equipment and systems to ensure we remain on the leading edge of the specialty services industry, but, above all, I am determined to see Champion continue to recruit the best people and give them the tools and freedom to operate effectively and keep our name at top-of-mind when thinking about our services," Kyle concludes.
Champion Specialty Services Provider
www.championssc.com
Services: Heavy construction specialty services provider