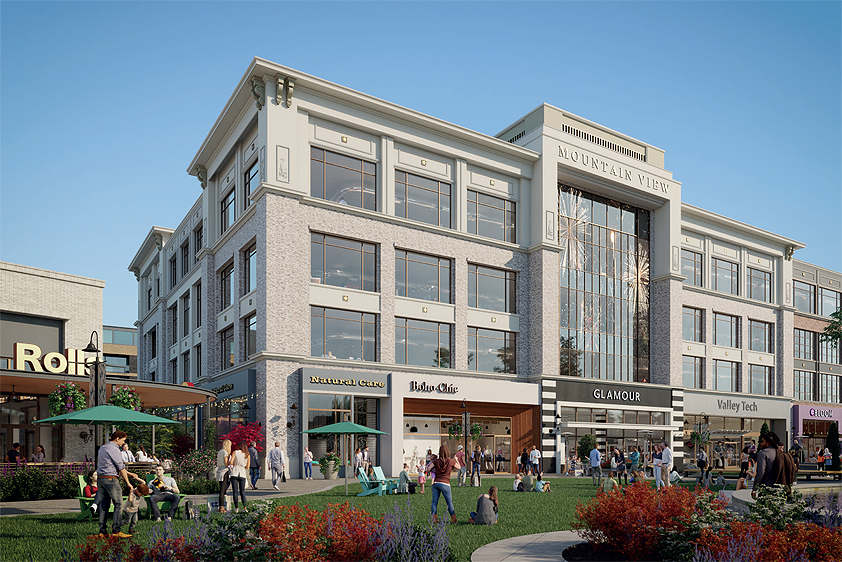 Changing landscapes
Focused on creating thoughtful projects that will endure as a lasting benefit to the communities it serves, CenterCal Properties continues to deliver some of the most exciting mixed-use developments in the western United States
For 17 years now, CenterCal Properties has been delivering mixed-use developments that strengthen the social fabric of neighborhoods, and create prosperity, happiness and a stronger sense of community. An industry-leading private retail development firm, CenterCal oversees all stages of its projects, resulting in the creation of unique, meaningful, community gathering places, which honor their locations, whilst redefining trends in retail, dining, landscaping and entertainment.
Founded in 2004 by Chairman Fred Bruning and CEO Jean Paul Wardy, CenterCal's mission is the same today as it was in the beginning: to find opportunities that will provide a secure return to its investors by creating solid and sustainable cash flow growth. In 2021, Fred continues to interpret and execute this vision in a way that benefits the company's clients and communities.
"We don't think that a development is successful unless we make a connection with the community," Fred declares. "We really want to help people feel content. They're not coming to buy something, they're coming to experience something. Consequently, our team – from architects to designers to construction workers – treat each one of our projects as if it was their own living room and they were expecting company. Every planter is beautiful, every piece of outdoor furniture is clean and appealing – it's almost as if we are preparing for a wedding every day.
"In recent years, as more and more malls have become identical commodities with no personality, our projects have started to stand out even more. We try to make each of our centers unique and relatable to the people we serve. We want centers that make visitors think, 'Wow, these people must really care because look how well this is being presented!'"
Creating experiences
As a company that prides itself on understanding the changing requirements of its tenants, investors and center-users, CenterCal is constantly refining its key concept in line with contemporary trends and demands. According to Fred, the decline of traditional indoor malls has paved the way for more diverse, outdoor, multi-use spaces.
"The old-style malls just don't appeal to people anymore, so what we do is create projects that offer a multiple array of food, retail and entertainment options that keep people coming back again and again," Fred remarks. "One area that differentiates us is our dedication to great landscaping. We design beautiful parks with trees up to 30 feet tall, we create fountains that dance to music, and we deliver generous seating areas that are very comfortable and encourage people to stop and relax. With a wide variety of restaurants, places to keep fit, residential buildings and offices alongside these attractive landscapes, we curate the best and most diverse experience on the market."
Perhaps the finest illustration of CenterCal's work can be found in the company's two latest projects: Mountain View Village and The Village at Totem Lake. Located in Kirkland, Washington, The Village at Totem Lake is a 400,000 square foot mixed-use development made up of retail, fitness, entertainment and restaurant space, as well as 850 residential units. Benefitting from parks, plazas and events, The Village at Totem Lake is a distinctive gathering place designed to boost the Kirkland area's quality of life.
Ambitious projects
"The Village at Totem Lake was completed in 2020 during the Covid-19 pandemic," Fred reveals. "The center was originally a conventional enclosed mall that failed and withered over the past 20 years. Soon enough, other projects were built in the area, such as Bellevue Square, which really captured the market. As a matter of fact, the old Totem Lake mall was so maligned by the community that it was referred to as the 'Ghost Mall' and kids would go there at Halloween to scare themselves.
"When we purchased the Totem Lake mall, we knew that it had to be reimagined," Fred continues. "We actually demolished 95 per cent of the site and started from scratch. We created a village, and in that village, we created a little park with a fountain and some really picturesque landscaping and artwork. It now has a mix of tenants, including a Whole Foods supermarket,
cinema, fitness concepts, restaurants, office space, and 850 residential units. Kirkland residents have already adopted the space as their own. We have turned a mall that was an embarrassment to the local area into a destination that makes Kirkland proud – and this has been reflected in rave reviews and rising sales."
Similarly, CenterCal's Mountain View Village project in Riverton, Utah, has been well-received by local people. An 85-acre, mixed-use destination set within the fastest growing submarket in the United States, the project will, upon completion, be the most dynamic central gathering place in Utah's South Valley. Experience-driven and poised to attract and cater for guests from far beyond the immediate area, Mountain View Village honors Riverton's deep-rooted history through architecture, landscaping, and thoughtful Americana sculptures, as well as offering a huge range of retail, restaurant, office, residential and entertainment options.
"Mountain View Village was a vacant farm when we purchased it," Fred states. "In Phase One, we created a daily needs center with a supermarket and stores like TJ Maxx, before embarking on Phase Two, which includes a variety of construction work, including the installation of several parks.
"Our main park is a $15 million project, which has a fountain that can dance to music and trees that can change color," Fred reports. "We're also adding an impregnated glass concept to our Class A office buildings, which turns their walls into a light show, so we are really trying to create something different in Riverton. It's something that's not been done before."
Active program
Thirty-five years ago, Riverton, Utah, was a community of 35,000 people. Today, in 2021, the city's school district alone has more than 95,000 students. Serving burgeoning populations like that of Riverton across the western US, CenterCal continues to empower new communities with multi-generational experiences that will act as vibrant gathering places for years to come.
"I love to walk through our centers and see people working in our office spaces or sitting in a park with a laptop and their tie off," says Fred. "I love seeing moms and dads coming with their children for play dates in the morning, whilst they enjoy a coffee and watch their kids use the play areas. One of my best memories is seeing a four-generation family watching the water show, enjoying the experience, with the great-grandmother raising her hands to the music and rocking like a Rockette."
According to company feedback, many CenterCal customers visit the firm's centers four to six times a week – a repeat engagement rate far superior to that of most regular retail projects. Such popularity proved particularly useful during the Covid-19 pandemic, when the company continued to serve its customers with socially-distanced, Covid-safe outdoor seating and pick-up services. Having avoided any significantly negative impacts of the virus, CenterCal is now looking forward to a busy 2021.
"Our sales volumes are already higher than they were in 2019 and we have a very active program of work ahead of us," Fred comments. "We are finishing up a number of projects started during the Covid outbreak and we are also working on five new schemes that are currently in pre-development. Our company goal is to do six to eight new projects each year in the western united states for the foreseeable future."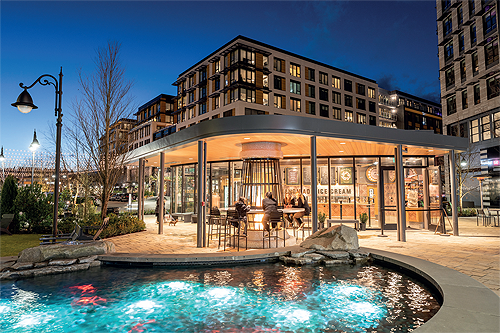 When it comes to selling its vision for new developments to tenants, government officials and lenders, CenterCal lets its track record speak for itself. While many tenants are attracted by the modern, outdoor, user-friendly environment that CenterCal offers, city authorities are drawn to the company's ability to improve a region both aesthetically and economically.
"In many cases, a city manager or mayor might call us and say, 'Could you do a project similar to the one you did in Farmington, Utah, or Meridian, Idaho?'," Fred explains. "Word gets around about our quality and about how we can bring revenue to a community through sales tax, property tax, business fees and business licenses. All we have to do when talking to a local authority or city planner is show them our existing projects and say, 'Pick one you wouldn't want in your town.'"
Even beyond the company's physical developments like Mountain View Village and The Village at Totem Lake, CenterCal's ongoing impact on the western United States can be felt through the 60 to 70 charity events it hosts each year, the public art pieces it commissions and gifts to the public, the thousands of trees and shrubs its plants, and the public interest projects it delivers like Oregon's long-coveted Tualatin River Greenway Trail. People-driven and community-focused, creating happiness and prosperity in everything the company does is, Fred asserts, the CenterCal Way.
"In the months and years ahead, I'd like to see the company fulfil its mission, which is to find ways to serve the communities that we are privileged to be a part of," Fred notes. "I would also like to see CenterCal continue to grow, along with all the women and men in this business who make us great. Most importantly, we take real pride in serving our communities, and I think if we keep that idea at our core, we will remain very successful."
CenterCal Properties LLC
www.centercal.com
Services: Retail and mixed-use property developer