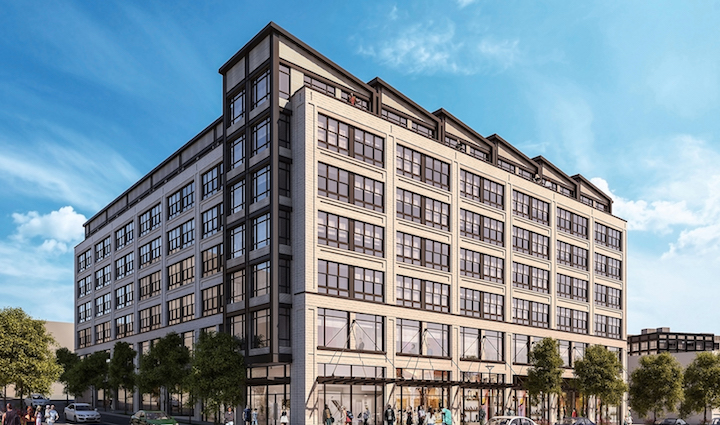 CBG Building Company – Bryant Street
CBG Building Company brings its expertise in multifamily construction to help redevelop and enhance Northeast Washington, D.C. 
When CBG Building Company joined the Bryant Street project about a year ago during preconstruction, the firm already had a strong relationship with developer MRP Realty and SK+I Architecture. The team is working together to transform a partially vacant shopping center in Northeast D.C. into a noteworthy four-building community with 487 apartments, 79,257 square feet of retail and entertainment, and 519 parking spaces as part of a 13-acre master plan.
"This is fairly significant real estate," said Tim McDonald, a senior contract executive at CBG. "The master plan covers 13 acres, and the first phase is on six-and-a-half acres. We had to do a lot of infrastructure work, excavation, and soil remediation at the start. A substantial underground parking facility will consume almost the entire six-and-a-half acres. It creates, in a sense, a podium, and portions of the project will sit on top of it."
Bryant Street was developed to revitalize the east side of North Capitol Street in Ward Five of D.C. to spur economic growth with new housing and jobs. The project is located on a major commuter route, with 38,000 vehicles passing the site each day, according to MRP. It also sits directly across the street from the Rhode Island Ave-Brentwood Metro station on the Red Line, D.C.'s busiest line, and connects to the Metropolitan Branch Trail, an eight-mile multi-use trail running from Union Station in D.C. to Silver Spring, Maryland.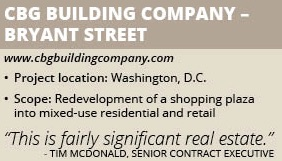 Highly Experienced
Consistently ranked among the top ten multifamily builders in the country, CBG has built more than 86,000 housing units since it was established in 1999. Though CBG started in the D.C. market, the company now brings its signature level of service and quality to projects across the country via ten nationwide offices. Its multifamily product types include mixed-use, renovation and adaptive reuse, hospitality, student housing, and senior and military communities.
CBG broke ground on Bryant Street in February 2019 and is constructing the following buildings within a 30-month timeframe:
* Building 5B: 154 units, 2,421 square feet of retail, and 81 parking spaces on a 19- to 22.5-month schedule;
* Building 1A: 172 units, 13,188 square feet of retail, and 200 parking spaces on a 26.5- to 30-month schedule; and
* Building 1B: 161 units, 14,612 square feet of retail, and 182 parking spaces on a 22- to 25.5-month schedule.
CBG will also construct a retail pad and 56 parking spaces on a 13.4- to 16.4-month schedule for Building 2B, which will house a 44,020-square-foot theater and 5,016 square feet of retail built by another contractor.
"All of it is phased work, and we will be delivering different components," McDonald said. "The entire project should finish by the end of 2022."
McDonald noted that projects like this take considerable coordination to be executed properly; he is confident in CBG's ability thanks to the company's significant experience in work of this scale and complexity. CBG's scope included an eight-month preconstruction phase to schedule and budget the work and review the design documents for constructability.
"What's unique is that this area was a shopping center," McDonald explained. "The parcel was 13-and-a-half acres. We demolished half of the old shopping center, and the other half—which includes a grocery store, a big-box retailer, smaller retailers, a McDonald's, and a rather large church — remains in operation. All of these businesses use the same parking lots that we're using to build the project."
"The way it's planned, it's going well," he added. "We're working from the east to the west side of the site as we build the new structures. It is forecasted to take seven to 10 years to build the entire master plan."