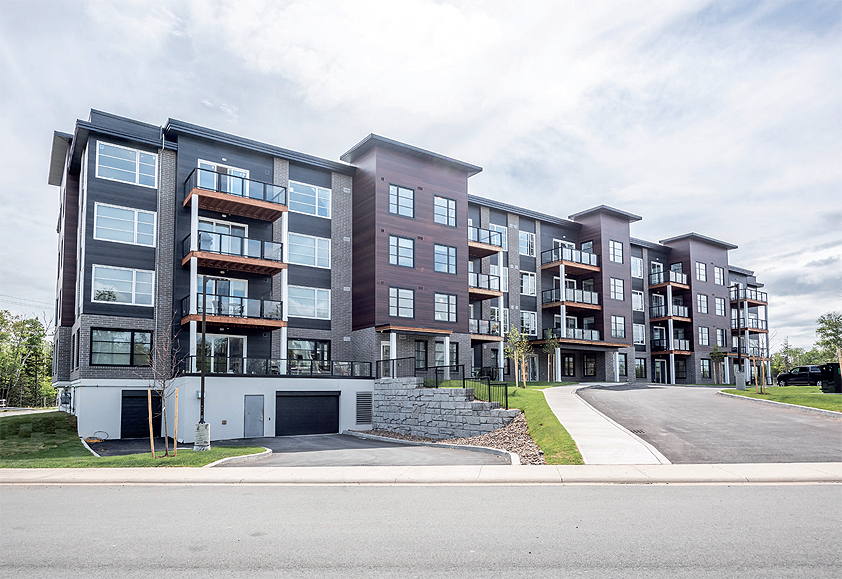 The best place to live, work & invest
As one of Canada's largest real estate investment trusts, CAPREIT currently owns or has interests in, and manages, approximately 67,600 residential apartment suites, townhomes and manufactured housing community sites well-located across Canada, in the Netherlands and Ireland.
The business is staffed by a professional, enthusiastic team with a unique, proactive management style. The business is led by President and Chief Executive Officer Mark Kenney, who has over 28 years of experience in the multi-family sector and who is actively involved in creating and implementing company policy, directing the property management team, and overseeing the marketing, procurement, development and acquisitions departments. Supporting Mark are a group of experienced and hard-working individuals, all of whom are dedicated to ensuring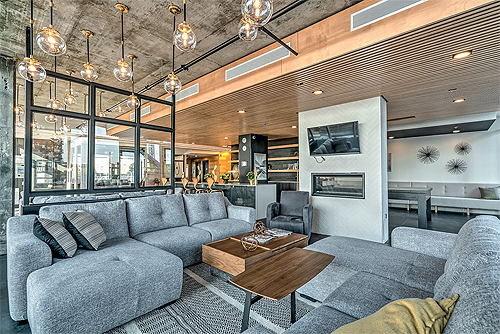 their residents are provided with a safe, happy home, and who also work hard to provide investors with long-term, predictable returns and cash distributions.
One such member of staff is Tonia Kagiannis, Senior Director, Procurement & Ancillary. An experienced Director of Procurement with a demonstrated history of working in the design industry, Tonia has been working at CAPREIT since 2018 and this makes her ideally placed to share some more details about this fascinating organization with our readers. She began by summarizing the reason CAPREIT has achieved its position in the market – it is Canada's largest publicly-traded provider of quality rental housing. "At CAPREIT, we treat our residents with the utmost respect and strive to meet their needs well beyond their rental apartment," she said. "The reason for our success is simple: the needs of our residents are central to our operation and influence everything we do. We not only work with our residents to provide a home, but we work to create a comfortable residential community in which to thrive."
She continued with some further details about the extraordinary high levels of service that CAPREIT is determined to deliver. "Being in the residential industry, we consistently endeavor to provide high quality products and services, which range from contracts with our vendor partners to maintaining our buildings. This covers areas such as cleaning services, garbage, pest control, in suite renovations, maintenance of our buildings and keeping them safe with a range of measures, such as security, cameras, elevators, fire and safety equipment/procedures and so on.
"We also ensure we are on top of any of the renovations that are required in buildings to maintain their quality and appearance. In doing this, we have met with our vendors to make sure that the products being used are moving towards a more sustainable option, and that includes such maintenance items as paints, water-based floor finishing, products used within the buildings and cleaning supplies."
In fact, working with vendors to use eco-friendly products has been a focus for CAPREIT for a few years. "We even have a department that focuses on sustainability as a wider remit," said Tonia. "For procurement, we have focused on the products being used as our first step. We also have put a sustainability program into our corporate and regional offices so we can capitalize on the many benefits that these initiatives offer. We have made our offices eco-friendly in areas such as garbage, recycling, and food waste bins. We do not use water bottles anymore and have installed filtered water machines, and we also no longer use plastic cups, plates or straws."
Positive contributions
With Tonia having highlighted the importance of environmentally-friendly approaches to CAPREIT's work, it is worth exploring this area more fully, as Environmental, Social & Governance (ESG) is of extreme importance to the organization. CAPREIT recognizes that not only is ESG disclosure increasingly being associated with investor expectations and business performance, but also that investments 27extend beyond just buildings, and include the people it employs, the tenants it houses, the suppliers it engages, and the communities in which it operates. With this in mind, CAPREIT can both generate a positive return for its investors, as well as make meaningful contributions to society and the environment.
Therefore, it views the integration of an ESG strategy as a key competitive differentiator that helps the business proactively address risks, create new value-add opportunities, and ultimately deliver on its commitment to be the best place to work, live and invest (more on this later). To maintain a focus on this area, the company formulated a comprehensive ESG strategy in 2019. "Building and delivering ESG competency means we have a common corporate definition and understanding of ESG and how responsibility and accountability are trickled across varying decision-making processes and departments," comment Mark Kenney, President and Chief Executive Officer and Elaine Todres, Chair Of HR&C Committee on the CAPREIT website.
The strategy includes five foundational building blocks that set the tone for effective integration going forward. The first of these involved formalizing a nation-wide ESG Policy supported at the corporate, department and employee-level across CAPREIT. This is designed to embed consideration of ESG factors through all stages of the decision-making process to promote healthy workplaces, community benefits, and environmental stewardship. The policy has been approved by the ESG Steering Committee, executive leadership team, and Board of Trustees.
Sustainability practices
The business also socialized the ESG strategy coast-to-coast and began building an ESG competency across the organization. Two ESG sub-committees were set up, in addition to its ESG Steering Committee, to support the integration of CAPREIT's ESG strategy across the corporate and operational teams, and the company completed a Global Real Estate Sustainability Benchmark (GRESB) pre-assessment. Finally, it initialized a Taskforce on Climate Related Financial Disclosure (TCFD)-aligned climate-related risks and opportunities assessment.
Such dedication has already been seeing results. As CAPREIT aligns its ESG strategy integration into an overall corporate program called 'Elevation 2023', it has highlighted three targets – be The Best Place to Work, The Best Place to Live and the Best Place to Invest. Recognizing the first category, in 2019 the company was voted Platinum-Level Aon Best Employer in Canada for the seventh consecutive year. For the second initiative, it achieved 8/10 for its overall staff performance score on its resident satisfaction survey, and on the third criteria, it demonstrated the leadership and vision needed to ensure long-term value for shareholders, as well as a focus on diversity, with 43 per cent of self-identified female representation on CAPREIT's board.
With the focus on the Governance side of ESG firmly directed and managed, we turn attention once again to the Environmental stewardship aspect of the ESG strategy – this is something that has actually been part of CAPREIT's DNA for over two decades. It has always delivered an ongoing commitment to sustainability by integrating environmentally responsible strategies and practices into varying aspect of its business, not just in the areas Tonia identified, but also in a wider sense – for example, when considering a merger or acquisition, it includes environmental and social factors as part of its due diligence and decision-making.
By managing its operational footprint, and implementing sustainability practices across its portfolio, CAPREIT has been able to reduce related adverse impacts on the environment in areas such as Energy, Water and Waste – in fact, it has invested over $47m in energy conservation measures, has saved eight per cent in energy over the last ten years and has achieved reduced GHG emissions of 8,500 tCO2e in the last decade.
The 'Social' part of ESG is also of the same importance to CAPREIT – people, partners and communities are part of the bedrock of its philosophy and the foundation of its business rests in the people it attracts, retains and supports. 'Our people drive our solid growth' Mark Kenney is quoted as saying in the business' 2020 Annual Report. "People are what makes CAPREIT a successful company," confirmed Tonia. "From our people that run the business on site all the way to our corporate staff, I don't believe CAPREIT would be as successful as we are without this focus on the team. CAPREIT truly treats all our employees as a family and listens to feedback from the staff. We are always trying to find ways to improve to make people (both staff and tenants) a top priority and happy to be living in a CAPREIT building or working at a CAPREIT location."
People first
A criterion that has been briefly referenced already as an essential building block of a successful team is diversity – in the company's 2020 Annual Report, Saleema Kassam, Legal Counsel, acknowledged this with the quote: "Welcoming diversity and fostering inclusion is our commitment." The Report describes how the organization believes that creating a diverse and inclusive workforce helps it to better interact with and support the communities in which it lives and works, enabling it to deliver innovative approaches and solutions both within and outside the organization. 'Our employee base includes an almost equal gender split between men and women, and since 2017 women have represented about half of our annual recruitment. We celebrate the more than 55 languages spoken at CAPREIT, a reflection of the diverse makeup of the Canadian population and our resident communities. Our workforce is also highly multi-generational, ensuring we represent the interests of all age groups. We are very proud to be working with social housing agencies and programs, leasing suites to them where we can and where most needed. Almost 2100 apartments in our portfolio have been leased by these agencies for people in need,' the report continues.
This well-represented workforce is then supported by best-in-class learning and development opportunities that cultivate extraordinary talent. Moving out of its offices and into its communities, the company prides itself on engaging with residents and taking a holistic approach to resident care, as well as investing in its neighborhoods, to deliver initiatives to help enact social and environmental change and impact. The company offers support through its resident outreach program, WeCare, its annual customer satisfaction survey to measure performance, and finally, through its ombudsperson program, CAP CARES.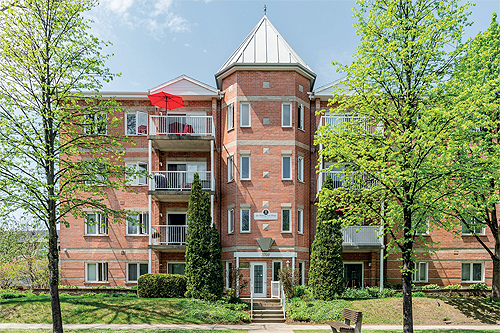 Supply chain management
It is through working closely with people and developing relationships that the most successful interactions are achieved, and this can be particularly relevant to the Supply Chain Management segment. CAPREIT believes that by managing and improving the environmental, social and economic performance of its supply chain management, it can conserve resources, optimize processes, uncover product innovations and increase influence through the promotion of its corporate values. Two of its key supply chain achievements include formalizing ESG-related provisions into its contractual agreements and policies to ensure alignment with business integrity and responsible business practices; and utilizing an online screening platform to ensure its partners remain in compliance with regulatory and corporate requirements.
As Senior Director, Procurement & Ancillary, the supply chain arena is where Tonia's expertise comes to the fore. She was able to share some insights into some of the methods in place that help CAPREIT increase supply chain efficiency. "I truly believe in forming relationships with our partners as key to our success," she emphasized. "With our partners, we can bring the services and products we require to all our staff, tenants and other relevant parties. Being respectful and having honest and open communication is the key to strong relationships. This forms the foundation of a team and it has proved to mutually beneficial for us and our suppliers."
Tonia then continued with some more details about the procurement side. "We have many programs and processes that we use to ensure we follow the correct procurement process," she said. "We have teams that we work with that successfully assist us with reporting, such as our finance team, our reporting and analysis team, our marketing team and many more.
"We use SAP for our procurement process, and we are now working on bringing in Ariba programs too. Furthermore, we have partnered with Crawford Compliance, and of course, we have a comprehensive tendering process for all projects such as any renovations, structural, interior and/or exterior work."
Industry recognition
Having stressed the importance of communication, Tonia noted that the benefits of this approach had come to the fore during the Covid-19 pandemic, when all businesses were tackling the issue of volatility in the supply chain and creating new ways to manage any difficulties or challenges that arose. "Communication is key," she agreed. "We have been working diligently to be in constant communication with our internal staff and our external partners. Even with the shutdowns and potential Covid-19 cases, we have managed this period with limited hiccups.
"Our people, our brand and how we care for our residents and staff are all connected to what sets us apart from the competition," she added. "We truly believe in creating the best places to work and live. We run our procurement team this way to ensure we support our operations teams, our corporate office, and that we provide them with what they require to be the best in the industry and the best support for our residents."
The insights that Tonia has shared into CAPREIT and its operations make it clear that this is a business that prioritizes distinction in all areas. Upholding and maintaining this level of quality is not an easy task – however, if awards and accolades are a reflection of performance, then this is a business that is at the top of its game. CAPREIT is consistently recognized by its industry peers for its longstanding culture of excellence, innovation, service, and financial and operational performance. These awards echo 35CAPREIT's continued commitment to deliver shareholder value and exemplify how it undertakes to be the best in the business.
Property portfolio
One particular award is worth highlighting – in 2020 CAPREIT successfully achieved Silver BOMA BEST Certification at 460 Brant Street in Burlington, Ontario. BOMA BEST is Canada's largest environmental assessment and certification program for existing commercial buildings. The standards set forth in this program help CAPREIT and its tenants uphold their responsibilities in achieving the highest level of environmental performance and efficiency. BOMA BEST assesses ten key areas: Energy, Water, Air, Comfort, Health and Wellness, Custodial, Purchasing, Waste, Site and Stakeholder Engagement. As an industry recognized program, the certification provides owners and managers with the framework for assessing the environmental performance and management of a building and, in turn, make necessary improvements to lower costs and reduce carbon footprint.
This award-winning property at 460 Brant Street is included within the Commercial Property portfolio of CAPREIT, alongside various other buildings (these can be viewed on its website www.caprent.com/commercial). With commercial buildings around Canada, CAPREIT is ideally placed for those looking for office space, retail space, or parking/storage to lease. To support both existing and potential clients, it also releases a Commercial Newsletter, which shares the latest news, project announcements, events, and more from the CAPREIT Commercial division.
The Commercial team is proud to support its clients in their business endeavors, and this culture of care around its clients is also particularly prevalent in another division of the business – Student Living. CAPREIT acknowledges that moving away from home to a new school or college can be daunting for young people, and its staff are well-equipped to assist with all their needs – from the application process to learning about local resources near a new home and school. CAPREIT's goal is to make the transition from home to school as smooth as possible for student and parent alike. Its buildings are safe, secure and close to school, and it has on-site staff who are fully-equipped and ready to help students settle into their new apartment.
Future growth
Once again, as with Commercial property, the CAPREIT website offers a convenient resource to find the right location for student property, and this also applies to potential tenants that are looking for apartments to rent – a searchable database and a guide to the apartments and areas makes it simple for possible renters to find their ideal location. It also includes links to the properties in Ireland and the Netherlands that are managed by CAPREIT.
The Land Lease option is also online – offering a sound and affordable financial alternative to traditional home ownership, these manufactured home communities offer the benefits of owning a home with the convenience and amenities that come with being part of a community. Residents in CAPREIT Land Lease Communities own their home but lease the land on which the home is built, with one of the benefits being a much-reduced cost of ownership. Via an online map, the website makes it simple to find the ideal location, with pictures and details of each community highlighted. Exploring the CAPREIT website gives a sense of perspective on the scale of the operation and the impressive number of properties that the business has in its portfolio. Adding to these numbers is an ongoing process and, as Tonia noted, the business has no intention of slowing down as it goes forward into 2021 and beyond. "We will be looking to grow further as we always do and being successful in managing our buildings. CAPREIT has such a wide range of buildings, town homes and MHC land that we are constantly increasing, and we always focus on continuous improvements – making our buildings look better, be safer and a create places where people are proud to live and work," she stated.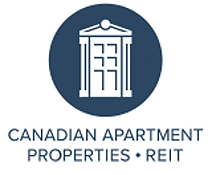 "We have to continue to be positive, work through these hard times and keep up the spirits of our staff, as this has not been a normal year for anyone," she concluded. "I am proud to highlight that one of our true successes this year is how we have adapted to working from home and kept the business running. We have supported our buildings to ensure that we keep them clean, updated and that we were there when needed."
CAPREIT
www.caprent.com
Services: Real estate operating company