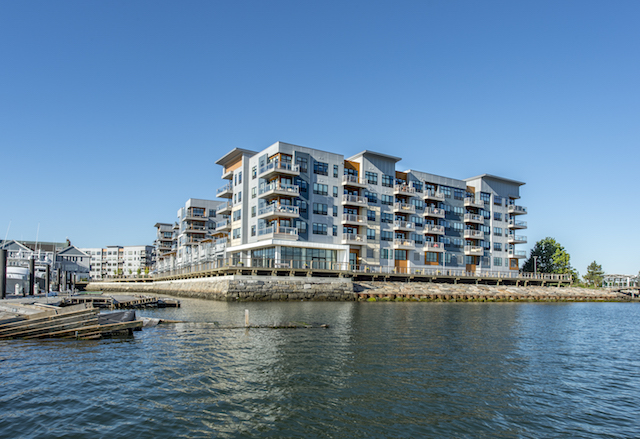 Callahan Construction Managers
Callahan Construction Managers has earned the reputation of a firm that clients enjoy working with.
By Alan Dorich, Senior Editor at Knighthouse Media
After more than six decades, Callahan Construction Managers not only stands as the longest-running family operated construction management company in its region, but it also has the reputation of a firm that its clients enjoy working with. "We're fair and honest business people," President Patrick Callahan declares. "We treat customers extremely well."
His parents, Jack and Marie Callahan, started the Bridgewater, Mass.-based company in 1954 and over the years, more than 20 family members have been involved in the business. "We've always held up the family traditions and have managed it in that way," Patrick Callahan says.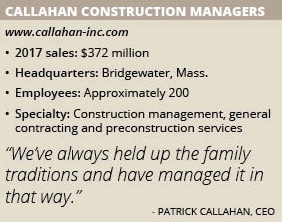 Callahan Construction Managers, now run by brothers Patrick and Timothy Callahan, serves various sectors in the New England and Northeast regions, including the multi-family residential, senior housing, hospitality, retail, lab, corporate office and educational markets. The company also has made a habit of taking on its clients' challenges, he adds.
"We step up and we do a good job in managing those relationships and helping solve those problems, whether it be financially or resource-based," Callahan says. "That's how we get a lot of repeat business."
In addition, most of its work is negotiated. "When you have that luxury [of people] wanting to work with you, it makes the sales side of things easier," he says.
Stepping Stones
Callahan Construction Managers' recent work includes Montaje, a 768,000-square-foot luxury apartment and retail development in Somerville, Mass. "That is our biggest project to date," Patrick Callahan says.
Montaje, which carried a cost of more than $130 million, is located in the center of Assembly Row in Somerville with a 20-story tower and a six-story wood-framed building. It features 447 studio, one-bedroom, two-bedroom and three-bedroom units.
"For Callahan, it's a nice stepping stone," he says. "We see more and more high-density, mixed-use project types standing out in the residential market."
A similar job for the company was the Elevation Apartments at Crown Colony, in Quincy, Mass. The project, which was finished in the fall of 2018, consisted of four five-story apartment buildings, two six-story buildings, a maintenance building and a clubhouse.
Elevation features 492 living units that include studio, one- and two-bedroom apartments, as well as a clubhouse, a swimming pool and a man-made pond. "It's a quality project with outstanding features constructed in a tight timeline," Callahan says.
Callahan Construction Managers is currently at work on Jefferson at Malden Center in Malden, Mass. Budgeted at more than $100 million, the development will have 320 residential apartments and 45,000 square feet of offices that will house the new Malden City Hall when it is finished in the fall of 2019.
It also will have more than 22,500 square feet of retail and over 33,000 square feet of common space. "It's an urban environment revitalizing the downtown area of Malden," Callahan says.
He also is proud of Post @ 200 Smith Street, a 400,000-square-foot structure in Waltham, Mass., for client Anchor Line Partners. The project, he describes, consists of the renovation of a former postal annex facility into a laboratory environment.
Post features a new façade and site finishes, a 16,000-square-foot courtyard and a below-grade parking garage. "It is for a [great] client and in a great location," he says.
Callahan also highlights the Hilton Garden Inn, which is being built in Brookline, Mass. When finished, the 11-story tower will have 175 rooms, along with a restaurant, elevated parking, and an elevated pool with amenities.
He notes that the Hilton shows the diversity that Callahan Construction Managers is capable of in its work. "It's a high-rise project that's another stepping stone for Callahan to get more urban midrise to high-rise [projects]," he says.
Leading the Way
Callahan Construction Managers stands as a leader in its market, Patrick Callahan says. "We're one of the largest open shop general contractors in the region," he states, adding that the company also provides comprehensive pre-construction expertise.
"We have extensive experience in assisting customers with their complicated projects and helping them get from point A to point B," he says, noting that it also offers internal resources that separate it from its competitors.
These include in-house architecture and engineering services for clients during the pre-construction stage, as well as its self-performing sitework division, which can take on work that ranges from excavation, utility relocation, water and sewer, paving, and parking expansion to final hardscapes. By doing it all on its own, Callahan Construction Managers can provide value engineering opportunities and address issues that affect the project's budget and schedule.
"One of the most complex [aspects] of any project is site work," Callahan says. "[Our] ability to self-perform sitework is beneficial on a logistically challenged site."
Quality Collaborators
Callahan Construction Managers not only values its relationships with customers, but also its subcontractors. Today, "We've got a captive base of subs who want to work with Callahan," Patrick Callahan says.
This allows the company to enjoy benefits such as preferred pricing and terms. "We also get good sub coverage," he says. "There's strong relationships there."
But not everyone can be a subcontractor for Callahan Construction Managers. He notes that his firm carefully chooses its subs based their level of "performance, quality and safety."
"Our subcontractors must do it the right way, all across the board," says Doug Morrison, C.O.O of Callahan.
Helping Hand
Callahan Construction Managers has shown its charitable side through its Callahan Constructing Communities program. The initiative, which was launched in 2015, focuses on the company's relationships within the areas where it builds.
"That could go anywhere from being a voice in the city to speaking with local residents to partnering with local high school Vocational programs in the Carpentry, Electrical, Metal Fab and Plumbing/HVAC trades," Business Development & Community Relations Manager Phil Dinan describes.
The company also hosts a Women in the Trades summit, at a local area high school where its female employees appear, alongside those of its trade partners and speaks with students who are looking to pursue their own careers in construction.
Callahan Construction Managers also focuses on engaging in community outreach efforts, including volunteering with nonprofit and charitable organizations, as well as sponsoring community events. "The Constructing Communities program reflects the family culture of Callahan and strives to support the local economy, inspire young people poised to become the next great engineer, architect or builder and serve as a positive partner, during and long after construction is complete," Dinan reports.
The Good Guys
Callahan Construction Managers has nurtured a family-oriented environment that has allowed it to grow, Dinan says. "When I started with the company four and a half years ago, we had 90 employees," he recalls.
Since then, the company has grown that number to more than 200. "Everyone feels as though they're part of the family, which you don't see a lot," Dinan says. "You feel as though you're not a number [but] a person."
This has allowed the company to enjoy low turnover and be named by The Boston Globe as one of the top places to work in the medium-sized company category.
He predicts that Callahan Construction Managers will continue to thrive and grow going forward. "At the end of the day, it's all market driven, so [we will] ride with the market," he says.
The company also will expand its reach. Currently, "We are expanding into New York to capture Westchester County, Southern Connecticut and Northern New Jersey," he says.
SIDEBAR – Safe and Sound
Callahan Construction Managers places a strong focus on safety within its own operations. Currently, the company employs a director of Safety and three-full-time safety officers who audit its projects on a weekly basis and provide support to its project teams, President Patrick Callahan says.
These initiatives have earned the company a Gold Standard Safety Award from the Associated Builders and Contractors (ABC) Inc for the last 11 years in a row. In addition, "We won a national safety award through the ABC in 2016," Business Development & Community Relations Manager Phil Dinan adds.
Sidebar –One-Stop Solution
Callahan Construction Managers offers its clients design/build services, which provides them "with a single-source building solution," it says. "With design/build, construction overlaps with the design, and Callahan assumes control for both.
"This process keeps the design and construction team as one, allowing for a one-stop solution, resulting in a savings in time and money without risking quality," the company says. "The same construction and preconstruction services are offered, including but not limited to civil, structural, architectural, mechanical and electrical design."