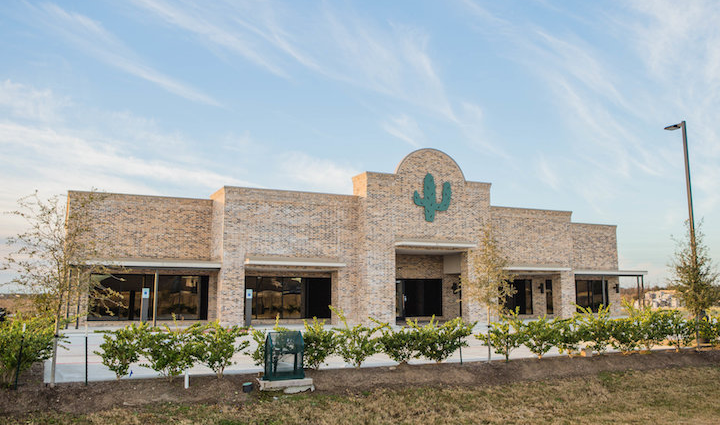 Cactus Commercial breaks ground on Entergy's new service center in Cleveland, Texas, and hopes to expand its portfolio to include similar projects in this industry.
Cactus Commercial Inc. may be one of the fastest growing general contractors in Texas. In just six years, the company has quadrupled its growth not only because of its founder's reputation in the industry, but also because of its high-quality work and dedicated employees that keeps customers coming back time and again. "We have always done what we say we are going to do regardless of what it takes," Vice President Brent Richardson says. "We are performing jobs safely, on schedule and on budget."
President Kevin Harris began his career with Trammel Crow Co. in 1978 and opened his first company, Sundance Construction Co., in 1982. He added a partner in 1989, but then in 2013 decided he wanted to get back on his own and sold his interest in Sundance to his partner. Without a non-compete agreement in place, Harris was free to immediately start his own general contracting business. About 90 percent of Harris' clients at Sundance followed him over to the new company, giving Cactus Commercial a strong footing to succeed in Houston and statewide.
Today, Cactus Commercial specializes in commercial and industrial buildings smaller than three stories, but is open to most types of commercial jobs. The company has experience in retail, industrial, offices, healthcare facilities, restaurants and remodels. In fact, two years ago, the company built its own new 8,000-square-foot corporate headquarters in Richmond, Texas. Because of its continued growth, Cactus Commercial is currently adding another 8,000 square feet today for future expansion needs to better serve its clients.
Lots of Loyalty
Cactus Commercial attributes its success to repeat clients that have worked with Harris for more than 30 years, as well as the employees who have also stayed with Harris for decades. "We don't have a high turnover rate and we have a good team established here taking care of our clients needs and that's a big deal," Vice President Kyle Harris says.
The company prides itself on its family culture and taking care of its employees, which includes promoting from within. "Recently, one employee who has been with us for about three years as a superintendent expressed interest in coming into the office and is now our newest project manager," Richardson notes. "Sometimes our supers who have been in the field want a new challenge to take on inside the office. We have a lot of loyal employees who have been in the business a long time."
With a team of 25 employees, Cactus Commercial has the staff necessary to respond immediately to clients' needs. "Our subcontractors and suppliers are also a huge part of our success," Richardson says. "It's a team effort and we attribute a lot of our growth to them and the fairness they have given us over the years. Because we have a professional and personal relationship with our subcontractors, when there is an issue it's easier for us to talk through and resolve it."
Although the company does partner with subcontractors it has long-term relationships with, Cactus Commercial also partners with new vendors but is careful to vet each one to ensure they will bring good quality of work and performance and get the job completed on time and budget. "Our goal is to make construction a pleasant experience for the client and make their lives easier and not burden them with a lot of problems," Harris says.
Entergy Service Center
Cactus Commercial is currently building Entergy's new $5 million service center in Cleveland, Texas. Entergy is an integrated energy company engaged primarily in electric power production and retail distribution operations in the Southeast. "The project has been in the works now for about two years and we finally broke ground in June," Richardson says. "We have not done a project directly for Entergy in the past, but they have a third-party consultant involved in the project who we have built for."
The 17,000-square-foot, single-story service center will be built in two phases. The first phase will consist of the construction of a new service center that will be comprised mostly of brick and metal wall panels while the existing facility stays in operation. In April 2020, Cactus Commercial expects to move employees into the new building. Phase two will consist of demolition of the existing service center and add a new parking lot.
"The biggest challenge will be access in and out of the site as the service center will remain in full operation," Richardson explains. "Entergy will be redirecting its transformer and pole deliveries away from the construction area. Being located in Texas, hurricane season can often times present special challenges and Cleveland, Texas, is the central hub for utility crews to come if a hurricane does strike. If a hurricane does strike here, we will be prepared."
Moving forward, Cactus Commercial is looking to expand its services to Omaha, Neb., and into Louisiana where it has several opportunities with current clients. The company is also focused on larger projects where it can be more competitive. "We have worked hard to put ourselves in a position to better compete on larger scale projects," Richardson says. "We still consider ourselves a full-service' general contractor and will always remember and appreciate how we got to where we are today."