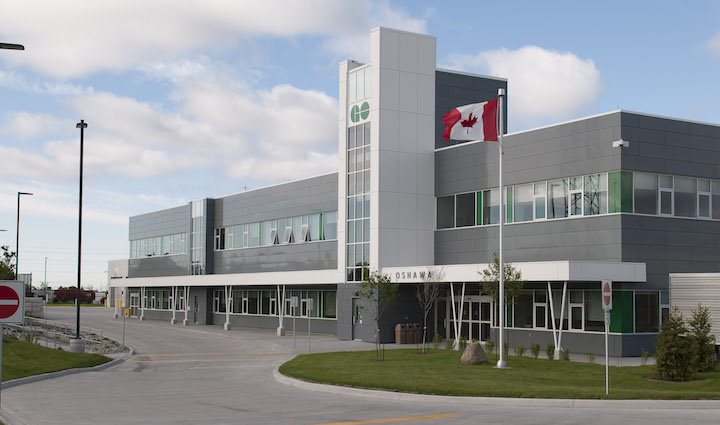 Buttcon Limited leverages its decades of industry experience to remain innovative, on-time and within budget for every project it oversees.
Partnering with a general contractor that can efficiently control the many variables in today's construction process is key to successful projects. Buttcon Limited prides itself on having built a solid reputation among owners for its management skills, value engineering, detailed procedures and commitment to excellence.
Architect's and engineer's designs often do not consider constructability or on occasion consider alternate materials or design that will help reduce project cost.  Buttcon's team helps reduce project cost and often helps in finding alternate solutions.
Michael Butt founded the Concord, Ontario-based company in 1979 after spending the first 10 years of his career with Mitchell Construction, a U.K. based public company. In 1963, Michael graduated the University of Toronto with a degree in civil engineering and joined Mitchell Construction Canada. In 1966, he was transferred to Barbados to start Mitchell's Caribbean Operation and was the Managing Director. Three years later, Michael was transferred to South Africa as the Managing Director to start the African operations and continued there until 1973 when he returned to Canada.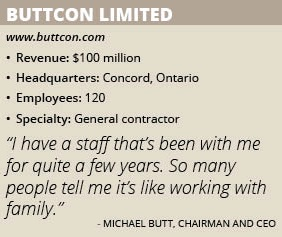 Butt's vision when he started Buttcon was to be the construction partner of choice for owners, trade contractors and employees. "It doesn't feel like it's been 40 years," Butt says.
Today, Buttcon oversees projects in the industrial, commercial, institutional and multifamily residential sectors, as well as specializes in historical restorations. The company focuses mostly on projects within Ontario and four years ago opened a second office, Button East Limited, in Ottawa with a focus on eastern Ontario and the Maritime provinces. Out of loyalty to our clients, Buttcon has completed projects in Calgary, Montreal, and currently in Vancouver.
All in the Family
Buttcon is an employee-owned company with a strong sense of family. A number of its staff of 120 have worked for the company for more than 25 years. "I have a staff that's been with me for quite a few years and a son and daughter that joined us," Butt says. "So many people tell me it's like working with family."
"There is no substitute for experienced professionals who promptly resolve issues and effectively control the thousands of activities involved in a project," the company says. "From job site to head office, our dedicated staff is committed to delivering superior results with the strictest attention to detail."
Buttcon prides itself on developing lasting relationships with its employees, as well as its partners. The company maintains good relationships with its subcontractors by understanding the importance of prompt payment in return for high-quality performance. "Cash flow is an issue for a lot of subs. We have to pay our subs promptly," Butt says. "We treat our subtrades the way we want to be treated."
Diverse Portfolio
During the economic downturn, Buttcon focused on multifamily low-cost housing and student residences for colleges and universities. "We have probably built more student beds than anyone else in Ontario," Buttcon notes.
The company's senior staff is involved in every one of its projects to ensure the best possible results. "With Buttcon, owners receive the attention and expertise of a cohesive, highly experienced team who believes in a hands-on approach to each project and protecting the interest of all project stakeholders."
Some of its more high-profile historical renovation projects include Queen's Park in Ontario, as well as Loblaws – Maple Leaf Gardens, Ryerson University Athletic Centre at Maple Leaf Gardens. Built in 1931, the historical athletic Centre was restored and the interior was retrofitted to house Loblaws Superstore, the Ryerson University Mattamy Athletic Centre and underground parking.
Buttcon's advise during the design stage of the retrofit reduced the cost to support the 90 feet high masonry walls and eliminate much of the temporary structure by using the last rows of seating."
The company also oversaw the restoration of St. Michael's Cathedral, a 157-year-old Gothic cathedral located in the heart of Toronto and is the principal church of Canada's largest English-speaking Catholic archdiocese. The restoration work included the crypt basement, which involved the transformation of the existing sub grade level crawl space into a new usable full height basement. The west façade masonry restoration included the repainting and cleaning of the existing masonry, supply and installation of new stone pinnacles, finials, cornce, balustrades and niches, including a new steel and concrete support structure, a new wood structure and copper roofing.
The restoration project also included the demolition of existing west entrance interior finishes including new slate floors and wall treatments, new holy water fonts, steel and glass stairs pass through the Narthex from the basement level to the balcony level and a new elevator from the basement to the balcony level.
In the long-term, Buttcon plans to continue moving onward and upward and increasing its profit margins through strategic planning and bidding while focusing on new markets to enter. "Buttcon will continue to exceed clients' expectations through our ability to quickly mobilize resources and effectively manage projects to the highest quality standards and the shortest schedules," Butt says. "As leaders in the construction industry, we take pride in every job we undertake and have built a reputation for integrity, high-quality workmanship, strong attention to detail, innovative solutions and a fine-tuned ability to fast-track projects."