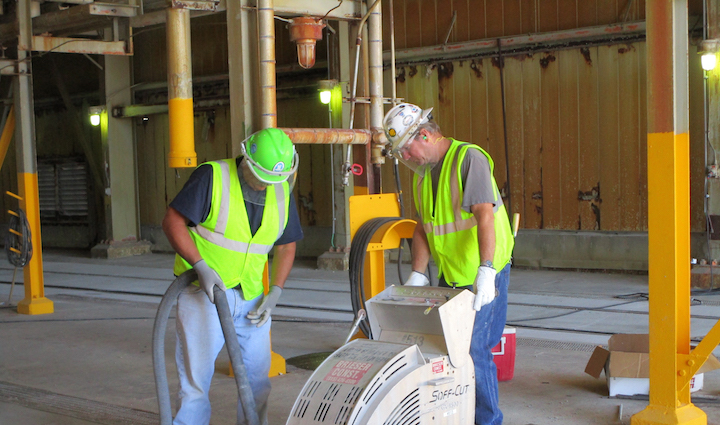 With its dedication to safety and quality, Brieser Construction remains a major player in the industrial market in its area.
When a company is offering services such as industrial maintenance, pre-engineered metal buildings, pipelines and utilities support, concrete conveying and hydro excavation in dangerous, atypical environments, safety is key. Brieser Construction Co. understands this well, which is why it invests extensively in safety in quality to deliver what its oil and gas, energy and chemical-industry clients require.
"We hold ourselves to a very high standard when it comes to safety and quality," President Lexi Southall explains. "Safety, quality, and customer service. In that order. Our mission is to exceed our customers' expectations in these three areas. Safety is definitely always first for us."
Based in Channahon, Ill., Brieser maintains this focus in a number of ways. The company has three full-time safety professionals on staff who continuously visit each job site conducting audits, conversing hazards with the crew, and inspecting paperwork and permits to ensure everything meets Brieser's strict standards. Additionally, Brieser requires all employees go through an extensive hiring process and training curriculum before stepping foot on a jobsite. This includes multiple background checks, drug testing, a face-to-face meeting with a member of management, and "hours upon hours" of safety training, Southall notes.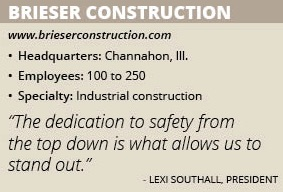 "All employees who are new to Brieser are deemed Short Service Employees (SSE) and enter into our SSE program," she explains. "Regardless of industry and trade experience, if they are new to Brieser, they have to learn the Brieser Way. In their first 900 hours of employment, they are assigned a mentor and go through three levels of testing before graduating out of the program. Our field operations superintendent will only put so many SSEs on a job site at once, to keep an adequate mix of experience levels on each job. SSEs wear a green hard hat during their first 900 hours, making them easily recognizable to the rest of the company.
"We have a very comprehensive training program, and it is ongoing throughout one's employment with us," she continues. "Most training expires in a year, others maybe three years or even five. We have about 200 different types of training right now. To help keep track, each employee has what we call a report card that lists every type of training Brieser offers with an expiration date next to it, if applicable. This report card is posted to our website and can be accessed at any time by our employees. Employees have full control to sign up for extra training and get opportunities for advancement should they want to."
Reducing Risk with Subs
The extensive training helps Brieser maintain high levels of safety on its jobs, but it also has two dedicated professionals who monitor and audit sites for quality. "Quality is somewhat easy for us to follow because of the nature of our customers," Southall stresses. "Everything we do on our sites demands a high level of quality and our customers place a good deal of value in that."
This dedication to safety and quality also extends to Brieser's subcontractor base, and it starts with an extensive prequalification process. The company uses a subcontractor management program to ensure every vendor is of the highest quality, analyzing things such as their OSHA records and EMR letters, safety affiliations, drug and alcohol policy, safety audit and equipment inspection frequency, means and methods of hazard analysis, and insurance coverage.
"Every subcontractor goes through our director of safety and health before we decide if they are a good fit for us," Southall says. "We are not always shopping for the best price – it's how they perform. Safety is No. 1 in how we work with subcontractors, and by being selective it is our goal to take the risk out of bringing a new workforce to site with us. We must do a thorough job clearing them for approval before they come under our umbrella. We have been an OSHA-VPP Star contractor every year since 2007 and that is a big deal. It's a lot of work, but we are proud of that and happy to put a lot of time and effort into it."
Striving Toward Excellence
Brieser has seen a good amount of growth recently because the market is doing well, Southall notes, and it continues to enhance its operations. The company recently implemented a small-tool-tracking software, which, even though it just began using it, has already helped Brieser reduce small-tool costs by 25 percent. She explains this is important to Brieser's focus on excellence, but much of that is the result of its dedicated workforce.
"Many of our employees have worked here the majority of their careers," she says. "Thankfully, we have a lot of veteran trades people who are loyal and dedicated to doing things the right way. Not every company can say that. Because most of our employees have been here for a decade or longer, it helps us stick to our values of safety, quality, and customer service. One of our goals is to attract more apprentices and those new to the trades to help fill the ever-increasing labor gap."
Going forward, Southall would like controlled growth for Brieser, allowing it to maintain its standards of safety and quality. She says "excellence is always the goal" and the company plans to use this to remain a major player in its region's industrial sector.
"The dedication to safety from the top down is what allows us to stand out," she adds. "No one here just talks the talk, there is complete buy in, and I believe our employees recognize and appreciate that."