Bridgelux is using its expertise and technology to transform lighting at home, at work and around the world.
"Let there be light" may be the first statement ever made, but the kind of light delivered is an important matter. Too much light is likely to keep you awake, and not enough light completely hinders one's ability to see. Bridgelux is dedicated to "bridging light and life," and with its dedication to solid-state lighting solutions that are high performance, energy efficient, cost effective and easy to integrate, the company is helping to create better environments and experiences.
LED lighting gained popularity as an industry in the 1990s in automotive brake lights, computer backlights as well as in signage and traffic signals. At the time, however, the quality of LED light and its cost kept it from being an option for general lighting. Bridgelux began in 2002 as a tech startup, the only company focused solely on LED for general lighting. Around 2008, people started to realize LEDs were a better option for general lighting because the costs had come down and the industry was better at producing white light that was pleasing to the eye. Bridgelux's expertise, research, and engineering made it an important player in this space.
"Our reputation was built quickly on high quality of light," CEO Tim Lester explains. "We offered light that was both robust in terms of light output and durability but we also had really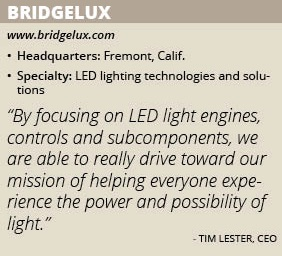 consistent color performance. Early adopters really appreciated the capabilities of the technology. The point of purchase cost may have been higher than incumbent technology, but our LED technology was longer lasting and saved energy, so the products had a good return against existing technology. Additionally, Bridgelux delivered high quality of light and targeted narrow regions of color space so the light was consistent. We also put the technology in light engine packages  that were easy for lighting OEMS to implement in their manufacturing lines so you got all the cost advantages  but with light that still looked really good."
A One-Stop Solution
Based in Fremont, Calif., and operating from nine global locations, Bridgelux now has more than 1,000 owned and licensed patents, more than 2,500 customers and more than 63 million deployed light engines as well as billions of individual LED chips. The company's patented light source technology produces, white LEDs for commercial and industrial lighting, used by clients in high-end retail, hospitality spaces, restaurants, warehouses, factories, building exteriors, parking lots, roadways and landscape lighting. As a vertically integrated company, Bridgelux combines semiconductor R&D with industry collaborations to extend LED technology.
"We are now maintaining our reputation as a source of quality and robust lighting, and we compete in all sectors," Lester says. "Lighting manufacturers may be in specialized areas – from high-end commercial architecture to consumer bulbs – but the industry wants a manufacturer who has a broad portfolio. We can work with many types of luminaires and understand they all have unique requirements. Lighting OEMs don't want to deal with niche players; they want the deep product portfolio that is consistently high quality. We focus on being a one-stop solution."
In addition to a full line of LED chips, surface mount devices and chip-on-board arrays, Bridgelux's technology includes:
* Vero® SE series arrays, which features the industry's first LED array with poke-in wire connectivity, eliminating the need for a second connector or soldering. This uses Bridgelux's seventh-generation chip-on-board (COB) technology to generate up to 170 lumens per watt, and the arrays ship with optic alignment holes and Zhaga compatibility.
* Bridgelux Thrive includes white-point options for s the company's own surface mount devices, V Series™, Vero Series and Vesta® Series COB products, designed to closely mimic the sun while providing a new class of full-spectrum, human-centric LED white-point solutions. Using proprietary chip, phosphor and manufacturing technologies, Thrive closely mimics the spectra of the sun without violet light augmentation.
* Vesta® Flex is Bridgelux's innovative family of dual-channel LED drivers and control modules designed to simplify and reduce the cost of connected tunable white luminaries. Compatible with industry standard wired and wireless lighting control protocols – including Wi-Fi, Bluetooth, DALI and 0-10V – the Vesta Flex system enables design flexibility for OEM luminaire manufacturers.
"In general, the end users are becoming more sophisticated and more discerning, so they can tell the difference between good and poor lighting," says Dr. Brian Cumpston, Vice President of Solutions Development. "Our reputation for the quality of light we provide helps us continue to be successful in newer markets. The demand for high-quality lighting is not going away."
This is especially true as people remain attached to their smart phones throughout the day, which, combined with time in front of computer and television screens, emit light that can affect people's health and sleep patterns. Cumpston explains all white LEDs start from blue light, and use phosphor materials to create other wavelengths of light that mix to create white light, LEDs do not provide the same spectrum of light as what occurs in nature or what comes from an incandescent bulb, so Bridgelux continues to manipulate the materials in the LED package to mimic natural light more closely, such as with its Thrive line.
"Historically, Bridgelux has provided LED components – things you apply power to and they emit light – but now we are beginning to offer lighting controls to go along with that," Cumpston says. "With the controls, you can tune the color temperature from warm to cool light depending on the time of day, or task or the occupants' preference. You need more sophisticated LEDs, more sophisticated power drivers and better controls so users can select the light they want. We built our reputation on helping customers adopt LED lighting and we are continuing that today as lighting is becoming more complicated. We are easing adoption of this technology and making it simpler for customers to integrate more control features into their lighting products."
'A Human Right'
For most of human existence, Lester explains, people woke up with the sun, were at their peak of activity when the sun was highest in the sky, and when the sun went down people would wind down their day. They may stay awake longer with fire light or candle light, but people mostly followed the sun with their activity. In the last 100 years, however, people have overwhelmed their bodies with false sensory inputs, and that is affecting our health. Bridgelux is using its expertise and technology to enhance lighting, while also making it simple and usable.
"As a semiconductor company, there's almost nothing we can't do with the light to make experiences better and better," Lester says. "For example, appropriate lighting in homes can allow people to age in place. There is a lot of safety, comfort and security involved in keeping an aging family member in a home versus care facility and a big part of that is the lighting. Many accidents and in-home falls revolve around the wrong type of light, and an older person is more sensitive to the kind of light used. For example, we can use more of an amber-colored light that comes on with a motion sensor around the base of the wall at night if they have to get up. It allows the eyes to see the floor without over stimulation so it is easier to go back to sleep and sleep well."
Bridgelux's goal is to continue to get its technology out into the market in a way that people can easily use it. Lester notes Vesta Flex, for example, offers a range of light spectra and with the simplicity of its two channel driver and the flexibility of the control modules, a light fixture company can offer multiple communication protocols while controlling the number of SKUs it creates, keeping costs manageable. By helping to drive down costs and increase simplicity, more people will adopt the technology.
"Lighting based around human perception and health is a human right, not a privilege," Cumpston says. "We want our high-quality systems to be easily adopted and affordable to everyone."
This is achievable, Lester says, because of Bridgelux's position in the industry. "We are the only company solely focused on being broad-based general lighting technology supplier for lighting OEMS," he explains. "By focusing on LED light engines, controls and subcomponents that make up the power controls of a fixture, we are able to really drive toward our mission of helping everyone experience the power and possibility of light. It matters to everyone, but not everyone understands what's possible and what light can do. Our vision is robust, and as the technology evolves, we can evolve with it."