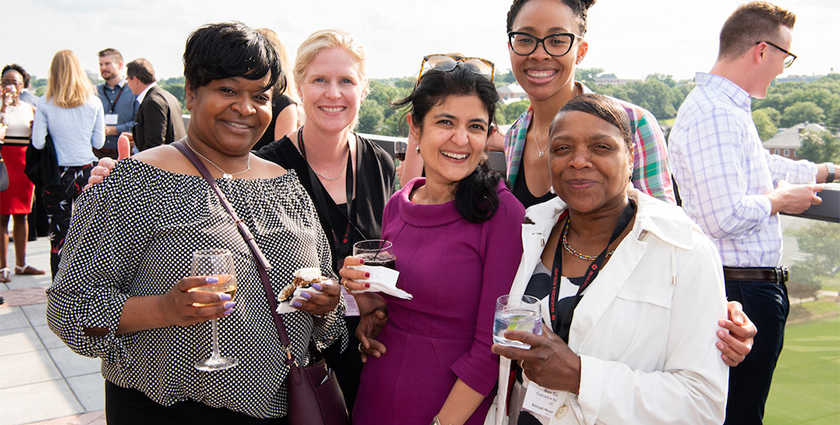 Brailsford & Dunlavey works with its national client base to advance communities through ongoing engagement and planning.
Brailsford & Dunlavey (B&D) is a program management and development advisory firm with comprehensive in-house planning capabilities. It has been on ENR's list of Top 50 Program Management firms for a number of years, and has been recognized as a top workplace and as an organization that contributes to the construction of sustainable schools. B&D employees from across the company's nine offices also routinely are recognized with national best-in-class awards. As Shilpa Khatri, senior project manager notes, the company's "incredible people" allow B&D to "inspire, empower, and advance our communities and all who live and work in them." This piece takes a closer look at B&D's work, as told through Khatri's experience.
Who is Khatri? She is a professional who has been in the construction industry for more than 15 years, with experience working as an architect, contractor and owner's representative. She has been with B&D for about six years and leads the firm's charter schools practice group.
"In the last 25 years, there have been about 700 clients we have worked with. Some of these engagements have involved planning, some the project and program management of capital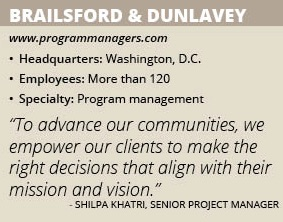 improvement projects – many both," Khatri explains. "In each instance, we have worked to maximize the value of our client's investment, whether a K–12 district renovating an outdated building, a university building new student housing, or a city evaluating whether to invest in a new arena."
"I lead our charter school practice group, which has worked with more than 45 schools over the years. Getting to advise on these projects has been an absolute honor and privilege because each charter school has a different mission and vision to support its community's needs – maybe it wants to focus on less-privileged kids or increase inclusion and diversity in the community. My team's work helps schools achieve these goals, enabling them to have the greatest impact on their communities. That feels great."
She continues, "We've planned and built many campuses now for charter schools in Washington D.C., and we are currently helping several with site analysis and programming as they expand. For example, we've worked with Two Rivers and DC Prep for over a decade on many campuses – helping them with site analyses, creating an ideal and best fit program, performing feasibility and financial analyses, creating funding strategies, aiding in financial closings, procuring project teams, and creating budgets, schedules, quality management plans, and other PM tools for the project – all leading into design management, permitting, construction and ribbon cutting.  We work with clients on that whole process to add value and deliver the school they want. To see the kids in their brand new schools and to witness those excited eyes on the first day of school is the best part of my job."
B&D is also very deliberate and focused on engaging communities, not only to inform them about the project but also to include them within the process. Khatri says, "We are creating jobs for these local communities. On a recent school project in the Northeast [of Washington, D.C.], just within that neighborhood we were able to employ eight local people on-site. It's great to be able to support the communities on that level."
In addition to working on K-12 school projects, B&D supports communities with higher education projects, governments and municipalities, and public assembly facilities such as professional and collegiate ballparks, stadiums, arenas, convention centers, performing arts centers and learning centers. The company has clients and projects in all 50 states, providing development advisory, program management and owner's representative services with its comprehensive in-house planning and implementation capabilities. Khatri stresses that B&D does not go after every RFP that comes along, instead it strives to always work with clients whose missions align with its own.
Creating Opportunities
Having been in the construction industry for more than 15 years now, with experience working as an architect, contractor and owner's rep, Khatri especially appreciates the firm's focus on creating opportunities for its people, while also focusing on their wellness, professional development and training. It's another way, she says, how the company advances its communities.
Khatri thinks a lot about the advancement of women, specifically. "About 50 percent of our staff are women, and many of them are the next in line for senior leadership positions. We all know this has been a male-dominated industry, and I'm proud and excited that B&D is making a conscious effort to advance that dialogue and bring more equality by creating opportunities for women," she says. "I am on the company's inclusion committee, and one of the key topics we address is opportunities for women, removing that gender pay gap, reducing stereotypes in our industry and bringing fairness to all."
Khatri works on Will Mangrum's team. Mangrum, an Executive Vice President, leads B&D's K–12, municipals, and venues (public assembly facilities) practice. "Working with Will and the people he brings to his team has been a highlight of my time here," says Khatri. "His vision of advancing communities – whether building more meaningful and useful libraries, creating 21st century learning spaces for our nation's youngest learners, or delivering a ballpark that brings the community together – is thoughtful, strategic, and envelope-pushing. I've been so proud of our team for working under his guidance on projects like Dunbar High School in D.C., the highest-rated LEED Platinum school in the country, or on the Austin (TX) Independent School District's bond program and modernization plan that is transforming learning spaces for almost 85,000 students. That's a big impact."
"What I find especially compelling is that professionals of all backgrounds are invited to participate in these acts of advancing communities," says Khatri. "I work alongside people from countless backgrounds – in terms of who they are, where they're from, what they studied in school, and more. Everyone who works at B&D has the opportunity to advance their community."