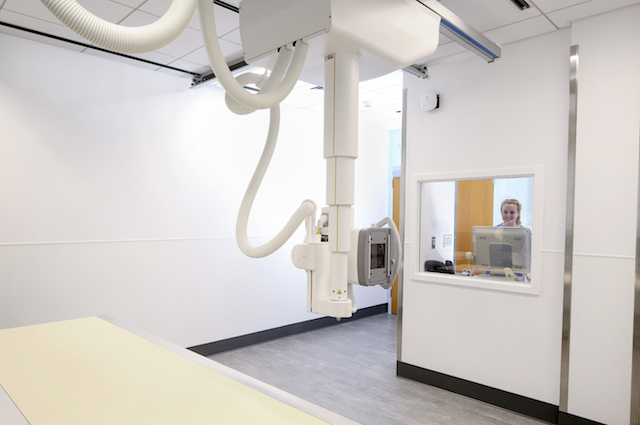 Bond Brothers uses lean methods to complete a major project for a hospital.
When it comes to construction of healthcare and life science facilities, Bond Brothers has established relationships with some of the leading hospitals and research and development facilities in the Northeast.
Among those relationships is one with the Lahey Hospital & Medical Center in Burlington, Mass. The construction management and general contracting company's healthcare and life sciences division recently completed a successful $6.5 million renovation and relocation project for Lahey Hospital.
In fact, the project produced such success, that Bond Brothers joined forces with the hospital and the project team to conduct a case study about the lean practices and methods employed during construction.
"A lean process, early planning and constant collaboration drove the project to success," says Mike Walsh, VP of healthcare and life sciences.
Bond Brothers, which is currently working on projects for more than 20 healthcare intuitions in the Boston metropolitan area, was contracted to renovate an existing facility and relocate the hospital's General Internal Medicine (GIM) practice at Lahey's Burlington campus.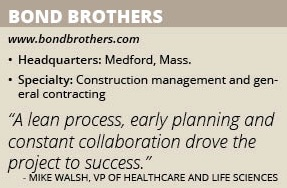 It moved the GIM practice from the main hospital into an adjacent medical office facility. The renovation included 85 exam rooms, pharmacy, radiology lab and other heavy infrastructure upgrades.
Although the project's start date was delayed, utilizing lean methodologies allowed for the opening date to remain unchanged.
The project team, with the collegial input of Lahey Hospital, was also able to open the space five weeks earlier than originally planned which resulted in revenue performance greater than expected.
Bond Brothers' team was able to measure the improved efficiencies objectively and translate that into direct project savings of 4 percent that were recycled in real-time.
Project Approach
Some of the approaches that Bond Brothers used included constructing the East and West pods simultaneously, prefabricating building components offsite and identifying opportunities in both public and tenant areas for extensive off-hours work to minimize disruptions for the duration of the project.
"One of the challenges that makes healthcare and life sciences different is that we are constantly working in and around occupied buildings," Walsh says. "We work around labs that are conducting state-of-the-art research and experiments that cannot be disturbed while we work."
In the early stages of the project, key trade partners were made to understand important project details and participated in the application of lean methodologies.
To encourage full participation in lean disciplines, the partners received a negotiated portion of cost savings generated by cutting waste. The project team also employed training using the Last Planner System, a production planning system designed to produce predictable work flow and rapid learning in programming, design, construction and commissioning of projects.
"It's a program we use to streamline the scheduling process to increase productivity for multiple disciplines," says Ben Hoffman, senior project manager. "It saves time and money and increases the overall efficiency of the project. It's a system that is a part of lean construction."
Another critical part of the process was hosting a number of daily planning sessions, called "huddles," to plan ahead for critical milestones and remove potential roadblocks before issues arose.
"As a part of our lean practice, we had internal daily huddles with executives, the project management team and other staff to address items," Walsh adds. "This allowed for open communication."
The huddles enabled the team to find areas in need of investigation and perform early exploratory work to maintain a cost effective and successful approach in dealing with any unforeseen conditions.
Lean methodologies and the combined effort of the team generated shared savings for Lahey Hospital, Bond Brothers and the trade partners. In addition, the project produced learned lessons that will be used in future projects.
The GIM project raised the bar for future projects at Lahey Hospital. Bond Brothers is currently in the process of other projects for the hospital.
Relationships
Aside from Lahey Hospital, Bond Brothers has a long-standing relationship with the Dana-Farber Cancer Institute, a comprehensive cancer treatment and research center in Boston. This spring, the company will begin renovation work on the institute's laboratory.
"We have been with Dana-Farber for 15 years," Walsh says. "We are one of their core team members. We do research labs and other work for them in their institute."
In the past, Bond Brothers provided preconstruction and construction management services for a multi-phased renovation and expansion of Dana-Farber Cancer Institute's Jimmy Fund Clinic, a project aimed at enhancing pediatric cancer care and increasing the facility's capacity by 40 percent.
Additionally, Bond Brothers is currently building a new ambulatory care facility for the Beth Israel Deaconess Medical Center Needham. Scheduled for completion in April, it will be a brand-new, 39,000-square-foot building with a connecting bridge to the hospital. It will house radiology labs, doctor's offices, an endoscopy lab and a conference center.