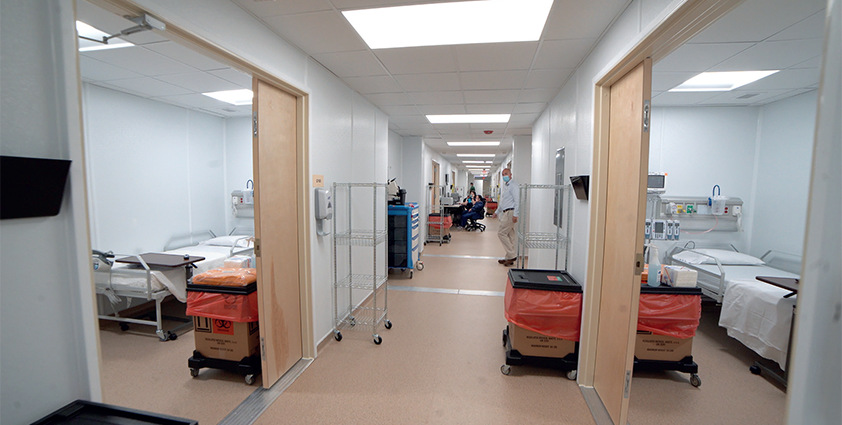 Making it modular
Leading commercial builder, BMarko Structures, stands out from the crowd with its efficient, innovative modular structures
Since 2014, BMarko Structures (BMarko) has been a strong force of innovation in the commercial construction industry. Using alternative methods of modular construction, the Atlanta-based company specializes in custom shipping container conversions to create pre-made structures that are efficient and reliable. Following the major success of its modular hospital design during the Covid-19 pandemic, BMarko looks forward to ongoing expansion, and a number of exciting, up-and-coming projects.
"For the last eight years, BMarko Structures has provided high-quality modular structures spanning across a vast number of industries and applications. We are one of the few, maybe only, modular company that has entered the steel modular, wood modular as well as shipping container modifications arenas. We believe that servicing our client needs should not be a singular selection of a building system. Expanding into apartment buildings, kitchens as well as hospitals, we have provided exceptional buildings at very fast delivery timelines, " introduces Antony Kountouris, Chief Executive Officer at BMarko.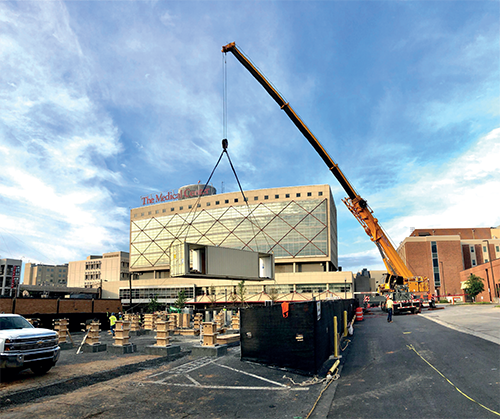 Since its inception, the company has developed a range of core specialisms, as Antony details: "One of our specialties is in 100 percent custom-modified shipping containers with higher-end finishes and creative architecture for commercial and industrial use. On the retail side, our clientele is mostly made up of established businesses that are looking to expand their physical presence with a new structure that can supplement their current locations. Some of those structures may include bars, coffee shops, bathrooms, event containers, or offices. On the industrial side, our clients are usually looking for structures that enclose power and electrical equipment, data centers, pump houses, water treatment plants, and more."
With established connections across a range of industries, BMarko continues to thrive. The company continually sets itself apart, with minimal wait periods on buildings, and a unique engineering facility. "We have always had some of the best lead times in the industry, and we pride ourselves on delivering an on-time service. With over 200 projects under our belt, we have delivered 99 percent of our buildings either on or before the deadline. Working inside of our manufacturing facility helps us stay efficient and punctual eliminating outside variables such as weather delays.
"That's always been a feather in our cap when selling our products to clients, because our structures are up and running much quicker than if they had been built using traditional construction techniques. Our modules are usually shipped 90 percent completed, so customers can save valuable time by placing the units directly onto their existing land. Then the buildings are simply connected to the utility hook-ups, and they are ready to go. We may not be the cheapest on the market, because we focus on high-end finishes and quality, but the downtime that comes with choosing modular helps our customers save in the end."
This fresh, innovative way of working has given BMarko the power to disrupt the status quo. Attracting a range of customers, BMarko provides facilities for companies working at the cutting-edge of their field. As Antony discusses: "We take pride in each and every building that we put out, because it's a reflection of our hard work and dedication. When a client looks at the building or structure at the final site, we want them to be as proud of calling the building their own as we are to have supplied it.
"Regarding some specific projects, we've won awards at the Modular Building Institute Awards of Distinction ceremony the past three years, and each of those projects was special, either because they were aesthetically impressive, or because they were significant due to their subject matter. For example, in 2019, we built an office complex for Wing, a Google subsidiary. Having developed a lightweight drone delivery and navigation system that could autonomously deliver small packages – including food, medicine, and household items – directly to homes in minutes, they needed a field office to support their first fleet of delivery drones in Virginia, which is where we came in. Due to the project's short deadline, shipping containers were the perfect solution for the offices. We were able to build it in only six weeks.
"Additionally, in 2021, we built a 13-container office complex for a company called Hermeus, which is a venture-backed start-up with the long-term vision of transforming the global human transportation network with Mach 5 transportation. At Mach 5, travel is not just supersonic, it's hypersonic. At these speeds – over 3000 miles per hour – flight times from New York to London would be 90 minutes rather than seven hours.
"They needed a field office where they could test engines safely, while also fulfilling the design and feel of their company brand. Due to our modular approach, they were able to have the field office up and running a month after breaking ground on the final site."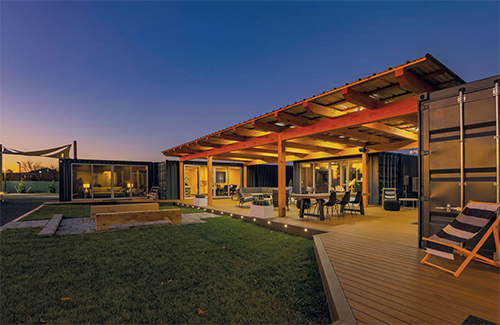 One of the company's most exciting and prominent projects involved the emergency construction of numerous hospital facilities that were used to support healthcare providers during the height of the pandemic. This proud accomplishment is emblematic of the ethos behind BMarko, as Antony reveals: "Our work in building pop-up Covid-19 hospitals was fast and furious. We saw that the big issue with Covid-19 was that hospitals were quickly running out of space in their ICU units, and we wanted to help.
"Being in the modular industry, our calling card is that we can make buildings fast and that they can be placed and be ready to go in minimal amounts of time. We realized that we could truly help to save lives with our expertise, so we hired a designer with a background in healthcare facilities and she was able to mock up some floor plans that would eventually be worked into the final hospital units. That was a huge undertaking in itself, just learning all the specifics about what is needed in the ICU units from the HVAC systems needing to cycle in new air in a certain amount of time to the headwall units and oxygen lines.
"We named the project 'Liberty Boxes' after the 'Liberty Ships' that were made in a similar fashion during World War II. So, we had the design, now we had to market it to just about every single government disaster agency we were able to get a hold of through email. Finally, GEMA or Georgia Emergency Management Agency reached out to us and wanted us to complete 48 patient rooms divided into two hospitals in just 4 weeks. Then came the rapid hiring process to actually build them. We had contracted roughly 100 new workers to work this project in two different shifts around the clock. We knew that every minute and every hour could possibly save lives.
"At the end, BMarko Structures designed, constructed, and delivered the keys to two hospitals, and 48 patient rooms, just four weeks after the contract had been awarded. Each hospital consisted of 21 modules. Both hospitals are now open for use at Phoebe Putney Memorial Hospital in Albany, GA and Navicent Hospital in Macon, GA. It was easily the most exhausting project we've ever done, but also the most rewarding."
When the Governor of Georgia, Brian Kemp, toured the facilities BMarko had constructed, he made the following comment: "One of the best decisions we made early on were these mobile hospital sites. It really is impressive how well built they are and how quick they got stood up — medically ready with oxygen and everything else."
This proud accomplishment sets the stage for an exciting few years ahead for BMarko, as it continues to shape the future of commercial construction. The company has plans for a brand-new factory, as well as numerous projects in the pipeline for 2022 and 2023, as Antony concludes: "Our focus will continue to be on providing our customers with quality modular buildings and custom shipping containers; we are looking forward to some more exciting projects to showcase in the near future.
"In addition, we are currently in the process of moving to a new facility in the next month or two so that'll be a fun time for the whole team, as we get some new digs and a place we can customize even more to better fit the way we build. "
BMarko Structures
https://bmarkostructures.com
Services: Commercial builders