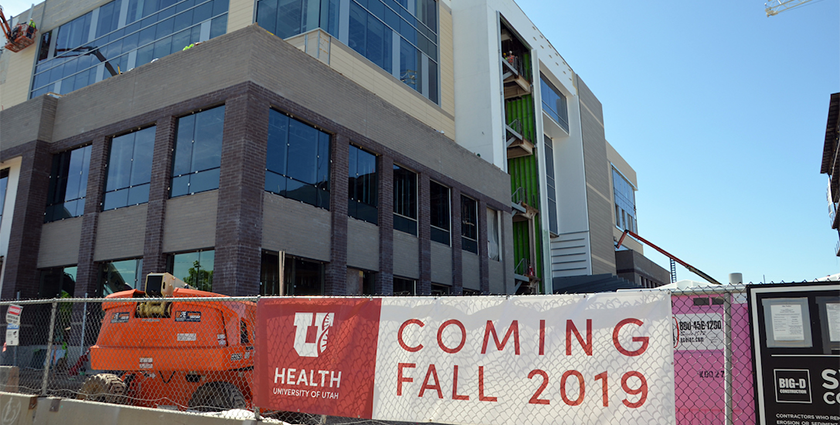 Big-D Construction – Park Avenue
Big-D Construction is preparing to deliver the first phase of its Park Avenue project.
When general contractors, designers and subcontractors come together to build a project, it not only represents an opportunity to show off their unique skills, but also the result of a true collaboration. Big-D Construction's Park Avenue project in Salt Lake City embodies that, Rich Hazel says.
"This project is an indication that you can really bring everyone together," he says. "That everyone can give a little, take a little, pull in the same direction and be in a place where it's okay to laugh a little bit, have a good time and still put out an incredible product and be in an incredible place. I'm most proud of that."
Hazel is the senior vice president and managing director of the Salt Lake City office for Big-D Construction, which is serving as the general contractor on Park Avenue for developer Westport Capital. The project, which has a budget of approximately $125 million, consists of two buildings being built on former a former Shopko site.
The first building will span 170,000 square feet and stand five stories, housing The University of Utah Health Network's outpatient service cancer center, among other specialties including radiology, dermatology, endoscopy, pediatrics, women and men's health, rehabilitation and urgent care.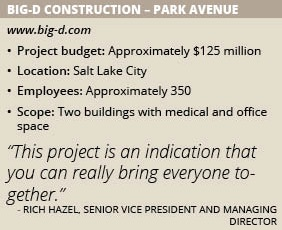 The goal of the University of Utah, Hazel explains, is to get more in touch and physically close to its patients. That way, "They don't have to drive up the hill to get their healthcare," he says.
The second facility will be a 150,000-square-foot multi-tenant office building. "Supporting that is 1,250 stalls of underground parking," Hazel says, adding that Big-D Construction excavated 137,000 cubic yards of dirt to build a three-story underground parking structure. "There's additional parking on the top and some plaza space as well."
Right on Track
Big-D Construction started work on the project in the late summer of 2017, which saw it demolish a former Shopko retail store. After that was finished, its project team began installing the utilities and the sewer systems, as well as preparing footings for the underground parking structure.
After removing the dirt, it was taken to be used at construction sites across the Salt Lake Valley. Over time, Hazel says, the project team has alternated between constructing the parking structure and the buildings.
For example, "We built a third of the parking garage, and started the first building on top of that," he recalls. "[We then] started the second third of the parking garage, and started building the second building."
Currently, Big-D Construction is on track to open the site and the medical office building this September. "The office building follows and should be open in the first quarter of 2020," Hazel predicts.
But the project team has coped with challenges as well, including a tight site. "It is pinched between I-80 and an active intersection supported by a northern shopping center," he describes, adding that this made the dirt excavation and demolition of the former Shopko site very difficult.
"We have almost zero staging areas," Hazel says, noting that the project team has to keep enough parking spaces open for the center, while receiving deliveries and making installations on a daily basis. "There are very few areas to put anything more than a few hours."
Because of that, Big-D Construction has utilized tower cranes to bring materials to the site and over to its laborers for installation. "We've had to do that every day due to the inability to stock materials," he says.
The last steps of the project, Hazel notes, will consist of the restoration of Stringham Road, which became part of a parking lot when Shopko first moved in. When finished, "It will connect I-80 and the off-ramps and [people] will be able to go into the Sugar House community quickly," he predicts.
Staying Safe
Despite the site constraints, Big-D Construction has maintained a high safety rate during the construction. This has been managed through the implementation of a full-time safety officer, as well as requiring all persons on site – including architects and owners – to undergo a one-hour jobsite orientation.
"We have a very active safety culture here," Hazel says, adding that Big-D Construction maintains safety through its "Think" safety forms, which break down every installation before it is performed. "We have a full-time person monitoring and managing that program."
Project Lifeblood
According to Hazel, Big-D Construction's subcontractors have been essential to the project's success. "They're our lifeblood," he says. "Next to our own employees, they're what makes everything tick."
But at a time when the industry is experiencing a labor shortage and subcontractors are often busy, Big-D Construction has had to make sure they feel comfortable on the project site. "We welcome our subs as partners," Hazel says, noting that the firm rewards them with barbecues and giveaways. "If you don't have them, you're in trouble."
The company also recruits subs that it has worked with before and is careful when recruiting new ones. "We have an infrastructure at Big-D that is constantly vetting these folks out," Hazel says. "There's an art to finding the right ones."
This requires Big-D Construction to perform due diligence and make sure that they can handle the work. "We're spending a little more time than we normally would picking the right type of subcontractors [as well as] managing growth at the subcontractor level," he says.
Staying True
Headquartered in Salt Lake City, Big-D Construction started operations in 1967 and has completed 150 million square feet of successful projects, including work in the retail, public, hospitality, multifamily and industrial sectors. "We're currently doing business in 19 states [with] 1,500 employees," Hazel reports.
He joined Big-D Construction in 2011. A longtime veteran of the industry, Hazel says he took a road that is less traveled by his colleagues. "Most people started in the field," he says, adding that his previous background was in business.
While he was familiar with the business side, "I had to learn the building side," he says. "Normally, it's the other way around [where people] have to learn the business side of what you do."
Hazel credits Big-D Construction's success to its flat management structure. Through this format, "[We're] allowing people who are out on the jobs to deal with upper management," he says, noting that this has helped the company achieve its goal of being one of the most sought-after places to work.
He predicts a strong future for Big-D Construction. "I see continued growth and continued opportunity, with the challenge of staying true to our goals and objectives," he says.
"It's hard when your name's 'big'," he says. "But we feel our strength is that we can be one-on-one  with our customers and we don't want to lose that."
SIDEBAR – Getting in Early
Big-D Construction has learned lessons from the Park Avenue project, including the value of being involved from the very beginning, Rich Hazel says. "I have to tip my hat to the ownership group and the University of Utah's ownership system," he says.
"Because they procured the project, we were able to get in early work with the architects and engineers and help design, pick materials, and help phase and stage the project," he says, noting that this has helped limit changes to the scope of the project and kept it on schedule and on budget. "It took some insight and it's paying dividends now."