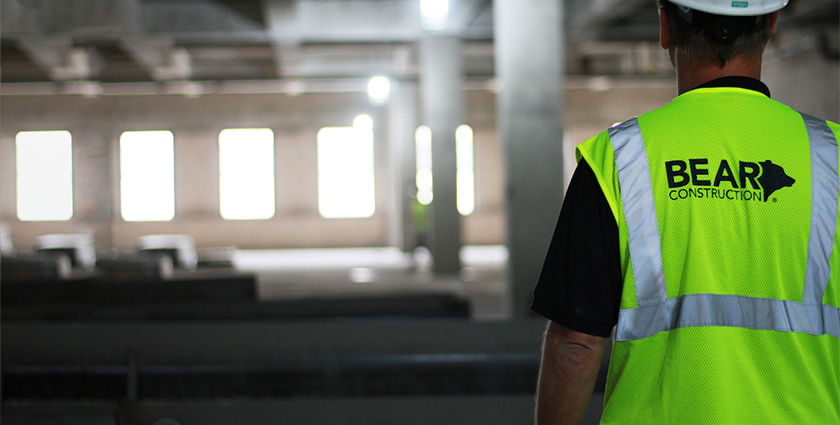 Family culture and multiple markets have led BEAR Construction to 35 years of success.
A lot of companies say that they treat people like family. But BEAR Construction lives by that principle, saying its family culture is a key factor in the company's 35 years of construction success. "We treat both our clients and our employees like family," Executive Vice President Scott Kurinsky says. "At the same time, we very much realize that we are running one of Chicago's premier contracting businesses, so we must always strive for the most sophisticated levels of service and expertise."
BEAR Construction was founded in 1984 by brothers Jim, George and Nick Wienold in a suburb of Chicago. The company completed its first commercial project in 1985 and two years later moved into a 2,000-square-foot office on a 5-acre parcel in Arlington Heights that they had purchased. Today, BEAR completes about 1,500 projects per year and maintains five offices in Illinois (two in Chicago, plus Rolling Meadows, Bradley and Urbana) as well as a Milwaukee office it opened in 2015 at the request of a long-time client. The majority of BEAR's work remains in Illinois, although it recently was awarded a large interior project in the Detroit area thanks to a great relationship it built with a Chicago customer who can't afford to take any chances with their own client there.
The family focus shows up in different ways. First and foremost, the company looks out for its clients as if they were members of the family. Every client dollar is treated as if BEAR were spending a dollar of its own. Employees also are rewarded with extreme flexibility to create their own personal work schedules so their own families and personal lives receive the attention they deserve.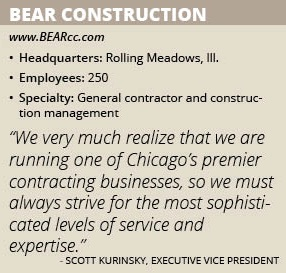 "We install an atmosphere of integrity with our employees, and that can't help but project itself onto our clients and our work," Owner and CEO George Wienold says. "We've also created some great benefits and employee amenities that we think adds so much to our corporate culture." Even dogs are welcome, such as Clark, the gray bulldog that wandered around the company's Chicago office on a mid-April afternoon.
A great example of the company's close-knit structure was evident during the Great Recession in 2009-2011. Though most general contractors laid off staff, BEAR did not. The company instituted an across-the-board pay reduction for all staff and the owners worked without pay many months to keep cash flow positive, but no one lost their job.
"That says just about all you need to know about the owners of this company, and it's also why we had such great success when the economy did turn around," Kurinsky says. "Most of our competitors had cut so much staff they couldn't handle the work when things did pick up, and had to re-train new staff when they did hire. On the other hand, we had all our key people still in place and handled business as usual. In fact, we actually added quality people during the recession. And when things got better, we quickly restored the employee salaries."
35 Years
In July, BEAR will celebrate its 35th anniversary. Over the years BEAR has expanded into numerous construction segments including interiors, healthcare, new construction, technology, industrial and special projects. "We try to spread our risk across several markets," Kurinsky explains. "A downturn in one doesn't always mean there is a downturn in others."
One newer segment that has almost become a market of its own revolves around building amenities. As property owners are waging a war between themselves to provide their tenants a better experience than their neighbors, BEAR has become an amenities expert. Having some of the city's most well-known projects under its belt, such as the rooftop lounge at Prudential Plaza and the lobbies at the AON Center, Prudential Plaza and the Old Post Office, BEAR has positioned itself as the leading contractor in the amenities market.
As the company has expanded, it has added departments for technology, marketing, accounting, human resources and safety, which consistently achieves an EMR that far exceeds industry standards. BEAR is focused on the increased use of technology. "Our work has moved to a digital platform very quickly," Kurinsky says. "The days of walking around the [Chicago] Loop with rolls of paper plans are long gone. We're now pre-planning spaces in 3-D weeks before we even start swinging a hammer. Almost all plans and record keeping are now cloud based, and all our project managers and superintendents carry tablet computers."
BEAR has worked with many of the same subcontractors for 30 to 35 years. "We're very fair with our subs," Wienold says. "The standard procedure with many of our competitors is to take a job at or below cost and beat up the subs to make a profit. That's not how we prefer to conduct business. Our clients are generally fair with us, and there is no reason we can't be fair with our subs. We would rather ask our subs to join us aggressively pricing the project before we bid. Again, it relates back to our family mentality."
Nick and George Wienold were both union carpenters and BEAR employs roughly 120 union tradespeople, paying union scale or above. The company believes union tradespeople are better trained and do better work. Account Executive William Ziemek notes that BEAR occasionally loses bids to non-union general contractors. "You oftentimes get what you pay for," Ziemek says.
Recruiting quality employees is a challenge for any company. BEAR's reputation as a great place to work helps tremendously. "It's very rare for people to leave BEAR," Ziemek notes. "BEAR has also partnered with several universities, bringing in a dozen students each year for summer internships."
"We have had great success with that program, and it usually creates a future employee who is excited to come to work when they graduate," Kurinsky says. Retaining people is less of a challenge.
"Our corporate atmosphere is really amazing. Contracting is stressful, but we offer our people the best support and allow them great freedom and flexibility in their work," Kurinsky says. "We are here to guide, assist and mentor. If they are doing their job, we stay out of their way. We are flexible with time off and working remotely from home. We have also installed lounges in both of our main offices where people can unwind over a game of darts or watch TV in a non-work atmosphere. We've found this to be a great plus in employee happiness, and it parlays itself into many great client events, too."
Post Office
One of BEAR's most interesting projects is the rehabilitation of the Old Main Post Office in downtown Chicago. The Old Post Office was placed on the National Register of Historic Places in 2001 and later designated a Chicago landmark.
The former post office is composed of three inter-connected buildings of differing heights – six floors, nine floors and 12 floors. The first building was completed in the early 1900s and a major expansion was completed in 1931. When the Post Office ceased operations decades ago and moved across the street, the building went dark for decades.
With the vision of a great owner and leasing and design teams, BEAR is converting the landmark building into a modern office building with class-leading amenities, including a multi-acre roof deck, expansive lounge, fitness and conferencing areas, as well as retail and dining on the ground level. The $500 million project involves installing all new HVAC, electrical, plumbing, sprinklers, stairways, elevators, façade, roof and windows while maintaining the historic character of the building. "We're told that it's the largest historical renovation project in the country," Kurinsky says.
BEAR started on the project in the spring of 2016. First steps were simply to make the 2.8-million-square-foot building safe to work in. "It had been shut down for many years, so there were no utilities in place. No heat, no lights – nothing. There were hundreds of openings in the floors from old postal equipment that had been removed," Kurinsky says. "Those ranged from a few square feet to entire column bays. We spent many months just infilling or barricading those areas, installing temporary lighting, signage and securing missing windows."
BEAR worked closely with its insurance company, Assurance. Together they developed a site-specific safety plan, conducted safety trainings and had safety audits two to three times a week. Those audits identified potential problems and allowed them to avoid more than $2 million in potential OSHA penalties.
Fast forward to now and the project is in the midst of peak of construction, with roughly 400 tradespersons working diligently to get the building opened in late 2019. Every conceivable trade is or has worked on the project, and the base building contracts all reflected very progressive hiring practices to ensure that local residents shared in the benefits of this massive project.
"Renovation of the exterior was challenging, but fairly straightforward," Kurinsky says, and mostly involved repairs or replacements. Certain aspects of the interior have been more complicated. "We had to work very closely with several federal and local agencies to meet historical requirements," he says. "Most of those meetings led to logical conclusions, but occasionally an agency would request something that left a lot of us scratching our heads. However, the design team always was able to incorporate the requirements into their programming, and the leasing team has embraced and used them to their benefit."
BEAR anticipates completing the project in late 2019. While the project has had its challenges, the company has used them to learn and expand its capabilities. "This project has really catapulted our 3-D modeling capabilities because of its size and stature," Kurinsky says. "It has also allowed us to bid on future large-scale work now that people understand what we are capable of."
While rehabilitating the Old Post Office is a both large and very high-profile project, Wienold says, "We still want to stress that all of our projects are significant. We mean that. BEAR's foundation was built on exceeding every customer's expectations, regardless of size. To every client there is no more important job than their own. We realize that and instill that belief throughout the organization. Our foundation is still rock solid and we will continue to treat each client as if they are our only focus."