Bay to Bay Properties uses technology and teamwork to attract employees and work efficiently.
Bay to Bay Properties was founded in 2003 by two high school friends who started off doing small residential projects such as renovating condominiums. By 2006, they were building high-end custom homes.
A mutual friend who was performing commercial construction joined them in 2009 and by 2015, Bay to Bay had dropped the residential work and became a commercial builder.
A small company during the Great Recession, Bay to Bay didn't suffer like larger construction firms that had to downsize, CFO Kate Rogers says. The company built a lot of dollar stores in those years, learned about cash-flow management and matured as a business. "When construction boomed again, we were able to hit the ground running," Rogers says.
Bay to Bay Properties is based in Safety Harbor, Fla., near Tampa and St. Petersburg. The company builds gas stations, multi-tenant retail centers, quick-service restaurants, small and large retail, grocery stores and is expanding into healthcare. Bay to Bay manages construction primarily in the southeast United States although it has worked as far west as Texas and as far north up the coast as Pennsylvania.
The company built itself offices in 2014 and is in the process of building larger offices that are scheduled to be completed this summer.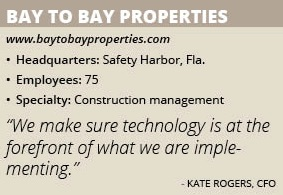 Technology and Teamwork
There is a lot of competition in commercial construction and Bay to Bay distinguishes itself by systemizing the construction process and facilitating communications between various stakeholders. Part of this is with the construction management software Procore.
"We started using it in 2013 and it has become our main location for all aspects of the construction process," Rogers says. Bay to Bay uses it to send out invitations to bid, communicate schedules, track changes, contract with subcontractors, track warrantees and perform other important tasks. "We embrace technology," she says. "We make sure technology is at the forefront of what we are doing."
Besides making Bay to Bay more efficient, the use of technology is one way to attract a younger generation of workers. "Otherwise, they look at construction as something their dad did," Rogers says. "We're trying to reshape minds to show it how dynamic and industry it is."
Along with technology, Bay to Bay attempts to create a collaborative, team-based culture that it believes will attract and retain talented employees. With the unemployment rate low and the construction industry busy, that's important.
"It's not contractual but we ask for a three- to five-year commitment," Rogers says. "It takes us a good six months to a year to instill the Bay to Bay way into an employee."
The team-based culture appears to appeal to employees. For the last three years, the Tampa Bay Business Journal has honored Bay to Bay as a Best Place to Work.
Women in Construction
Historically, construction management has been male dominated. "I think the mindset of the industry is shifting," Rogers says. "Construction is one of those industries where it's taking women a little longer to get into. I am currently at an insurance conference for the construction industry and I expect to see 10 percent of attendees being women."
Women bring "an additional layer of vibrancy to the industry that may have been lacking in the past," Rogers says. "Within the construction industry, it's so much about bringing together all the different parties and leading them toward the same outcome. Women can relate to people on so many levels and can really move the needle when it comes to human-to-human interaction and communication."
Rogers says staying in the construction world can still be a challenge for a woman. "You have to work harder and smarter," she says. "Because of my age and being a woman, people don't expect you to be fluent in construction and don't expect you to understand the nuances. It's constantly learning, being assertive and being patient. Men are not used to seeing women in the position I am in. You have to have a little patience and grace while they sort through that in their minds."
Work for Sprouts
Among the Bay to Bay projects that Rogers is proud of is its work for a grocery store chain called Sprouts Farmers Market. The company built the first ground-up store for Sprouts in Florida, a nine-month project in Tampa that was completed in early 2017 for a budget of $5 million.
The 30,000-square foot building had a couple of unusual elements. Sprouts wanted an entire wall to look like a barn with a tongue-in-groove finish and bumped-out features. "It's kind of their key theme," Rogers says. The construction foreman was a skilled carpenter and took on creating the barn door.
Another element is integral concrete coloring, which allows for the coloration of the concrete slab – in the case of Sprouts, brown cement. "They sent someone from headquarters to watch the concrete pour, that's how seriously they take it," Rogers recalls.
The project was challenging in that Sprouts had a strict opening date. "Considering it was a nine-month project, there was no room for error," Rogers says. "We had to communicate frequently with all the inspectors and pass inspections a little faster than normal."
In 2019, Bay to Bay plans to continue growing and is looking to solidify its geographical spread in commercial construction in the southeast United States. "We are continuing to make sure we have the right people and right processes to fulfill that growth over the next couple of years," Rogers says.