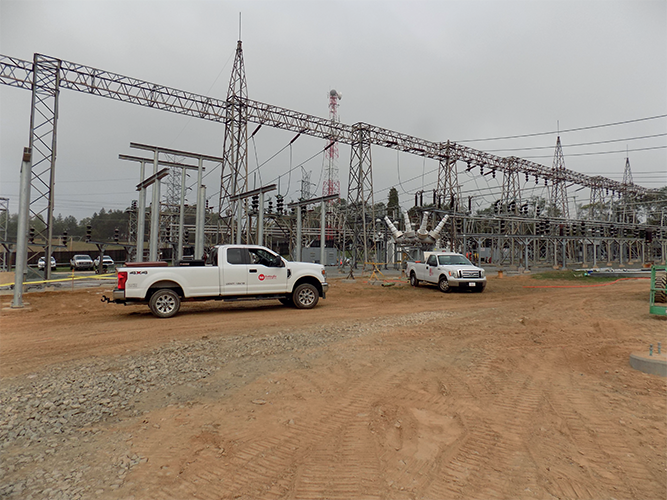 Paving the way forward
Since 2007, sister-owned general contractors Battaglia Associates Inc. has been breaking new ground for women in construction
Christine Meyer and Jennifer Battaglia have owned Battaglia Associates Inc. (BAI) since purchasing it from their father in 2007. What was initially intended to be a real estate investment company soon grew into an industry-leading general contractor, and a certified Women's Business Enterprise (WBE). By 2011, BAI was making around $2 million a year, and since then the company has gone from strength to strength, as it continues to empower women in the male-dominated world of construction.
Battaglia Associates Inc. provides procurement construction, maintenance and repair services in the heavy commercial, industrial and energy markets. Since being taken over by Christine and Jennifer, the company has worked on projects across Delaware, Maryland, New Jersey, Pennsylvania, Washington DC and Virginia.
The company has experienced impressive growth under its new leadership team. In 2015, after obtaining a few security projects, it brought on its first project manager. Following this, the company won eight more projects and began specializing in substation work for utility companies.
With this success came the need to expand, as company President, Christine Meyer explains: "In 2019 we purchased a local excavating company and BAI Excavating LLC was formed as a full civil service contractor, to support the utility work. In 2020, BAI Excavating started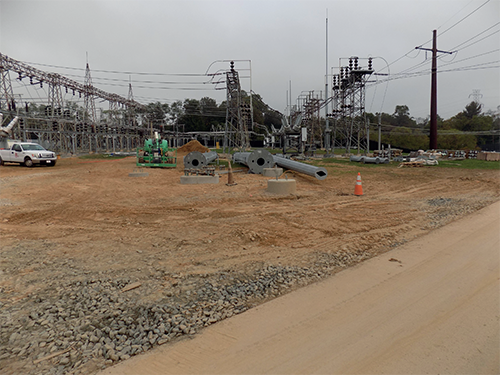 working on projects outside utility, and it truly became its own entity."
Battaglia Associates Inc. is unique in its ability to innovate in response to the needs of the construction industry, whilst also leading the way for a fundamental shift in the sector as a whole. In 2020, the Woman Presidents Organization (WPO) and Forbes Magazine ranked BAI as the 5th fastest growing WBE in the US, and in 2021 the company received an award from the WBNEC for its DE&I program, highlighting how important female representation in the construction industry can be.
This recognition is certainly well deserved, as the company continues to provide an impressively broad range of specialty services. From UL certified panel fabrication and security infrastructure installation, to structured cabling, and substation construction and maintenance, BAI is a company designed to meet the specific needs of contractors across numerous states.
As a result of its expertise in these areas, BAI continues to work on exciting new projects. "Atlantic City Electric's Higbee Substation rebuild project is one we are proud of, as it was our first high profile job," reveals Christine. "The Substation provides power to most of the major casinos in Atlantic City, as well as the Convention Center. The purpose of this project was to replace the existing switchgear, control enclosure panels, and capacitor banks, which included the construction of a new switchgear building. This was the first project that put all Battaglia companies together, and we are proud that it was such a success."
On top of its range of services and successfully completed projects, BAI is built upon a very specific, family-orientated company culture. "We bid and manage every project with a team approach, and try to bring that philosophy to our customers while working with subcontractors," details Christine. "You can speak with any member of our team, and they will know details on most of our projects, because we are all invested in the success of the company."
This sense of community is central to what BAI does, as Christine continues: "There is a pride that we all have watching this company grow, knowing that every person on the team has been crucial in making that happen. We have created many partnerships with subcontractors and customers with this approach to our projects.
"We also focus on a diverse, local workforce with our subcontractors, partners and staff. Our DE&I Program is on the honor roll with the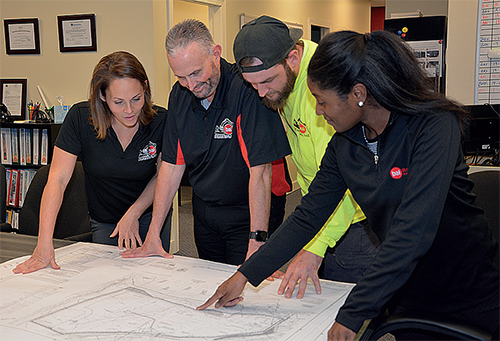 WBEC-East, and last year we had over 40 percent diverse spend with our subcontractors. It's important to us that we practice what we preach."
These connections between people are the foundations of BAI's success, as Christine goes on to discuss: "We are very fortunate to have partnered with some of the best contractors in the Mid-Atlantic, as well as some emerging businesses in the area. Our first partner was Battaglia Electric, Inc., and from there we partnered with Bartech Group, out of Chicago on the east coast. Together, we have a solid working relationship and they are partners in every sense of the word. In addition, we have worked with Olympic Fence, which has been reliable and a steady subcontractor for us; we have even done work for them on the electrical and civil side as well.
"Our customers are so important to us, clients such as BG&E, DP&L, ACE, and PEPCO are the reason we have been able to celebrate all of the awards we have received. We have also begun to work on various County and State Projects as we are MDOT, DelDOT, DC Dot, NJ DOT, and PennDOT certified as a DBE, and WBE," she adds.
As it continues to move forward and grow, Battaglia Associates Inc. remains focused on four core values: faith, family, ethics and safety. As Christine explains: "When we say faith, we mean faith not just in God, but in each other, and the work we do. Family references the fact that we are a family business, and when someone works here, they become a part of that. Ethics is important to us, because we will not do anything that will compromise the morals of anyone or the company. Finally, safety: every member of this family will go home to theirs when their work is done."
This compassion is not limited to those within the company, either, as BAI is known for its community outreach and charity work. "We work with several organizations, and Battag Cares is a program that allows our office staff to take two paid working days a year to volunteer for their favorite charity," says Christine. "We work with the Green Beret Project, which is an organization that helps support young people living in challenging circumstances to access mentoring and find their place in the trades, military, or college."
BAI is also interested in tackling gender inequality, as Christine affirms the importance of female empowerment within the company: "We as an industry need to make sure that young women believe that all the options are available for them. Over 25 years ago, my father sent me to work with another contractor, E.J. DeSeta Company, for a few years. It really showed that he believed in me, and I doubt we would have taken the chances we have taken in buying an excavation company if that confidence was not instilled."
Today, Christine and Jennifer continue to inspire this confidence in emerging female project managers and contractors, as Christine asserts: "Everyone deserves to be given opportunities. After all, the only thing that matters is the quality of your work."
For Battaglia Associates Inc. the future is bright as well as female. Aiming to open two more offices in the next few years, and in the short-term hire more estimators and project managers, it is clear that the company is on the path of steady success. As it continues to innovate, grow and meet the needs of an ever-changing, ever-demanding industry, Christine concludes with one final message: "Girls need to know that they can be more, there is a whole world waiting to be renovated and built by them."
Battaglia Associates Inc.
https://battagassoc.com/
Services: General contracting