Pioneering change in the specialty contractor industryspecialty industry
A leader in the field of drywall and plaster, BakerTriangle provides a complete service for its clients, guiding them through a project from concept to completion
Boasting seven divisions across five Texas cities, BakerTriangle entered its 46th year of business having completed projects across more than 20 US states. A small plaster company when it was founded in 1974 by Bob Baker, BakerTriangle added a drywall division in the late 1970s when Bob's son, Steve, joined the fold. The drywall scope quickly grew alongside the plaster division, and by the 1990s, the company began to expand across Texas. Today, BakerTriangle is recognized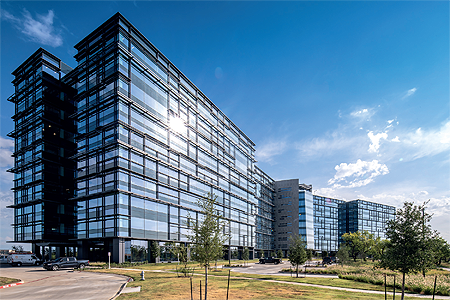 as the '4th largest wall and ceiling firm in the United States' and was recently named Texas and Louisiana's 'Specialty Contractor of the Year'.
"Although we began as a plastering company, we quickly found our growth and core market to be in the drywall and acoustical space," explains Bryan Baker, BakerTriangle's CEO and the third generation of the Baker family to enter the business. "The past few years have been a blast; we've pushed several new scopes of work hard in our markets. After some significant research and benchmarking with key client accounts, we found numerous scopes that were not well covered in our regions. We started a division solely focused on prefabrication and we also started concentrating on exterior cladding, which includes metal panels systems, ACM, rainscreens, formed panels, cementitious panels, along with our core sectors of drywall, acoustical, plaster & EIFS, and window treatments. Owners and GCs are now seeing the benefit of bringing us in early as a key trade partner to help with both budgeting and design assist efforts as project plans progress. It's been an awesome adventure to see the added value we can bring when we are brought on early in design to help with those key elements of a project's trajectory."
Active in a number of industries, including education, healthcare, retail, the commercial sector, entertainment, and hospitality, BakerTriangle is especially passionate about its prefabrication group. 'The future of the industry' according to Bryan, prefab is an area that the company believes offers significant opportunity for expansion and process improvement.
"We have a large facility in Richardson, Texas, that covers the needs of our core prefabrication process focus – exterior wall panel systems," Bryan says. "We look at this facility as manufacturing, not construction. Our goal is to take all the components that typically get brought out between three to seven different trades on a jobsite and combine them in one contract that can be manufactured under one roof. You might ask why we have put such a focus on exterior panelization, but I think it's down to the direction of skilled labor, speed to market, reduction in onsite waste and clutter, elimination of unsafe jobsite conditions, quality assurance, and project schedule certainty that it offers."
Bryan suggests that a couple of recent projects completed in Austin, one of Texas' most advanced markets, have really put the spotlight on the successes and benefits to designing with prefabrication in mind. Both projects are located in downtown Austin, and are two of the newest hospitality projects to change the landscape of the downtown silhouette, with one hotel being 32 stories tall and the other standing at 33 stories tall.
"The jobs in Austin had a 'zero laydown policy' for all trades and so panels were shipped directly to the job site, complete with glazing and full façade finish, and picked off the back of trucks for installation. As the concrete structure went vertical, our team enclosed a floor in two nights during the pour's seven-day sequence," Bryan reports. "We've had some pretty spectacular projects over the years, and this was right up there. My wife and kids are tired of me pointing at tall buildings and popular Texas venues and yelling 'we helped build that!'.
"Sometimes we can get lost in our workload and forget to look up at the end product. We've assisted in moving professional sports teams to new homes, helped museums tell the story of our rich history, aided the elderly transition into lifestyles that can provide them with more support, helped communities heal those in need, and created places of worship and learning and adventure. We are blessed to work in a great industry with so much passion for what we do and what it stands for."
Relationships business
A family business at its core – the firm has donated more than $1.1m to local non-profit programs over the years – BakerTriangle's success has been driven by its close-knit community culture. The company has always made it clear that, in order to execute a project successfully, it requires a sound bid, a thorough budget, continued focus and accountability, office support, field supervision, and – most importantly – talented men and women to put the work into place in the field.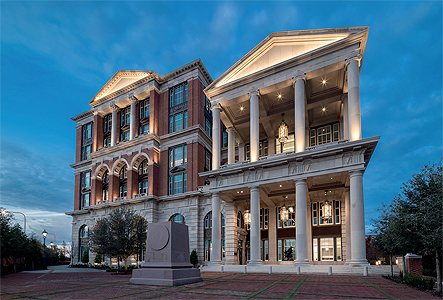 As far as Bryan is concerned, each individual that makes up BakerTriangle, and the skills they bring to the table, are what sets the company apart from its competition.
"Our customer relationships are built on the foundation of results and results are achieved through the expertise of the men and women at BakerTriangle. Our success is defined by our people," Bryan asserts. "This is such a relationship business. Without relationships, we are a commodity. Commodities typically correlate to value being found in the lowest bidder. There is so much more that we can offer, and that this industry can offer, outside of just being 'the low price'. Anyone reading this knows that low price on bid day does not mean low price at the end of the job. Low price certainly does not mean the product is in the owner's best interest.
"We set ourselves apart with our people. They innovate, they create, they problem solve, and they please. The old adage 'people work with people they like' has proven to be a lasting proverb that resounds within our walls. We aim to proactively seek solutions as we are in a problem-solving business. That often means being creative and collaborating internally and externally to work things out. We hire for these characteristics and continually train our people about the importance of being proactive and making sure that the client and the end user is getting not only the best quality work, but also our full attention to detail."
Market trailblazer
The value BakerTriangle places on its staff is evident in the company's commitment to safety. A company proud of its excellent safety record, BakerTriangle is dedicated to maintaining a culture of safety and accountability, and places great emphasis on the importance of staff training and improving jobsite conditions.
"Safety is all about culture," Bryan declares. "If it's not discussed and practiced, it is forgotten. My dad likes to say we were the first drywall company with a safety director. Safety is something that is worn on the toolbelt, right beside the drywall saw and the screws. From the top, we prioritize a culture of safety, making sure every employee returns home safely to his or her family at the end of the day."
Safety has, of course, been under the spotlight in 2020 as the world deals with the ongoing Covid-19 pandemic, but BakerTriangle's devoted approach to the subject means that the company was in the perfect position to tackle the virus head on. Quick to act on all CDC guidelines within the business, the firm harnessed its strong communication chain to make effective adjustments across its network. Having made it through the lockdown stage of the pandemic, BakerTriangle is now ready to look to the future. Eager to leverage the latest technology, the business recently invested in a highly-advanced CNC machine designed for cutting drywall, which will not only help to increase efficiency, but also reduce waste. The company is now planning a continued push for growth in the prefabrication market and in its ability to 'bundle' multiple scopes.
"We have clients that are really coming around to seeing the value of rolling up scopes to create one point of contact and one filter of communication," Bryan reveals. "It makes for a more seamless process."
"Speaking to prefab and its outlook, we are very happy with the direction of our prefabrication operation. We are starting to see clients requesting work outside our current markets and that's a testament to our performance and capabilities. The industry will continue to see a push towards offsite prefabrication and modularization, and we plan to be one of the trailblazers leading that charge. We've started to explore prefabricated interior components, 'kit of parts' concepts, and in-house fabrication of key parts and modules. We also continue to educate ourselves on how we can better push the realm of offsite construction within our industry."
In a dynamic time of change and transformation for the construction industry, Bryan is aware that companies like BakerTriangle need to stay nimble and agile to survive and thrive, but he is certain the firm is up to task.
"We have to be willing to adapt. We have to be willing to try new things, improve on failures, and find our successes," Bryan remarks. "We owe a great deal of our success to the dedicated employees of this company. We have over 120 team members that have worked for 15 years or more with the company and they are what makes us stand out from the pack. We also would not be where we are without the great contractors, owners and suppliers we have had the privilege of working with. This support network inspires me with confidence for the future."
BakerTriangle
www.bakertriangle.com
Product and Services: Drywall, acoustical, prefabrication, metal panels, plaster & EIFS, window treatments