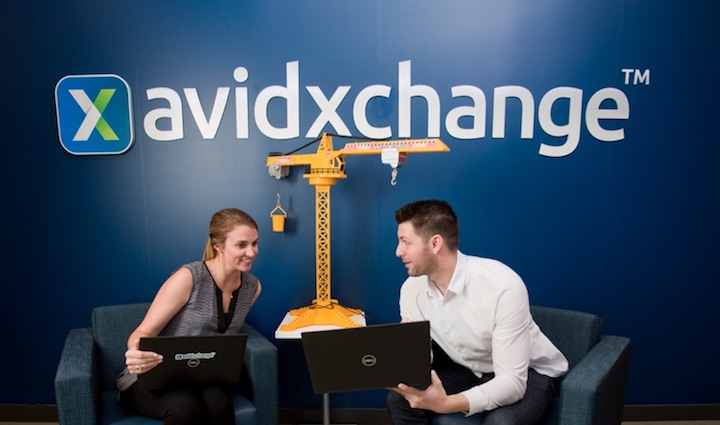 19 years after it was founded, AvidXchange has start-up growth rates.
Though it was founded in 2000, AvidXchange has been growing at the astounding rate of +45 percent each of the last five years. "We have start-up growth rates, but we are so far beyond that," Vice President of Construction Jim Campbell says.
AvidXchange is one of only 24 private U.S.-based fintech companies valued at $1 billion-plus since 2017. "Our rate of growth can be attributed to many factors, but the market opportunity around B2B payments definitely plays a part," Campbell continued. "Goldman Sachs predicts that the B2B payments market will reach $200T by 2028 – over five times the B2C market – yet nearly 70% of B2B payment volume is still paid by paper checks in the U.S."
AvidXchange plans to hire 1,200 new employees over the next five years and expand its headquarters in Charlotte with a second building. Additionally, the company plans to add more than 200 new jobs at its Salt Lake City office.
Bye-bye Paper
AvidXchange is a financial technology company that automates invoice processing and payments. "Think of a business that gets invoices in the mail," Campbell says. "Somebody has to approve it, maybe several somebodies. Is it legitimate, is it what we ordered, is it in good working order and so forth."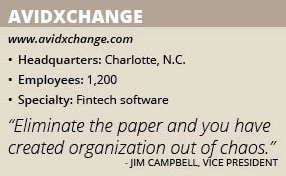 In contrast, invoices could be routed to AvidXchange. The company opens the mail, scans it and turns the relevant information into data. That data could include date of invoice, date due, amount, if the invoice is for a property or a job, and a purchase order number. "We put it on a cloud-based invoice approval system," Campbell says. "You log onto the portal and you see the invoice. The customer can set up routing and approval rules such as who sees the invoice based on amount."
The AvidXchange process has several advantages over paper invoices. "Eliminating paper across our customer base is huge for our clients," Campbell says. "They are drowning in paper. Invoices get lost or get stuck in the visors of pick-up trucks. Eliminate the paper and you have created organization out of chaos."
Clients experience transactional-based costs per invoice or payment rather than a one-size-fits-all software subscription, allowing them to easily scale their relationship with AvidXchange based on the size of the business. "It's a far more productive repurposing of clients' time," Campbell says of AvidXchange. "It's also scalable."
With electronic data, it is quicker to figure out the percentage of a project that a construction firm has completed and can bill for. "The quicker we can tell you the cost, the more you can justify billing the client that month," Campbell says. "I would rather bill my client 55 percent than 48 percent. Under-billing impacts cash flow and profit. Bonding and lending companies are looking at that."
Campbell continues: "The construction industry is interesting. It is often 52 to 54 days to pay. Cash flow is a big issue for everybody involved. When the construction company is ready to pay their subcontractors, they want to make the payment in an efficient way."
There is also the potential advantage of retaining a digital copy for the future. "The construction industry is the most litigious industry in the United States," Campbell says. "The winner of the claim is the one with the most data. We incurred this cost, here's our back-up and here's what we paid you. It is organizable and indexable. Paper is not nearly as accessible."
Best of Breed
While its competitors might offer software for document management, ERP systems or other areas, AvidXchange focuses only on invoicing and payments. "Anyone who concentrates on one thing offers a best of breed solution," Campbell says.
AvidXchange has more than 120 partners who can sell to their customers and strategic partnerships with Mastercard, KeyBank and Fifth Third Bank. "Someone making 200 payments a month is an entry-level customer for us," Campbell says.
"The more volume and complexity, the more AvidXchange is a better return on investment. We do very well on real estate management companies that have a bunch of different checking accounts and LLCs with separate ownership and bank accounts. That gets really complex really quickly. Large construction and real estate firms that are doing thousands of payments – when that volume starts to kick in, that's where we shine."
This is the Future
Campbell gives presentations across the country about AvidXchange. "I don't try to sell my product," Campbell says. "I just try to sell that there is a better way to do this. Have you thought about why you have four people in your accounts payable department and how they could be contributing more strategically to the business? There is a new, better way for invoice routing approval and payment facilitation."
The biggest challenge for AvidXchange is that potential customers are comfortable with the way they have always handled invoices or, as Campbell puts it, "familiarity breeds comfort. It's tough selling a solution when people don't know they have a problem or aren't aware there is a better way. People are drowning in paper, which is voluminous, and costly to research and retrieve."
While only a minority of businesses use accounts payable automation, Campbell argues that it is inevitable. During his presentations, Campbell asks attendees if they think they will be making more or less payments electronically over the next three years. "Everybody says, 'I get it," Campbell says. "There will come a day in the not too distant future when this is just the way you do it. A paper check in today's world is just a handwritten voucher. The rest of the process is electronic. No one needs those checks."
Campbell sees invoice and payment automation as the continuation of a trend. "The fax machine was a revolutionary concept," Campbell explains. "You could get an invoice to someone without needing to go out and mail it. Then came e-mail. Now we can send this invoice digitally rather than relying on paper. It's all a continued evolution of technology designed to make our daily lives more efficient."