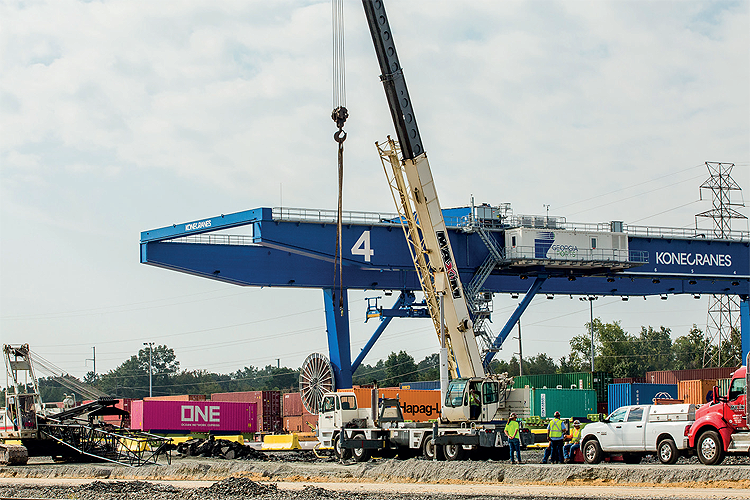 From the ground up
Blending personalized customer care with a highly diverse range of services, Astra Group has become a leader in the delivery of general contracting and job order contracting across the southeastern United States
A family contracting firm with more than 27 years' industry experience, Astra presents it customers with a rare proposition – the tailored, individualized customer service of a small business, backed by the substantial resources and capabilities of a large, major contractor.
Founded by Ian Lindsay, Astra started life as a swimming pool contracting firm, before graduating to government complexes and similar projects for a variety of private, commercial and municipal entities. Today, the organization is led by Ian's son, Andrew, and consists of three core divisions: Astra Group, Astra Grading and Pipe, and Astra Construction Services.
"Astra Group was the initial company we formed, and it remains a general contractor specializing in public works, infrastructure and municipal facilities," Andrew clarifies. "Astra Grading and Pipe contains our most employees and does our self-performing work. As part of that division, we own a significant fleet of Yellow Iron, which we use to deliver our grading, storm, water, sewer, site walls and other support scopes as we build bridges and other structures. Finally, our third division, Astra Construction Services, was formed in 2014 and specializes in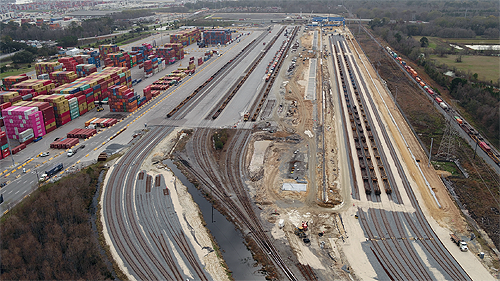 long-term job order contracting, as well as healthcare. It also leads up our Florida general contracting arm."
Headquartered in Woodstock, Georgia, Astra benefits from additional offices in Atlanta and Savannah, Georgia, and Tampa, Florida. Licensed throughout the southeast United States, the company has always embraced technology as a way of helping it increase efficiency.
"From laser-guided processes, to GPS controls, to intelligent machinery, technology is a really good way to increase quality, efficiency, and production," Andrew explains. "Alongside iPads loaded with software that enable our guys in the field to track production, we employ Truck It, a tracker application, for our third-party trucks, and drones for measuring our cut and fill as a project progresses.
"In the office, we use a variety of cloud-based software for project management, including Procore. Our clients, architects and engineers have access to our Procore application, so it's a great document control and communication tool for us because it means we are able to be very transparent. Customers can have real-time information, and the guys in the field can use it for updated documents; everyone has the most current information at their fingertips."
Although Astra's technological capabilities remain some of the best in its area of operation, Andrew believes that the most important part of the organization is still its people. "We can buy all the equipment we want, but if we don't have the people to operate that equipment, and manage those processes, then we will not succeed.
"We've always been a family business focused on people, and we remain one to this day," he continues. "Within the Astra family, each person's duty is paramount to our success. It's important that we let each individual know that their role within the organization is interrelated. We all rely on one another, so our culture is about building self-worth and making employees feel like they are part of the team."
In 2019, Astra was purchased by Equix. A business with similar family credentials to Astra, Equix provided the contracting firm with significant financial resources, a limitless bonding capacity, deep industry knowledge, and more geographic diversity. Following the takeover, Astra has continued operating under its original name, but with a far larger offering – including natural gas installations and fiber telecommunications – and the ability to partner with its sister companies to provide more tailored solutions.
Since its relationship with Equix began, Astra has performed a number of milestone projects. At present, the firm is working on a 59-acre aquatics center and ballfield complex in Naples, Florida. The $45 million development, which also includes a 20,000-square-foot community center, is Astra's largest project in Florida to date.
Further north, in Georgia, Astra is hard at work on the Atlanta BeltLine – one of the largest urban renewal projects in the country. "A 22-mile loop in the interior of the city, the Atlanta Belt Line is a multi-use trail with further infrastructure in place for light transit as well," Andrew reveals. "It's a complex $2 billion project that follows an old rail bed, with significant elevation changes, active road crossings and contaminated material that we have to clean up. We have actually been able to self-perform our contaminated soils remediation in-house and that kind of self-reliance is why we, as a business, are so attractive.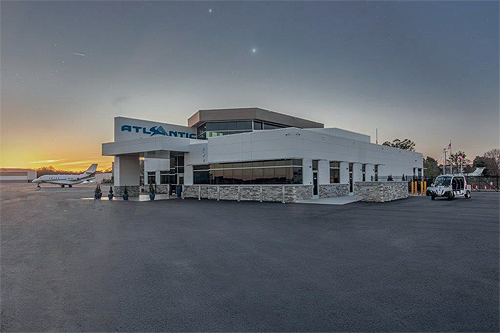 "Atlanta BeltLine is an important client and it's a great project, which we are incredibly proud of because it has spurred on a significant amount of development and economic stimulation for the city of Atlanta. It has brought a lot of people into the urban core and, adjacent to the projects we have built, there has been around $1.5 billion worth of private investment in Atlanta BeltLine developments."
Elsewhere in Georgia, Astra is preparing to complete work on the Mason Mega Rail project for the Georgia Ports Authority. Valued at more than $100 million, the development allows for a larger volume of containers to pass through the Port of Savannah.
"Mason Mega Rail is a huge project for the state of Georgia and it's the largest capital improvement undertaking the Port of Savannah has ever carried out," Andrew says. "As part of our activities on site, we re-routed a canal down at the Port of Savannah, installed two rail bridges over canals and an Astra Bridge, which is a bridge for truck traffic.
"It's a multi-modal project," Andrew adds. "We are building crane rails so that the largest cranes in North America can service the new rail spurs that will bring CSX and Norfolk Southern into the area. This means containers can go directly from the ships, to rail, and straight out to St. Louis or wherever they need to go. It will enable the port with significantly more capacity."
In the year ahead, Astra looks to build upon its Atlanta BeltLine and Georgia Ports Authority projects by taking on more large infrastructure developments. Harnessing its considerable industry experience and long-standing relationships with customers, Andrew hopes the firm continues growing throughout the southeast, delivering quality construction projects, and improving the quality of life of its employees, clients and the residents in the communities in which it works.
"We continue to ride the coattails of infrastructure construction," Andrew remarks. "We are in a very active area of the country with continued population growth, and that will create the need for additional infrastructure. Both Florida Department of Transportation (DOT) and Georgia DOT have large programs for the future. They both want to build additional roads and they need quality contractors to execute that for them. By going after and capturing these projects, we expect to encounter more success and, as a result, expand significantly during the next decade."
Back in 2012, Astra made a conscious decision to diversify – and stay diversified – in order to avoid getting caught out by one source of funding or one style of work. Nearly a decade later, Andrew and his team haven't looked back since and the business continues to thrive.
"In the early 2010s, we moved into aviation, transportation, and projects like recreational trails – all of which have been constant sources of income for us," Andrew declares. "The DOT world that I mentioned earlier led us into road building as well, which shows how adaptable we have become. We can take our core competencies, site development capabilities, and knowledge of quality infrastructure, and apply them to almost anything. We have very sophisticated equipment, a highly skilled workforce that can handle complex projects, and the ability to control our schedule and outputs through self-performance.
"Astra is somewhat unique in that there are many construction managers and general contractors out there that don't have our ability to self-perform the critical site development work," Andrew notes. "Most common schedule issues and problems in quality appear on the front end of a project and we are able to manage that. Our diversity of services is something that sets us apart and so does our ability to control the horizontal work, whilst carrying out the vertical construction. Potential customers across the southeast United States are looking at their capital improvement programs, and we have the ability to help them from the ground up."
Astra Group
www.astragroupinc.com
Services: General contracting and job order contracting