Aspen Contracting is widely recognized for its comprehensive provision of roofing, siding, and guttering services
Ironclad service
Putting people first, Aspen Contracting is laying deep roots across the US and plans on adding even more in the coming years, all the while offering its customers an unrivalled guarantee of excellence
As one of the most preeminent roofing contractors in the US, Aspen Contracting (Aspen) is widely recognized for its comprehensive provision of roofing, siding, and guttering services. With more than 10,000 projects completed each year, the Lees Summit-headquartered company is certainly living up to its name: Aspen trees are hardy, resilient, and inclined to lay deep roots. Such roots help them survive natural disasters, whether that be a landside, tornado, or – in Aspen's case – a global health emergency.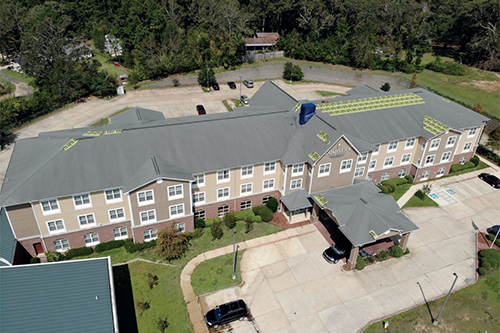 "Aspen was founded with the intention of creating a national business that could take care of customers throughout the US – all under one name," begins Pat Nussbeck, President at Aspen. "In our first seven years, we experienced tremendous growth, but then found ourselves slowly putting on the brakes. We needed to redefine our processes to keep steady and on target following our early expansion. Then the pandemic hit. Fortunately, we had already put good processes and procedures in place; our roots were deep enough to keep us going. In the end, Covid-19 had little impact on our work, which meant we could instead channel our concerns into customer care and safety.
"Indeed, as a technology-driven company, moving to the digital sphere and carrying out contactless appointments was extremely simple," he continues. "Our suppliers and partners were also essential in helping us navigate the challenges of Covid-19, especially the supply chain constraints that have recently cropped up. Together, we focused on strategies like pre-purchasing and bulk ordering to ensure supplies were always available. To this day, our customers have not felt the effect of those shortages; they're simply blown away by our adaptability and the fact that we are not leaving them behind, which is happening in many other industries. That stands as a firm testament to all our hard work, which continues to fortify the business."
The proof is in the numbers. Since the middle of last year, Aspen has found itself in a period of tremendous growth once more. In fact, in the next six months, the company expects to exceed $100 million in sales for the second time in its history. Going forward, it intends to increase that figure by ten-to-15 percent year-over-year.
As Pat goes on to make clear, Aspen's roots are plural and multifarious, representing each person involved in the company. Together, they help the company weather coming storms.
"Aspen is indebted to its people," he states. "They continue to work tirelessly to make things happen, put processes in place, and be part of the overall team. Throughout the years, we have always made a concerted effort to thank our employees for all their hard work and dedication because, without them, we couldn't keep on doing what we are doing. One of our core values is people, and when we say that, we mean both our employees and our customers.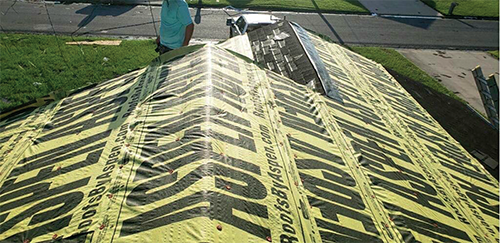 "One key factor behind our growth is that we take care of those who make the company what it is," he goes on. "For instance, we have many different programs in place for those who go above and beyond to help customers and fellow employees. Another point worth making is that we conduct weekly meetings, allowing us to talk about different strategies, industry updates, and just look out for each other in general. Though it seems simple, open communication of this kind works wonders in the long run; it cultivates a team mindset, which in turn offers us an edge over the competition when it comes to our services."
On that topic, Aspen carries out a range of dedicated services in residential and commercial settings, shifting towards the latter in more recent years to access bigger projects and utilize some of the industry's latest and greatest technology, such as aerial measurements and cutting-edge synthetic materials, on a larger scale. Churches, schools, retail parks, restaurant chains, shopping centers – all of these and more fall under Aspen's remit.
Trusted to build, repair, or replace any damaged roof, siding, or gutters, Aspen's nationwide crews participate in continuous education and rigorous safety training on a weekly basis, ensuring that high standards are always maintained. "We don't act like we are experts in everything, we simply stick to three core skills and master them: roofing, siding, and gutters – every type you can imagine," explains Pat. "Whether the project is large or small, we have the capacity to do it. Since we carry out work on so many different types of roofs, we naturally have a varied clientele, and we tailor our services accordingly. We also take on maintenance contracts and work on new construction and retail projects. Every niche requires a unique approach: timelines need to be established and consistent communication must be sustained.
"Thanks to the unrivalled skills of our trained laborers, we can produce a vast amount of work with very little backlog," he notes. "While a lot of companies are currently struggling to find labor in the aftermath of the pandemic, we are actually pushing sales and intend on bringing in more jobs, thus allowing us to keep our ever-growing team of laborers busy and in work."
Another reason behind Aspen's continued success is the Ironclad Lifetime Warranty it offers, which covers everything from labor to materials – no questions asked. The warranty team are on-hand 24 hours a day, seven days a week, 365 days a year. "In this industry, people get really frustrated when a company passes the blame onto someone else," reveals Pat. "Therefore, we set out to come up with a warranty that customers can trust, firmly knowing that if anything goes wrong, then it'll be swiftly taken care of. In the end, property owners pay for a service. Part of that payment represents their expectation that they needn't worry about that service for a long time. In that sense, we offer them a vital peace of mind."
Aspen also offers an alternative peace of mind – one that is directed at those who deserve it most. Since 2015, the company has given back to local communities through its Covers 4 Others initiative. "It's our signature program, and we remain incredibly proud of it," reflects Pat. "Typically, we install at least eight roofs nationwide for those who deserve it, such as teachers, veterans, first responders, community leaders, and non-profit organizations.
"The program has turned into a celebration for the homeowner, the crew, the company, and all the people involved," he adds. "We sit down and enjoy a meal with everyone at the end of the process; it's a brilliant way to connect with new communities and give back. To date, we have completed in excess of 60 projects with the help of our suppliers, who kindly sponsor the program, as well as all the members of the public who nominate and vote for the recipients. Participation from the community is so important in helping us identify those in need, in order to give them a helping hand."
Aspen's roots are deep and, as this interview has made abundantly clear, they seek to integrate with others. That's essential to its long-term plan. "Our future will be determined by how we work as a team," Pat concludes. "In the next three-to-five years, we intend on expanding the Aspen crew in all departments to handle and facilitate projected company growth. That way, we will be able to enter more markets and serve more communities, ensuring property owners across the US are appropriately taken care of whenever they have a roofing, siding, or guttering need."
Aspen Contracting
www.roofsbyaspen.com
Services: Roofing contracting