ARCO/Murray's multi-family division discusses the benefits of the design build approach
With a geographical footprint that stretches from coast to coast, ARCO/Murray (ARCO) offers high quality design build services with the vision to make the construction process enjoyable for all. Since its foundation in Saint Louis in 1992, the company has completed over 5500 projects across 450 cities, with the same mission: to be the very best design build contractor in the industry. Construction Today sat down with the ARCO/Murray's multi-family division, which was established around eight years ago, to touch base after the company's 30th year. "One of the key selling points of working with a design build provider such as ARCO, is the way in which our teams see the full lifecycle of every project and get to understand the customer's business in a deeper way than a traditional construction company would," opens Josh Przyborowski, President of the ARCO/Murray's Multi-Family Division. "What makes us truly unique is how we allow the company to grow based on where our people want us to take it, and the business itself is really there to provide support for the direction that best suits our associates. That's why ARCO has ended up sprawling across such a large number of different markets and producing such a diverse variety of projects, because our rising leaders are empowered to implement the changes that they want to see."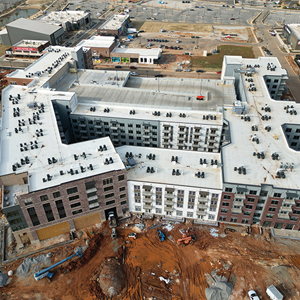 "We believe in operating as smaller groups, so once one reaches a certain size, we'll split it up into separate start-up communities, but under a broad umbrella. It's the perfect balance of fueling and tending to the entrepreneurial spirits among our teams, while providing them with the support of a large enterprise. The aim is to curate the perfect environment that energizes our employees to grow at their own pace. We don't want anybody to feel like a number or just a small part of something that's big. We want them to feel like they are a big part of something small, because that truly motivates people and keeps them connected to, and excited by, their careers."
Collaborative approach
With 38 physical offices strategically located around the US, ARCO has been known to work in a wide range of different sectors, including: entertainment, industrial, life sciences, multisite, healthcare, self-storage and residential. This has involved the company working with high profile clients such as Topgolf, IFLY, DHL, Cloudera, Coca-Cola, Dunkin' Donuts and Dr Pepper, through which it has surpassed $5 billion in revenue. However, Josh Dormeier, Senior Project Manager, and Madeline Gilmer, Project Manager, both work with Josh Przyborowski under the multi-family segment of the business.
"We went through a substantial period of developing senior living facilities throughout the state of Indiana, of which I was heavily involved in managing the day-to-day," Josh Dormeier says. "They were all with a repeat client who we have a really solid relationship with. Through the process of working on each consecutive site, the entire team realized just how crucial it was for ARCO to be involved as early as possible in the project lifecycle. The added value that we can provide truly lies in the design and preconstruction process. I can see this mindset being applied really well in a market like Huntsville, Alabama."
"I have found that participating in the entire lifecycle of a project is really important in training and developing a well-rounded project manager," Madeline adds. "I have been present for nearly the entire Metronome project in Huntsville, so I have seen how we estimate, and how we create relationships with our subcontractors and generate a strong team spirit that instills both fun and productivity within the workforce.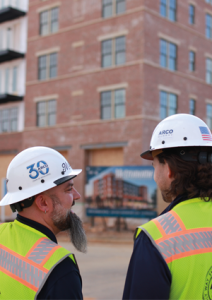 "Over the last couple of years, there has been an increase in utilizing the concept of building a city within a city, and MidCity is a prime example of that in Huntsville, AL. Metronome sits at the center of the MidCity development. Since it's ground break, other amenities and businesses, such as restaurants, retail, and an amphitheater, have been developed on the surrounding land to support and create a work, live, play community.
"While we are not the ones who are necessarily responsible for building out all of these future retail and restaurant spaces, we are still collaborating with the developers from a design build perspective," Josh
Dormeier explains. "In working with their design team, we can generate a better understanding of how to future proof the shell retail spaces so that they can be flexible in terms of tenants' needs.
"We have three overlapping projects starting in Huntsville in early 2023, which gives us a chance to display our teams' efficiencies," he concludes. "It's a really exciting time for us, as we are able to strengthen our relationships with all parties involved with projects of this scale and become a crucial piece of making Huntsville come to life. While there are plenty of construction companies out there, we make our mark by building relationships with the subcontractors, developers, investors and even city officials so that everybody involved enjoys the construction process."