American Structural Concrete has become the partner of choice for industrial concrete solutions
Concretizing a reputation
From traditional form work to elaborate hybrid parking deck systems, The recent history of American Structural Concrete (ASC) begins in 2014. After years of providing form work for high-rise buildings, the company instigated a new era, pivoting towards the provision of complete concrete frames as a means to better-serve contractors, many of whom were grappling with difficult trading conditions in the wake of the 2008 financial crash.
Since then, the company has continued to diversify. As Brack Maggard, Principal of ASC explains: "We decided to expand into industrial construction, tilt warehouses, and we brought onboard our proprietary hybrid parking deck system. In the breadth of that offering, we're unique."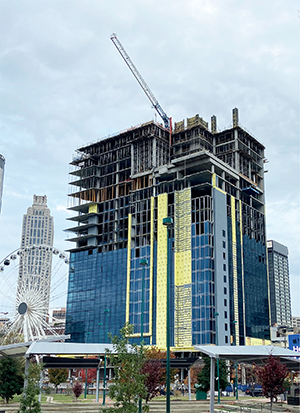 It's a USP that is already bearing fruit. Since 2015, ASC has been reporting an impressive set of figures, including the doubling of its tilt business between 2021 and 2022, and the steady growth of its parking deck system offering – a fact that is all the more impressive in light of the impact of the Covid-19 pandemic, an event that has given shape to much of the last few years.
"Covid-19 was a significant challenge," Brack tells us. "In early 2020, it wasn't clear what was going to happen from day-to-day. The sections of our business that were determined to be essential continued with their work. Despite the inevitable impact on productivity, our primary concern was that we wanted our people to be safe, and we did everything necessary to make sure that was the case. Throughout the entire pandemic, we only had very few infected people that got sick."
Listening to the impressive way in which ASC dealt with the pandemic and protected its employees, it's difficult not to draw a comparison with the company's impeccable safety record – something confirmed by its recent receipt of the prestigious Diamond Award, presented by the Associated Builders and Contractors (ABC) trade association. This is reflective of an approach to business that places safety as its biggest emphasis.
"Our receipt of Diamond Award status is a credit to our culture, led by our excellent safety department," Brack confirms. "Through the effective provision of training, they've made sure that mindset has filtered through each level of the company, and to every one of our people in the field."
As a trusted partner and industry leader, ASC boasts an impressive portfolio, encompassing some of the largest and most ambitious structural concrete construction projects in the Southeast United States. One such project is the award-winning Faena Art Center in Miami. Featuring a distinctive cantilevered arch, the Rem Koolhaas/OMA-designed building also includes hundreds of different window shapes and sizes implemented into the structural concrete facade. ASC provided traditional form and turnkey frame works for the project, described by Brack as a "one-of-a-kind building," the likes of which will not be built again.
"Another significant project for us was the six-level hybrid parking deck that we built for the Choctaw Nation of Oklahoma," Brack tells us. "With 50 days of construction delays and a change in the scope of the project, we had to be efficient to meet the start date for precast fabrication and erection. Nevertheless, we built our client a one-million-square-foot parking garage, including 3000 car spaces, on time. The project has gone on to win 'Best of Precast Structure' and 'Best Parking: 3000 Spaces' from the Precast Concrete Manufacturers Association."
ASC's work on the Chattanooga Airport in Chattanooga, Tennessee has brought yet more awards. The challenge for the project was to start the short-term parking, and keeping it open throughout the construction of a new four-level garage. It's a feat that was possible only with a hybrid design, which requires a crane during precast erection, but not during horizontal slab construction – a big advantage for the project's airport setting.
"We heard that the Chattanooga Airport Authority was looking for a garage almost a year and a half prior to bid," Brack reveals. "We went straight up there to sell them on our hybrid parking system, and after winning the contract, we completed it ahead of schedule."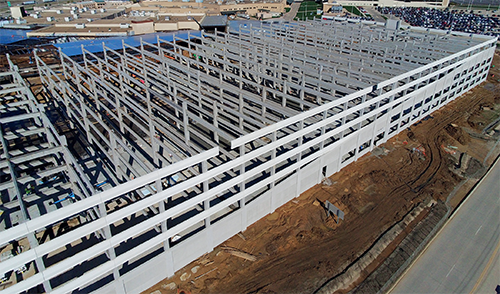 Underpinning ASC's approach to each of these projects is an emphasis on value engineering, a process that the company utilizes to drive customer satisfaction and generate repeat business. "When we receive a set of drawings from our general contractor, we'll go through them to identify ways in which we can redesign sections of the job to lower their costs," Brack explains. "That might mean looking at what we can cut out or rebar, or exploring innovative approaches to the project logistics even prior to winning the bid itself."
It's a commitment to going the extra mile that speaks once again to ASC's emphasis on culture. "Our people are our company," Brack confirms. "We have incentives in place to ensure that where departments collectively meet their goals, our employees are appropriately rewarded. As a result, everybody here feels as though they're working together – from the bid phase, right through to the completion of a job. Fostering that collaborative environment is what makes our company so successful."
As we move firmly into Summer, prospects for ASC are looking bright. The company has a full order book for the remainder of 2022, and has already secured a sizable backload for 2023. It's a strong backlog, which is giving the company plenty of confidence for the years to come.
"Our parking garages are going to be a highlight of our growth, simply because of the returns they deliver," Brack concludes. "Within that segment, our intention is to transition from a design and build contractor into a general contractor for hybrid garages. We want to be able to approach a site owner with the offer to deliver a complete parking garage design and build, right down to the smallest details. At the same time, we intend to continue growing our tilt business. If we can achieve that, at the right pace, then we should be able to at least double our value within the next two-to-three years."
American Structural Concrete
www.americansc.com
Services: Structural concrete solutions